Stone Fruits: 8 Healthy Reasons to Keep Them Stocked
Stone fruits—including peaches, apricots, and cherries—are delicious, versatile, and rich with nutrients. Don't miss out on their wide range of health benefits!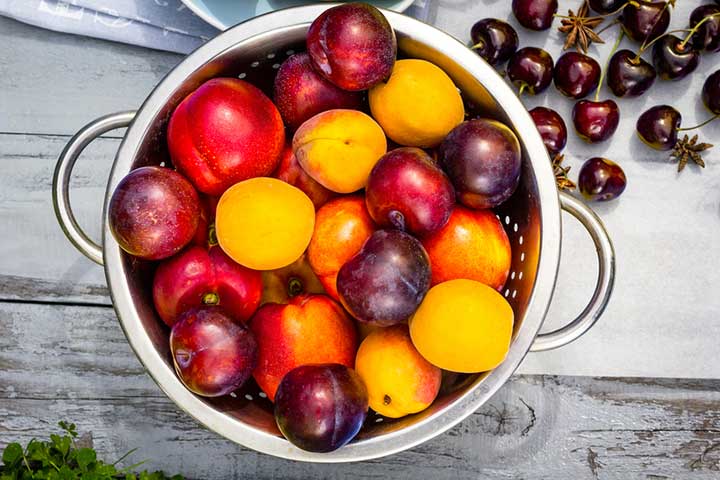 © Julietphotography | Dreamstime.com
What do cherries, apricots and mangoes have in common? Beside being delicious and healthy, all three are members of the stone fruit family. Stone fruits are part of the Prunus genus, which shares a similar characteristic—a very large and hard seed, or "stone." They're generally abundant during the months of May through early October and range in flavor profiles from sour to sweet.
The nutritional profile of stone fruit varies, depending on the type and variety of fruit, but they are all generally rich in important nutrients that can benefit your eyes, bones, heart, digestive system, and more.
Types of Stone Fruit
You may be surprised to learn that the stone fruit family has a lot more members that just peaches, plums, and apricots. Here's the full list:
Cherry
Apricot
Plum
Peach
Nectarine
Mango
Lychee
Coconut
Pluot (an apricot-plum hybrid)
Aprium (a plum-apricot hybrid)
Green almonds (the almonds that we're familiar with are actually the pits of the green almond fruit)
Dates
Blackberries
Mulberries
Although each member of the stone fruit family has its own unique origin story, most of them are of Asian and European origin, primarily in areas with a temperate climate. A few, such as the Beach plum, are native to North America.
8 Health Benefits of Stone Fruit
If you have bit into a juicy peach or a sweet mango lately, here are eight reasons to have more—and to include stone fruits into both sweet and savory dishes:
#1. They're rich in vitamin C. Mangoes and raspberries are among the fruits containing the highest amounts of vitamin C. This antioxidant has various benefits, including heart disease protection, immune-boosting effects, and atherosclerosis For more information, check out Vitamin C Benefits Protect Us Against Heart Disease—and Lower the Risk of Early Death.
#2. Stone fruits are a good source of fiber. Raspberries and blackberries contain 8 grams of fiber per serving, while cherries, apricots, and mangoes contain three grams per serving. A diet high in fiber promotes digestion, lowers cholesterol, reduces the risk of cancer, and aids in weight loss. For more information, check out High-Fiber Diet: Good for the Gut, Good Your Overall Health.
#3. They can protect your eyesight. Carotenoids, a class of antioxidants that promote healthy eyesight, are found in nearly all brightly colored fruits and vegetables. Luckily, stone fruits fall right into this category—apricots, plums, and mangoes are all adequate sources of carotenoids. Blackberries and raspberries are also rich in anthocyanin, another antioxidant that protects your eyes from various diseases. But wait, there's more: Peaches, nectarines and apricots are a good source of beta carotene (a precursor to vitamin A), which is also linked eye health. For more information, check out Eating for Eyesight: Which Foods Protect Your Eyes?
#4. Stone fruits are good for your bones. Plums, peaches, raspberries and blackberries are among the fruits with the highest amount of vitamin K, which plays an important role in maintaining bone health. It's needed for bone mineralization and maintaining calcium balance, two processes very important for bone health and strength. For more information on vitamin K, check out Vitamin K Supplement: Which Type is Best for Osteopenia and Osteoporosis Treatment?

They're a rich source of potassium. Apricots, cherries, mulberries, blackberries, nectarines, mangoes, and plums are among the fruits with the most abundant source of potassium, which benefits some of the most important functions of your body, including maintain nerve function and regulating muscle contractions. For more information, check out Potassium Benefits Your Heart, Bones and More.
#5. Cherries are natural treatment for gout and insomnia. Eating cherries every day can lower your risk of a painful gout attack, according to a study published by Arthritis & Rheumatology. The study found that gout patients who ate 10 to 12 cherries per day or took cherry extract over a period of two days reduced their attacks by 35 percent over a year. Tart cherries are also a natural source of melatonin, a hormone that promotes sleep. In one study, after eating tart cherries, melatonin levels rose significantly in test subjects. For more information, check out Gout Foods: Keep These 6 Items in Your Diet and The Tart Cherry Juice Sleep Solution: Beat Insomnia With This Natural Remedy.
#6. Dates are a sweet and healthy treat for diabetics. Although the sweetness of dates may make you think they aren't good for diabetics, they can actually be beneficial. In fact, a study found that eating 100 grams of dates for four weeks led to no increase in blood sugar levels. Dates don't have a very high glycemic index, are full of fiber, and are rich in antioxidants—all factors that help with diabetes treatment. For more health benefits of dates, check out Are Dates Healthy? 5 Reasons to Add Them to Your Diet.
#7. Plums can reduce your risk of colon cancer. According to several studies, dried plums can promote good bacteria in the colon and bind to bile acids that promote cancer. For more information, check out "Are Plums Good for You? 8 Reasons to Add Them to Your Diet."
5 Ways to Enjoy Stone Fruit
Stone fruit remains a culinary favorite because of their versatility. You can dice them into chunks to top your favorite salad or make a delicious pie for your next dinner party. Here are some different ways you can prepare them for your next meal:
Grill them. Coat your grill with oil or cooking spray and place your favorite stone fruit cut-side down on the grill for 3 to 4 minutes. Sprinkle a little brown sugar on top or drizzle on your favorite glaze before serving.
Freeze them. Slice some peaches, cherries, or mangoes and keep them in your freezer so that they're ready for a delicious morning smoothie.
Can them. Canned peaches make for a quick, delicious dessert or oatmeal topping.
Juice them. Replace your morning OJ with some cherry juice to get some anti-inflammatory benefits or prune juice for its digestive benefits. Or, keep some apricot or peach nectar in your fridge to mix into teas, gravies, and glazes.
Eat them dried. Mix dried cherries or apricots into muffins, pancakes, scones and trail mix.
APRICOT AND TAHINI STEEL CUT OATS WITH CINNAMON
1½ c milk
½ c steel cut oats, uncooked
2 apricots, diced
1 Tbsp tahini
1 tsp honey
Cinnamon, to taste
In a small pot, bring milk and oats to a boil, then add the apricots, tahini, and honey and stir to combine.
Cover, reduce heat to a simmer and cook for 15-20 minutes, stirring occasionally.
Remove from heat and let stand covered for 5 minutes. Divide oatmeal into 2 bowls, then top each bowl with a sprinkle of cinnamon.
Makes 2 servings
Nutrition Information Per Serving: 290 calories, 7 grams (g) fat, 1 g saturated fat, 45 g carbohydrate, 13 g protein, 5 g dietary fiber, 80 milligrams sodium, 16 g sugar
Courtesy of Environmental Nutrition