Flexitarian Diet: Healthier Meals, Less Sacrifice
If you want to adapt a healthier diet, but you don't want to swear off your favorite meat and poultry dishes, becoming a flexitarian may be right for you.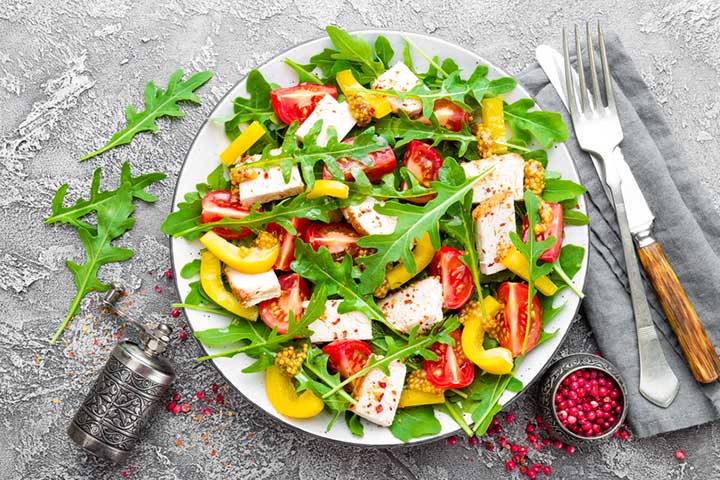 © Photomailbox | Dreamstime.com
While the percentage of Americans who identify as vegan or vegetarian hasn't increased in recent years, according to a Gallup poll, the sales of plant-based foods rose 8.1 percent in 2017 and surpassed $3.1 billion, revealing that the number of flexitarians in the country is also on the rise. But what exactly is a flexitarian?
According to the Merriam-Webster Dictionary, a flexitarian is "one whose normally meatless diet occasionally includes meat and/or fish." The word, first used as early as 1998, is a combination of the words "flexible" and "vegetarian."
In general, if a person eats a meatless diet three days per week or more, he or she is considered a flexitarian.
But there's more to a flexitarian diet than just reducing the amount of meat you consume. Like other plant-based diets, the focus is on consuming a healthy and balanced amount of fruits, vegetables, and whole grains in the most natural form possible. This means that junk foods and processed foods are kept at a minimum.
5 Health Benefits of Eating a Flexitarian Diet
While flexibility is probably the most appealing aspect of following a flexitarian diet, check out these other benefits of eating less meat:
Are There Any Risks When Eating Flexitarian Diet?
While eating a flexitarian diet is a healthier and more balanced way to eat overall, there are still a few downsides to consuming less meat.
Omega-3 fatty acids, vitamins B12 and D, zinc, and iron can be difficult to get in adequate amounts from plant foods alone. The good news is that because a flexitarian diet involves small amounts of meat, poultry, and fish and seafood, as well as dairy products, you should still be able to meet your nutritional needs.
Concerned you're not getting enough vitamins and minerals from your diet? Talk to your doctor about a customized meal plan and/or the idea of taking supplements.
Flexitarian Diet: How to Get Started
Here are some tips to help make the transition to a flexitarian diet seamless for you and your family:
Start slowly. If it feels too much like a punishment to cut meat out of your diet for half of the week right at the beginning, try starting with a "Meatless Monday"; once you're used to it, add another meatless day. Or, try eating meat only during one meal per day and then reduce to one meal every other day.
Choose the right type of animal proteins. In favor of fatty cuts of beef and pork, try leaner cuts of protein, such as chicken and turkey breast, fish, and seafood.
Stock up and plan ahead. To make your meal prep easier, stock up on your favorite varieties of canned beans and tuna, whole grains, and veggies, such as potatoes, leafy greens, and tomatoes. These staples can be quickly made into soups, stews, salads, and sandwiches. Prepare larger batches so that leftovers are available the next day for lunch or dinner.
Explore meat substitutes. Advanced vegetarians and vegans often use tofu and tempeh as meat substitutes, but if you're intimidated by them or not a fan of soy-based products in general, chick peas, lentils, and mushrooms make delicious meat substitutes because of their meaty flavor and texture.
Try some new vegetarian recipes. If you're concerned about having to eat the same boring salad every day, try picking up some new ideas in a flexitarian or vegetarian cookbook, such as "The Flexitarian Table" by Peter Berley. You can always add a small amount of meat, poultry, or fish on the side if you have a craving.
 ROASTED VEGGIE ENCHILADA CASSEROLE 
Prep Time: 45 mins
Cook Time: 60 mins
Total Time: 1 hour 45 minutes
Yield: 6 to 8 servings
INGREDIENTS
½ medium head of cauliflower, cut into ½-inch chunks
1 large sweet potato, peeled and cut into ½-inch cubes (about 2 cups)
2 red bell peppers, cut into 1-inch squares
1 medium yellow onion, sliced into wedges about ½-inch wide
3 tablespoons extra-virgin olive oil, divided
1 teaspoon ground cumin, divided
Salt
Freshly ground black pepper
2¼ cups (18 ounces) red salsa, either homemade or jarred*
½ cup chopped fresh cilantro, plus extra for garnish
9 to 10 corn tortillas**, halved
1 can (15 ounces) black beans, rinsed and drained, or 1½ cups cooked black beans
2 big handfuls (about 2 ounces) baby spinach leaves
2 cups shredded Monterey Jack cheese
INSTRUCTIONS
To roast the veggies (this can be done up to 2 days in advance): Preheat the oven to 400 degrees Fahrenheit with racks in the middle and upper third of the oven. Line two large, rimmed baking sheets with parchment paper to prevent the vegetables from sticking.
On one pan, combine the cauliflower and sweet potato. On the other pan, combine the bell peppers and onion. Drizzle half of the olive oil over one pan, and the other half over the other pan. Same with the cumin.
Sprinkle both pans lightly with salt and pepper, then toss each one until the vegetables are lightly coated in oil and spices, adding another light drizzle of olive oil if necessary. Arrange the vegetables in an even layer across each pan. Bake until the vegetables are tender and caramelized on the edges, about 30 to 35 minutes, tossing the veggies and swapping the pans halfway.
When you're ready to assemble, reduce the oven heat to 350 degrees Fahrenheit and lightly grease a 9-inch square baker. Stir the cilantro into the salsa.
To assemble, spread ½ cup salsa evenly over the bottom of the baking pan. Add a single layer of halved tortilla pieces, arranging them so they completely cover the salsa.
Top with ½ of the beans, ⅓ of the vegetables, ½ of the of spinach, and ⅓ of the cheese.
Make a second layer of tortillas (I pressed down on the mixture a little here to make room for the next layers). Top with ½ of the remaining salsa, all of the remaining beans, ½ of the remaining vegetables, all of the remaining spinach, and ½ of the remaining cheese.
Make a third layer of tortillas (again, I pressed down to make more room). Top with the remaining salsa, vegetables, and cheese.
Cover the pan with parchment paper (I tent mine in the middle and wrap the edges around the handles) or aluminum foil. Bake for 20 minutes, then remove the parchment paper or aluminum foil and bake for 10 more minutes, or until heated through.
Let the casserole cool for 10 minutes, to give it time to set and reach a palatable temperature. Before serving, sprinkle the top lightly with additional chopped cilantro.
For related reading, please visit these posts: