Vitamin D Deficiency: Are You at Risk?
Vitamin D deficiency can cause weak bones, bone pain, and muscle weakness, but some people may have low levels without any symptoms. Find out if you are at risk.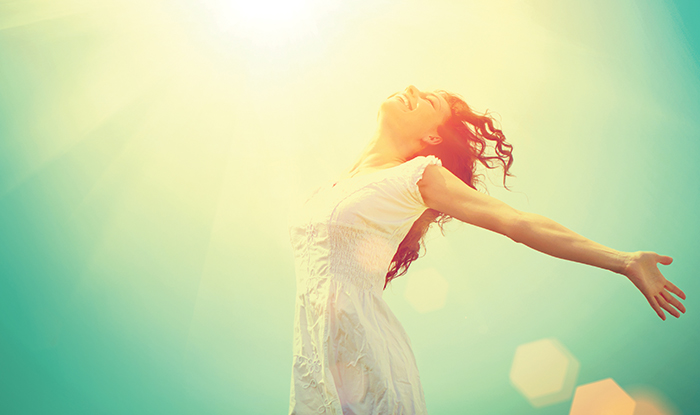 © Subbotina | Dreamstime.com
Vitamin D is an important vitamin for health. It helps you absorb calcium from your diet that you need for strong bones. Vitamin D is also important for muscle movement and nerve function, and it helps your immune system stay strong to fight disease. [1-3]
Some research suggests that having enough vitamin D may reduce your risk for conditions like diabetes, high blood pressure, multiple sclerosis, and cancer. At this time, more research is needed to confirm these benefits. [1-3]
How Do You Get Vitamin D?
There are three ways to get vitamin D. The natural way is to make it in your skin. For this you need some exposure to sunlight. You also get vitamin D from foods that you eat, but there are not many foods that are high in vitamin D. Some foods have added vitamin D. Vitamin D is also taken as vitamin D supplements and in multivitamins. [1-3]
How Much Vitamin D Do You Need?
Vitamin D requirements are measure in international units (IUs). Up to age one, babies need 400 IU per day. For everyone ages 1 to 70 the recommended daily amount is 600 IU. Adults 71 years old and older should get 800 IU. [1-3]
Who Is at Risk for Vitamin D Deficiency?
You may be at risk if you don't eat enough foods high in vitamin D, or if you do not get enough sunshine to make vitamin D. You may also be low if your body does not absorb enough vitamin D from food or supplements. Here are some examples: [1-3]
You avoid milk because of lactose intolerance or avoid meat and fish because you are a vegetarian
You have trouble absorbing vitamin D because you have an inflammatory bowel disease or you are obese
You are elderly, which reduces your vitamin D production and your kidney's ability to convert vitamin D to its active form
You have kidney disease
You don't make enough vitamin D because you avoid the sun, use sunscreen all the time, are unable to be out in the sun, or have dark skin
You take a medication that interferes with vitamin D including steroids and some medications used to treat obesity, cholesterol, or seizures
How Do You Know You Are Deficient?
Symptoms of severe vitamin D deficiency in children are weak and brittle bones, a condition called rickets. In adults, long-tern deficiency can cause weak bones that break easily – osteoporosis – or soft bones, called osteomalacia. Osteomalacia can cause bone pain and muscle weakness. You may have low levels of vitamin D without any symptoms, especially if you are at risk. The best way to find out is to get a blood test. [1-3]
Blood levels of vitamin D are often measured in nanomoles per liter (nmol/L). Less than 30 nmol/L is too low for bone health. A level of 50 nmol/L or higher is considered adequate. A level over 125 nmol/L is too high, but high levels are rare. If you have vitamin D deficiency, your doctor may start you on a vitamin D supplement. [2]
How Do You Avoid Vitamin D Deficiency?
You can avoid vitamin D deficiency by getting out in the sun and getting vitamin D from your diet. You can also take a vitamin D supplement. If you are over age 60, or you have other risk factors for vitamin D deficiency, you should ask your doctor about starting a supplement. [2] Here are some tips for prevention: [1-3]
Eat foods with vitamin D. Foods rich in vitamin D include fatty fish like salmon, tuna, sardines, and mackerel. You can also get vitamin D from beef liver, mushrooms, and egg yolks.
Eat fortified foods. Foods fortified with vitamin D include milk, orange juice, yogurt, soy, and breakfast cereal. Almost all milk in America is fortified with vitamin D.
Get some sun. Sun exposure helps your skin make vitamin D, but you should avoid too much sun exposure because of the danger of skin cancer. Ask your doctor how much sun exposure is safe for you.
Take a supplement. Vitamin supplements include vitamin D2 and D3. D2 comes from plants and D3 comes from animal foods. D3 may be a better choice because it causes a quicker and longer rise in vitamin D blood levels.
Too much vitamin D can be toxic. It can cause nausea, vomiting, weakness, and weight loss. It can also cause kidney damage. Vitamin D toxicity is almost always due to overuse of supplements. The safe limit for vitamin D for anyone age 9 or older is 4,000 IU. If you think you might be low on your vitamin D, it's a good idea to check with your doctor before starting a supplement. [2]
Sources
MedlinePlus, Vitamin D Deficiency, https://medlineplus.gov/vitaminddeficiency.html
NIH, Vitamin D, https://ods.od.nih.gov/factsheets/VitaminD-Consumer/
Harvard School of Public Health, Vitamin D, https://www.hsph.harvard.edu/nutritionsource/vitamin-d/