9 Chia Seed Benefits (and 1 Misconception)
Chia seed benefits include lowering cholesterol, providing important nutrients, and eliminating toxins. And they're gluten-free too.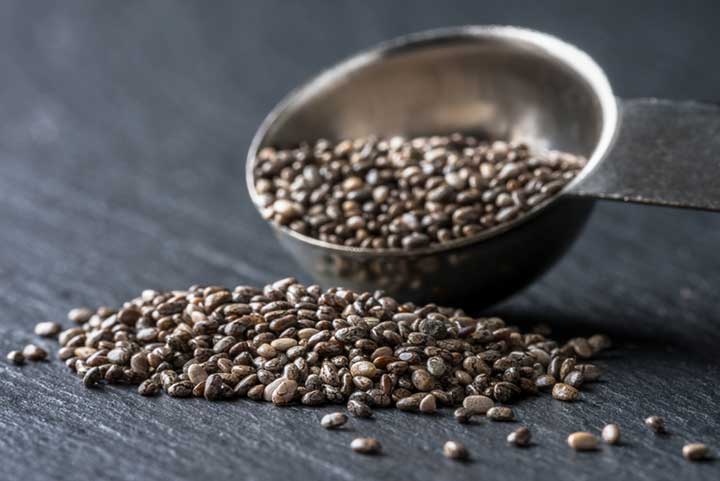 © Michelle Arnold | Dreamstime
For some reason, I almost never have all of the ingredients for whatever I'm cooking, so I've become a master of substitutions. One of my favorite tricks is to use chia seeds when I've run out of eggs. It takes just 1 tablespoon of chia to 3 tablespoons of water and a five-minute wait to have a perfect egg substitute. And while I'm a fan of eggs, I have to admit that the chia substitution gives whatever I'm making a nutritional supercharge. Chia seeds benefits are impressive.
Chia seeds come from Salvia hispanica, a member of the mint family. They're tiny and have little flavor, which makes them easy to add to your meals. And there are plenty of reasons to eat them:
They are high in antioxidants and fiber.[1]
They can be stored for long periods without going bad. [2]
They may slow the conversion of carbohydrates to sugar.[2]
They are high in protein.[3]
A tablespoon of chia contains 60 calories, so they offer a lot of nutrition for few calories.[3]
Chia Can Help Lower Cholesterol
Chia seeds also help maintain healthy serum lipid levels.[4] While most research has been done in animal models, study results suggest that chia seeds significantly lower LDL ("bad") cholesterol and triglycerides, and increase HDL ("good") cholesterol and omega-3s.[3] We've also heard from many readers who have seen their own cholesterol numbers improve after adding chia to their daily diets.
Chia Can Help Block Toxins
Because they are rich in fiber, chia helps bind toxins and move them out of the body through the digestive tract. They also contain lignans, which can help block the effects of endocrine-disrupting toxins. Read more about detox foods here. As a gluten-free food, they help add nutrients and variety for people with celiac disease or gluten sensitivity, too.
Can Chia Help You Lose Weight?
Chia seeds contain many elements that are associated with weight loss. They are high in protein, low in carbohydrates, and rich in fiber. But clinical trials have not yet found any proof that they lower body weight. Personally, I find that they help control my appetite, so they could be a good tool to avoid overeating, but they're not a magic weight loss tool.
How to Use Them and What to Watch Out For
Because chia seeds have a mild flavor, many people simple sprinkle them onto other foods, such as yogurt or cereal. You can bake them into just about anything. They do not need to be ground to release their nutrients, like flaxseeds do.
They absorb a great deal of liquid, so they can get gummy. To use that to your advantage, you can make a chia seed gel. Just soak them in water or juice. You'll have a gel in about five minutes.
Or try an overnight chia pudding. Just mix ¼ cup of chia seeds with 1 cup of liquid (such as coconut milk, almond milk, etc), ½ teaspoon of vanilla extract, and a little honey if you like. Put in a covered jar and refrigerate overnight. In the morning, you'll have a healthy alternative to tapioca pudding. (For a fruitier version, check out the recipe below.)
While chia seeds have been labeled recently as a "superfood," don't overdo it. Because chia contains a high amount of fiber, it can cause digestive issues for some people, including constipation, bloating, diarrhea, and gas. To reduce these symptoms, be sure to stay hydrated to help them pass though the body easily. If you suffer from Crohn's disease, ulcerative colitis, or another type of digestive illness, consult your doctor before making a chia seeds a part of your daily diet and avoid eating them during flare-ups.
And while drinking water can help your body digest chia seeds, the combination of the two can increase your risk of choking. Chia seeds can swell up quickly when they come in contact with liquids and get lodged in your throat, so it's important to soak chia seeds in water for 5-10 minutes before consuming them.
Share Your Experience
Do you have a favorite chia seed recipe? Share it in the comments section below.
---
[2] Chia for Health. Dr. Weil.
[3] Tufts University. Nutrition Letter.
[4] J Biomed Biotechnol. 2012; 2012: 171956.
This article was originally published in 2015. It has since been updated. 
Mango Matcha Coconut Pudding
Serves 4
By Matthew Kadey, RD
When combined with coconut milk, chia creates a delicious tapioca-like pudding that's loaded with nutrients. Antioxidant-packed matcha powder is available at most tea shops and online at republicoftea.com.
2 cups unsweetened coconut milk beverage
1 medium ripe banana
2 tablespoons honey
1 teaspoon grated fresh ginger
2 teaspoons matcha green tea powder
2 teaspoons pure vanilla extract
Pinch of salt
5 tablespoons chia seeds
1 ripe mango, peeled and cubed
¼ cup unsweetened coconut flakes
¼ cup cacao nibs
1. Place coconut milk, banana, honey, ginger, matcha, vanilla and salt in a blender and process until well combined.
2. Place chia seeds in a large wide-mouth jar and pour coconut milk mixture over top. Close the lid of the jar tightly and shake mixture very well to distribute the chia seeds. Place in the refrigerator at least 3 hours to set.
3. Place about ¼ cup pudding in each of four small serving glasses. Top each with some mango. Layer each with remaining pudding and top with remaining mango. Garnish with coconut flakes and cacao nibs.
Each serving contains 292 calories, 15g total fat, 5g saturated fat, 0g trans fat, 0mg cholesterol, 35mg sodium, 37g carbohydrate, 8g fiber, 20g sugars, 7g protein, 12 Est Gl.
Recipe courtesy of Gluten Free and More