Health Benefits of Blueberries
They may play second fiddle to strawberries in the United States, but the flavor and health benefits of blueberries are hard to ignore.
© Nevinates | Dreamstime.com
The many health benefits of blueberries may surprise you: They have a positive effect on everything from your heart to your blood vessels to your brain. Let's start with some blueberry basics: A one-cup serving of blueberries contains just 80 calories and 0.5 grams of fat while delivering almost 25 percent of your daily vitamin C requirement, 36 percent of your daily vitamin K requirement, and 3.6 grams of fiber. A cup of blueberries is also an excellent source of manganese, which supports bone development. And the benefits of blueberries don't stop there.
Berry Good for the Brain
Berries are known for being rich in flavonoids, a type of polyphenol, that can cross the blood-brain barrier and influence the region of the brain associated with memory and motor function. According to one study's results, older adults given blueberries or strawberries for three months did better on a memory test than those who received a placebo. Another study found that giving children between the ages of 8 and 10 a flavonoid-rich blueberry drink gave their memory a boost.
Blueberries also contain anthocyanins, another type of flavonoid. Anthocyanins protect the brain from oxidative stress, which has been linked to Alzheimer's disease, Parkinson's disease, cancer, high blood pressure, diabetes, muscular degeneration, and other serious conditions.
Animal studies have also shown that blueberries and other berries may help restore neurotransmitter balances and provide protection for the brain against a high-fat diet.
Benefits of Blueberries for Cardiovascular Health
GROW YOUR OWN BLUEBERRIES
To enjoy the benefits of blueberries, keep them on hand by buying fresh at the market, stashing a bag of frozen 'berries in your freezer, picking your own, and/or growing your own. Plant some blueberry bushes in rows (they can grow up to 12 feet tall, but most peak at about 6 feet, according to the U.S. Highbush Blueberry Council.
Countryside Network offers this advice: "Blueberries prefer soil that is acidic, with lots of organic matter. Mix in plenty of peat moss or compost to make your blueberries happy." And don't overlook the importance of pruning back new canes from which you harvest blueberries.
Blueberries also have been shown to relax your blood vessels, which can regulate blood pressure levels, reduce the risk of heart disease, and alleviate male impotence by improving circulation and flushing out excessive cholesterol levels.
A study published in the Journal of the Academy of Nutrition and Dietetics compared freeze-dried blueberry powder with a placebo. Among the 48 postmenopausal women with hypertension involved in the study, those randomly assigned the blueberry powder showed improved blood pressure and reduced arterial stiffness.
"These findings suggest that blueberries may prevent the progression to full-blown hypertension," the researchers commented. "The changes in blood pressure noted in this study are of clinical significance, as they demonstrate that blood pressure can be favorably altered by the addition of a single dietary component (e.g., blueberries)."
Picking the Best Blueberries
Blueberries are at their peak from May through October. When picking fresh blueberries, remember that the darker the berries are in color, the sweeter and juicier they'll taste. Avoid any berries that look green, shriveled, or damp. Refrigerate them as soon as possible and eat within 10 days or store them in the freezer.
You can also purchase blueberries in frozen, dried, pureed, or canned form. In fact, according to research conducted by UC Davis, the nutritional value of frozen fruits and veggies are general equally—or sometimes even better than—fresh fruits and veggies.  The study showed that water soluble vitamins, such as B2 and C, were either the same or greater in frozen versus fresh produce. Canned produce has also been shown to be comparable to fresh produce in terms of nutrition as stated by Fruits & Veggies More Matters.
Also keep in mind that organically grown blueberries have higher levels of phytochemicals than conventionally grown blueberries, according to research.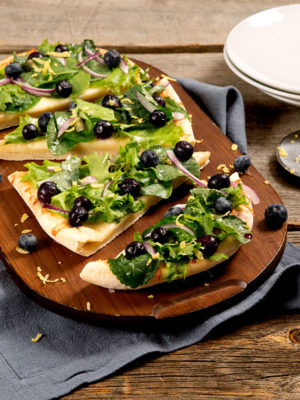 Blueberry Salad Flatbreads
Ingredients
2 14.1-oz packages pizza dough
1 c shredded mozzarella cheese
1 Tbsp sliced red onion
1 Tbsp olive oil
1 Tbsp lemon juice
1 tsp honey
1⁄8 tsp kosher salt
Pinch black pepper
2 c mixed baby greens
½ c frozen blueberries
½ tsp lemon zest
Directions
1. Preheat oven to 425°F.
2. On floured surface, roll each dough into oblong shape, about 11-inches long. Arrange on baking sheet, poke with a fork, and bake 8 minutes.
3. Remove from oven and top each piece with ½ c cheese. Place directly on oven rack and cook until crispy and melted (8-10 minutes).
4. In bowl, combine olive oil, lemon juice, honey, salt, and black pepper. Add mixed baby greens, blueberries and red onion and toss together.
5. Arrange salad on flatbreads, sprinkle with lemon zest, and slice.
Makes 16 servings
Nutrition information per serving:  116 calories, 4 grams (g) fat, 13 g carbohydrate, 7 g protein, 2 g dietary fiber, 359 milligrams sodium.
Recipe adapted and photo courtesy U.S. Highbush Blueberry Council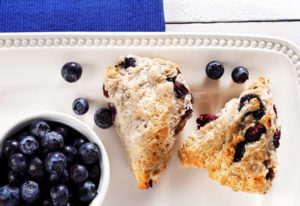 Blueberry Bannock
Ingredients
1 cup whole-wheat flour
1 cup all-purpose flour
¾ cup fresh or frozen blueberries
2 Tbsp baking powder
½ tsp ground cinnamon
1/8 tsp salt
½ cup skim milk
½ cup water
1 Tbsp canola oil
Directions
1. Preheat oven to 400°F.
2. In medium mixing bowl, combine flours, blueberries, baking powder, cinnamon, and salt.
3. Stir in milk, water, and canola oil and, using hands, moisten all ingredients, handling dough as little as possible.
4. Turn dough out of bowl and place on lightly floured surface. Using hands, form disc about ½-inch thick and about 9 to 10 inches in diameter. If necessary, sprinkle dough with flour to keep it from sticking. Cut into 8 wedges.
5. Place wedges on parchment-lined baking sheet and bake for 15 to 20 minutes or until bannock is golden brown.
Makes 8 servings
Nutrition information per serving: 130 calories, 2g total fat, 0g sat fat, 5g protein, 24g carbs, 2g fiber, 0mg cholesterol, 340mg sodium
Recipe and photo courtesy of canolainfo.org
---
This article was originally published in 2017. It has since been updated.