Top 11 Selenium Foods: Boost Your Intake of This Essential Nutrient
Learn how eating these selenium foods can help improve your health in numerous ways.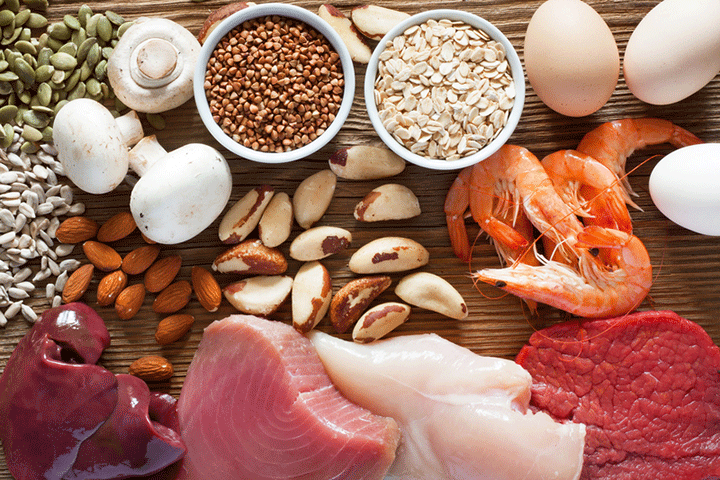 ID 119331345 © Airborne77 | Dreamstime.com
It's important to make sure your diet contains sufficient amounts of the selenium, an important trace element that is necessary for healthy brain, immune system, thyroid, reproductive, and lung function. Make sure these selenium foods play a starring role in your regular diet.
11 Foods High in Selenium
Brazil nuts (these are one of the richest sources of selenium in food) [1]
Seafood, especially oysters and tuna
Meat
Poultry
Liver
Oats
6 Reasons to Boost Your Selenium Intake
Some of the health benefits of eating more selenium foods include:
Improving cognitive function. Higher intake of selenium is associated with lower rates of cognitive decline.[1]
Boosting immune system activity. Adding more selenium to your daily diet can help promote optimal immune function.[1]
Supporting thyroid health. Selenium is helpful in treating autoimmune thyroid disorders.[2]
Treating asthma. Selenium can help lung tissues to fight oxidative damage and improve immune responses, which can help treat asthma.[3]
Reducing cancer risk. Selenium intake has been associated with reduced risk for several types of cancers.[1,2]
Improving fertility. Higher selenium levels may protect against infertility.[2]
How Much Selenium Do You Need?
Each day, you should get the recommended daily allowance for selenium, which is 55 mcg (micrograms) per day for adults.
For an idea of how much selenium is in the above foods, brazil nuts contain 777% of the daily value of selenium, with 544 mcg selenium per serving. Tuna has 92 mcg per serving, halibut has 47 mcg per serving, chicken has 22 mcg per serving, an a large egg has 15 mcg.[4]
The upper tolerable intake level (the most you should consume safely) is 400 mcg per day for adults.[4] There are risks associated with having too much selenium in your diet, so you don't want to overdo it.[1] Researchers have suspicions that too much selenium can raise the risk for type 2 diabetes.[5] So limit your intake of those foods with a lot of selenium in them, like brazil nuts and tuna.
Work with a doctor who can monitor your levels to make sure they are in the recommended range and don't get too high.
Share Your Experience
Do you eat any of these selenium foods? Do you have tips for incorporating foods high in selenium into your diet?
---
This article was originally published in 2016. It is regularly updated. 
[1] Br J Nutr. 2008 Aug;100(2):254-68.
[2] Thyroid. 2006 May;16(5):455-60.
[3] Mol Aspects Med. 2012 Feb;33(1):98-106. 
[4] National Institutes of Health Fact Sheet. Selenium. 2013.