Is Frozen Yogurt Healthy?
If you have a sweet tooth but don't want to sacrifice your healthy eating plan, you might be asking yourself: Is frozen yogurt healthy? Generally, yes—with a few caveats to consider. Here, we offer six tips on making smart choices.
© Arinahabich08 | Dreamstime.com
Since the 1970s, frozen yogurt—"froyo," as it's known—has been a popular alternative to traditional ice cream because it typically contains less fat and fewer calories. If you look closely at the nutritional content of some of the most loved brands, however, you'll find that frozen yogurt can be high in sugar and preservatives as well. So what's the deal? Is frozen yogurt healthy?
Let's do a quick side-by-side comparison: A ½ cup of vanilla ice cream, according to the USDA, contains 207 calories, 3.5 grams of protein, 11 grams of fat, and 21.22 grams of sugar, while a ½ cup of vanilla yogurt contains 159 calories, 4 grams of protein, 5 grams of fat, and 24 grams of sugar. So, while choosing frozen yogurt does allows you to dodge some fat and calories, you'd also be adding more sugar to your diet.
Frozen Yogurt: The Probiotics Edge
Here's something else to consider. One nutritional benefit that frozen yogurt has over ice cream is that many varieties contain live and active bacteria cultures, or probiotics, which have been shown to improve digestive and immune health. There's also medical evidence that it can relieve chronic fatigue symptoms, osteoporosis, high blood pressure, mood disorders, and allergies.
Just look for the National Yogurt Association's "Live and Active Cultures" seal on the package to ensure that your favorite brand contains a significant amount of probiotics.
So while frozen yogurt has some great benefits, how can you be sure that your favorite isn't doing more harm than good?
6 Tips for Choosing a Healthier Frozen Yogurt
Consider these tips to ensure that the frozen yogurt you're eating isn't sabotaging your diet:
Watch your portion size. As with any sugary treat, moderation is key. The larger the portion, the more fat, calories, and sugar you'll consume. When eating frozen yogurt, stick to about one-half cup, and when you're at your local restaurant, choose the smallest size available, keeping in mind that the smallest size might be a "kids" or "junior" size. (For more on portion sizes in general, click here.)
Choose the right toppings. Adding chocolate chips, hot fudge, whipped cream, and caramel to your frozen yogurt would make a divine sundae, but that means additional fat and sugar. Opt for fresh fruit, nuts, or low-fat granola instead.
Consider choosing "no sugar added" varieties. Depending on your personal health history and goals, you may or may not choose to consume foods containing artificial sweeteners, but it's important to note that they're regulated by the FDA and considered safe if the acceptable daily intake (ADI) established for each sweetener is consumed. If you do consume artificial sweeteners, "no sugar added" frozen yogurt could be the right choice for you, but keep in mind that it might still contain some sugar naturally found in milk. Also, be aware that some artificial sweeteners are known to cause digestive disturbances.
Skip the hard-serve. Soft-serve frozen yogurt can save a few calories because of the air that's whipped into it.
Beware of "fat free" frozen yogurt from your local shop. Usually, when companies make fat-free frozen yogurt, they add more sugar to compensate for the lack of flavor and texture. Going for a low-fat variety instead will prevent you from having too much sugar and it will be more satisfying.
Make your own frozen yogurt at home. It's easier than you think, and it will give you total control over the ingredients. All you need is some fresh fruit, plain yogurt, and a little honey or agave nectar for sweetness. (Quick tip: Using Greek yogurt will give you slight protein boost.) For detailed instructions, click here.
Is Frozen Yogurt Healthy If It Comes from a Restaurant?
With frozen yogurt's popularity growing every year, there are plenty of ways to get your sweet fix—most ice cream shops have at least a couple of frozen yogurt flavors to choose from, while restaurants like Pinkberry and 16 Handles allow you to serve yourself. There are also plenty of brands and varieties at your local supermarket, but which is the healthiest?
A mini cup of Pinkberry Pineapple is the top pick among restaurant frozen yogurt offerings, per a recent issue of Environmental Nutrition. One serving is fat-free and contains 81 calories, 14 grams of sugar, 18 grams of carbs, and 3 grams of protein. In the supermarket frozen yogurt category, Environmental Nutrition tapped Hood Strawberry Banana as the top pick. A ½-cup serving is fat-free and contains 90 calories, 16 grams of sugar, 20 grams of carbs, and 2 grams of protein.
Check out the chart below for the rest of EN's frozen yogurt picks and for additional nutritional information.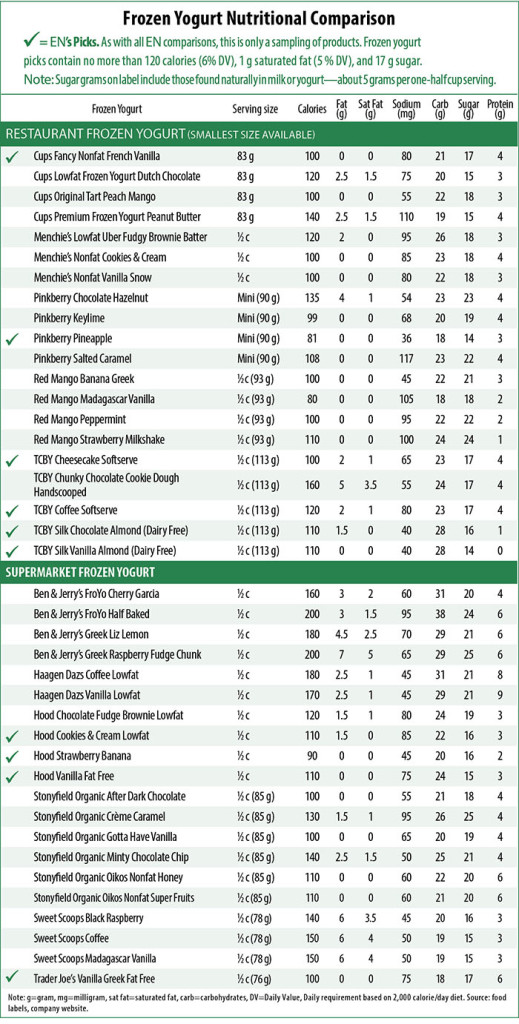 ---
Originally published in 2016, this post is regularly updated.