Is It Bad To Eat At Night?
Eating late in the evening or at night can be bad for your health...here's why.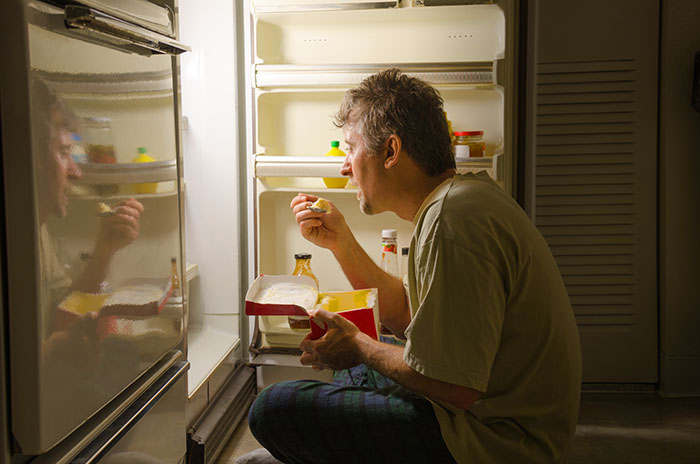 Mike2focus | Dreamstime.com
Late-night meals and midnight snacks aren't uncommon. Whether you get home late from work and have to eat dinner when you're usually going to bed, watch a movie late and snack on popcorn, or feel the need to graze on food to stay awake on a late study night, there's a temptation to eat during the nighttime hours. Is this harmless, or is it bad to eat at night? Science consistently has told us it's an unhealthy habit.
Why Is It Bad to Eat at Night?
Our bodies have a circadian rhythm: a 24-hour cycle that affects everything from our energy levels and metabolism to the way our organs function. We are wired to be awake and to eat during the day, and to sleep at night, when it is dark.
But if we alter our natural rhythm by working night shift, being exposed to light at night, or eating at night (particularly junk food), it can interfere with normal circadian function.[1,2] A host of negative changes can occur in the body particularly when we eat at night.
6 Health Effects of Eating at Night
Minimizing Your Nighttime Eating
To avoid the negative effects of eating at night, eat dinner as early in the evening as your schedule allows. If you feel hungry later in the evening and need a snack, choose a small, high-protein snack like nuts instead of something carbohydrate-heavy. Avoid large meals within a few hours of your bedtime.
If you have to be awake at night, as with shift work, try to stick as close to regular mealtimes as possible. To read about some of the health risks associated with shift work, as well as tips for how to reduce your risk, read 6 Dangerous Effects of Working Night Shift.
Share Your Experience
What are your tips for avoiding eating late in the evenings or at night? Have you ever noticed that your health takes a toll when you eat a lot late in the day? Is it bad to eat at night? Please share your thoughts in the comments section below.
---
Originally posted in 2016, this article is regularly updated.
[1] Physiol Behav. 2014 Jul;134:44-50.
[2] Proc Natl Acad Sci U S A. 2014 Nov 25;111(47):16647-53.
[3] PLoS One. 2015 Aug 25;10(8):e0136240.
[4] Br J Nutr. 2012 Oct;108(7):1286-91.
[5] Nutr Health. 2002;16(2):133-41.
[6] Nutr Res. 2014 Nov;34(11):930-5.