Nutrition Facts: Changes in Labeling Coming Soon
New product labels will focus on what we need more of and provide a reality check on sugar. The more nutrition facts we know, the better.
© Stephen Vanhorn | Dreamstime.com
For two years, the Food and Drug Administration (FDA) analyzed current ingredient labels on food products with the goal of making them more informative for consumers. In late 2016, the FDA announced its results and a roll-out plan. According to a release, "January 1, 2020 will be the uniform compliance date for food labeling regulations that are issued in calendar years 2017 and 2018." Officials at the FDA feel the new labels will better inform and guide America's food choices.
In fact, the deadline for switching over to new labels is July 2018, although some manufacturers will begin transitioning to the new look sooner. The change is both aesthetic and substantive. And it's an especially welcome change, according to senior dietitian Dana Hunnes, PhD, RD, of the UCLA Medical Center.
"One of the most important changes is the addition of added sugars," explains Hunnes. "In the past, sugars were all lumped together. The problem with this is that a piece of fruit, say, an apple, automatically has fructose, a natural sugar, inherent to the fruit. Putting an 'old' label on an apple would report it as having 15 grams of carbohydrate and 11 grams of sugar [4 grams of fiber]. The 'new' label on an apple would report it as having 15 grams of carbohydrate, 0 grams of 'added sugar.'"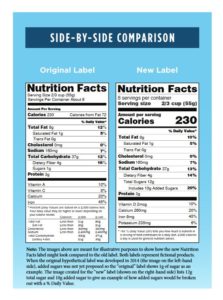 Labeling Added Sugar
The FDA, calling on expertise from such organizations groups including the American Heart Association, the Institute of Medicine, and the World Health Organization, have recommended decreasing the intake of added sugars. It has increasingly been recognized that too much added sugar may be adding to the public's health problems. Therefore, dietary guidelines have been set to help people limit added sugar consumption.
Daily, men should consume no more than 150 calories from added sugar (approximately 9 teaspoons of sugar or 37.5 grams). Women should consume no more than 100 calories from added sugar (approximately 6 teaspoons or 25 grams) on a daily basis. "Thus, seeing a food label with the line '15 grams of added sugars' is a great teaching tool and a resource to allow consumers to know how much sugar has been added to a food item," says Hunnes.
Anatomy of the New Label: Easier to Read, More Relevant Information
Here's a walk-through of the key changes in the label redesign.
Serving-size information has changed to better represent the amount of a food-product people "actually" consume.  Now an "individual" 20-oz bottle of soda, which in the past had 2.5 servings or approximately 250 calories, will be considered one portion with 250 calories.
Calorie count size is increased and in boldface, so you can instantly see how many calories are in a portion of food. It's important to remember that the calorie count applies to one serving; in many cases that does not mean consuming the whole package. (See also our posts "Weight-Loss 101: Choose Low-Calorie Foods That Are Rich in Nutrients"and "How to Use a Calorie Counter.")
% Daily Value: The idea is that the % DV helps consumers understand the nutrition information in the context of a total daily diet (how much a nutrient in a serving of food contributes to a diet of 2,000 calories a day). "It's more useful to look at absolute numbers," recommends Hunnes. "For example, looking at the total amount of sodium in a food or serving."
Actual Amounts Declared provides details about the absolute value of a micronutrient (e.g., vitamin D 2 mcg, calcium 260 mg, iron 8 mg, potassium 235 mg), along with the % Daily Value. "The actual amount of the micronutrients is more useful to people because % Daily Value can vary by body size, weight, and gender," explains Hunnes.
Added Sugar reflects how much sugar is added by a manufacturer versus how much sugar is naturally a part of the food (e.g., an apple). Added sugars add calories but no other valuable nutrients.
Updates of Essential Nutrients
Finally, some nutrients are no longer required to appear, while others will be.
According to the FDA, in the early 1990s, American diets lacked vitamins A and C. But now vitamin A and vitamin C deficiencies in the general population are rare. Manufacturers are still able to list these vitamins voluntarily, but they are not required. Vitamin D (important for bone health) and potassium (helps lower blood pressure) are nutrients Americans don't always get enough of, according to nationwide consumption surveys.
When those nutrients are lacking, there is an increased risk for chronic disease. New labels must have vitamin D and potassium listed. Calcium and iron, which are already on the labels, will continue to be on the new ones.