Bone Density Chart: Understand Your Bone Density Testing Scores
Even if you're otherwise healthy, getting a baseline bone density test can help predict a fracture in the future.
© Guniita | Dreamstime.com
Osteoporosis is an insidious illness that sneaks up on you. Studies suggest that about 50 percent of women over the age of 50 will suffer a fracture related to bone loss. And each year, approximately 80,000 men have a hip fracture. That's why it's so critical to undergo bone density testing. Even if you're otherwise healthy, consulting a bone density chart and getting a baseline bone density scan can diagnose even the slightest beginnings of bone loss.
There are a variety of bone density tests available, but the "gold standard" test for diagnosing osteoporosis is the DEXA scan (also written as "DXA scan"). The acronym stands for dual energy x-ray absorptiometry, and it measures bone density in the spine, hip, or wrist. If you do have low bone density, those are the most common locations for fractures.
Does the DEXA Scan Hurt?
A DEXA scan is painless and only takes about 15 minutes to perform. During the test, you lie on your back on a table and a scanner passes over your body taking radiographic images.
Who Should Get a DEXA Scan?
According to the US Preventative Services Task Force, DEXA screening is recommended for all men over the age of 70 and all women over the age of 65. Bone density should also be measured in women between the ages of 50 and 65 who are considered high risk for osteoporosis. In addition to obtaining your initial DEXA scan results, repeating the scan every two to five years is recommended, depending on your risk factors.
DEXA and Radiation
The radiation emitted from a DEXA scan is about one-tenth the radiation emitted from a chest x-ray. Other bone density tests emit less or no radiation at all: a QCT scan, NTx urine test, or vitamin D test. However, these tests are not accurate for diagnosing osteoporosis and are only used to identify people who would benefit from bone density testing.
Interpret Your Bone Density Scan Results
DEXA bone scan results scores are measured as T-scores, which is a comparison of a person's bone density with that of a healthy 30-year-old adult. The lower bone density test results, the lower your total bone density, indicating osteopenia or osteoporosis.
T-Score Bone Density Chart: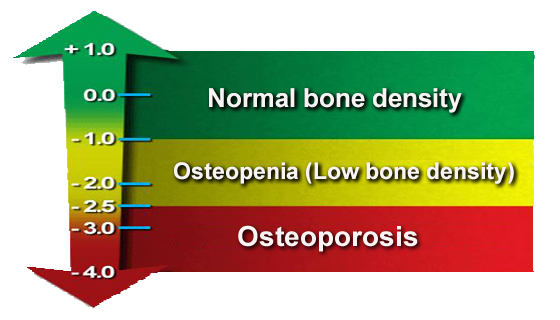 A T-score of -1.0 to -2.5 signifies osteopenia, meaning below-normal bone density without full-blown osteoporosis. This stage of bone loss is the precursor to osteoporosis.
Using a Bone Density Chart to Estimate Total Bone Loss
To better understand the current health of your bones, you should multiply your T-score by 10 percent (as shown in the bone density results chart below). This will give you a rough estimate of how much bone density has already been lost.
Bone Density Chart for Estimated Amount of Bone Loss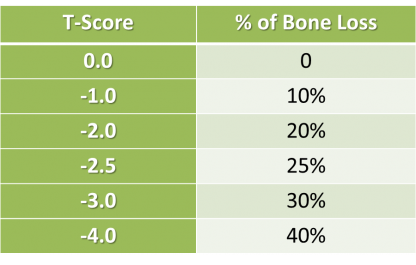 Keep in mind: Focusing too closely on the DEXA bone density scores can be a mistake. Many doctors admit that the DEXA T-score is not a perfect predictor for bone health or fracture risk. That's why it's important to consider taking the other tests. Furthermore, your risk factors are just as important as your T-score and may lead to better predictions of bone disease. In order to determine your true osteoporosis risk factors, use our self-test here: Should I Be Worried About Bone Loss? Use Our Quiz to Find Out!
Now that you understand your bone density scores, here's what to do about it. If your DEXA bone density scores show that you're in danger for developing osteoporosis or if you have discovered by using our self-test that you indeed have several risk factors, this should not be ignored. You can take steps right now, such as monitoring your calcium and vitamin D levels and utilizing weight-bearing exercises, to prevent or fight osteoporosis. Don't forget that full-blown osteoporosis is a serious condition that can have devastating consequences on your health and quality of life. Getting low bone density scores is only an initial warning. Are you going to sit there and do nothing, or will you prepare for the oncoming attack?
For more information on bone health, visit the National Osteoporosis Foundation's General Facts page.
---
Originally published in 2013, this post is regularly updated.