Avoiding Weight Gain: Foods to Help You Stay Slim
When trying avoid weight gain, foods that are high in fiber and protein are key.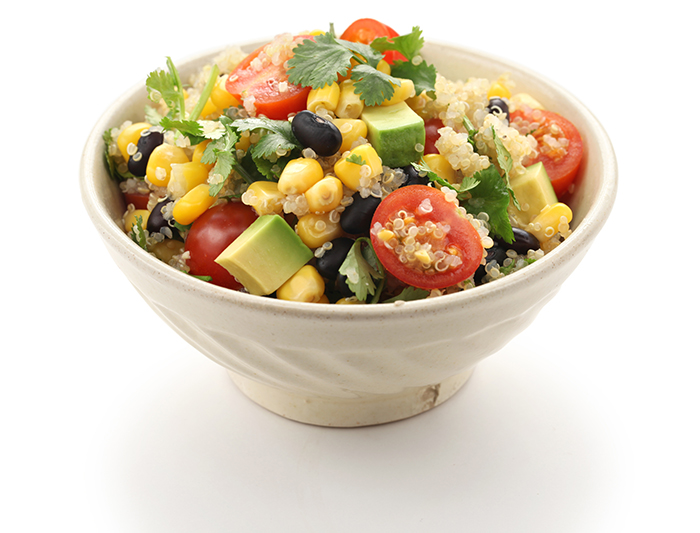 © Ppy2010ha | Dreamstime.com
Maintaining a healthy weight can be a struggle, but choosing certain foods can make maintaining your weight easier, and can also help you shed some pounds.
Fill Your Plate With Fiber
"Fight weight gain by getting fiber from fresh vegetables, fruits, whole grains, and legumes," says Jenna Rosenfeld, MS, RD, CDN, CNSC, a dietitian at Weill Cornell. "Fiber keeps you feeling satisfied, stabilizes your blood sugar, and promotes good digestion."
In particular, adding vegetables to your meals can help fight weight gain. Vegetables are very high in fiber and volume, meaning you physically feel more full after eating them—plus, they're low in calories.
Aim to fill half of your plate at lunch and dinner with vegetables. Replace refined grains, such as white rice, pasta, and breads, with whole-grain versions to boost your fiber intake. The whole-grain options have more nutrients, and the fiber slows down your digestion, helping you feel satisfied for longer.
Steady Protein Intake
"Incorporating a source of protein at every meal and snack is a sure-fire way to control your appetite through the day. Protein also helps keep up your energy and stave off weight gain in the long term," says Rosenfeld. The most heart-healthy proteins are plant-based, such as beans, chickpeas, lentils, nuts, and seeds. These foods are also high in fiber, so they pack a double punch for fighting weight gain.
When selecting an animal protein, choose fatty fish, such as salmon, tuna, or sardines, for an omega-3 boost. Other good choices include skinless chicken and turkey breast: They are much lower in calories and saturated fat than red meat, pork, processed meats, or whole-fat dairy foods.
Putting a Stop to Weight Gain: Foods to Avoid
After packing your plate with vegetables and healthy sources of protein, avoid sabotaging your progress by limiting weight gain foods.
High-sugar foods, such as sodas and other sweetened beverages, desserts, and candies, are also high in calories. Consume added sugars in moderation to better manage your weight. For a sweet treat, choose fresh fruit instead; the fiber found in fresh fruit is much more satiating than liquid sugars in juice and sodas, and fruit is much lower in calories than most desserts.
Weight gain foods also include highly processed and fatty chips, snacks, fried foods, and fast foods. Oftentimes, these foods are very low in fiber, vitamins, and minerals, but high in salt, preservatives, fat, and calories. "Replacing added sugars and fatty foods with fresh, high-fiber foods and protein will help prevent weight gain," says Rosenfeld.