Are You a Type 2 Diabetic? Protect Your Heart
The diabetes drug list now includes medications that may cut your cardiovascular risk while lowering your blood sugar. If you're a type 2 diabetic, consider these newer medications and aggressive risk-factor management to safeguard your heart health.
© Zerbor | Dreamstime.com
If you're a type 2 diabetic, you face a greater risk of cardiovascular disease, heart attack, and stroke. And, a type 2 diabetic has a 70 percent greater likelihood of dying from cardiovascular disease versus a non-diabetic, according to the Centers for Disease Control and Prevention.
But recent evidence suggests that if you have type 2 diabetes and cardiovascular disease, certain medications that lower your blood sugar may also reduce your cardiovascular risk in the process. In December 2016, one of these drugs, empagliflozin (Jardiance), became the first diabetes medication to earn an indication from the U.S. Food and Drug Administration (FDA) for reducing the risk of cardiovascular death in adults with type 2 diabetes and cardiovascular disease.
"Cardiovascular disease is a leading cause of death in adults with type 2 diabetes mellitus," Jean-Marc Guettier, MD, CM, director of the Division of Metabolism and Endocrinology Products in the FDA's Center for Drug Evaluation and Research, said in a statement. "Availability of anti-diabetes therapies that can help people live longer by reducing the risk of cardiovascular death is an important advance for adults with type 2 diabetes."
New Drugs Offer Fringe Benefits
For nearly a century, ever since insulin was first used to treat diabetes in 1922, no blood-sugar-lowering medication had been shown to reduce cardiovascular risk in randomized clinical trials.
That situation changed in 2015, when a study involving 7,020 type 2 diabetes patients with cardiovascular disease found that empagliflozin lowered the risk of cardiovascular death by 38 percent and death from all causes by 32 percent, compared with placebo, when added to standard care (New England Journal of Medicine, Nov. 26, 2015). Empagliflozin belongs to a class of drugs known as sodium glucose cotransporter 2 (SGLT2) inhibitors, which prompt the kidneys to excrete sugar from the body through urine, thus lowering blood sugar.
Since then, another major trial found that liraglutide (Victoza)—a member of a drug class known as glucagon-like peptide-1 (GLP-1) receptor agonists—reduced the risk of cardiovascular death, heart attack, and stroke among more than 9,000 type 2 diabetic patients at increased cardiovascular risk (New England Journal of Medicine, July 28, 2016).
"Our results should give patients and providers comfort that liraglutide can safely improve outcomes beyond the core treatment of type 2 diabetes," the trial's lead investigator, John B. Buse, MD, PhD, of the University of North Carolina School of Medicine, Chapel Hill, said in a statement. "In addition, liraglutide reduced the risk of the most serious complications associated with type 2 diabetes, including the risk of death. It is exciting to see such a broad-based benefit for patients who took liraglutide because most prior trials of diabetes medications have not shown such benefits."
GLP-1 Cardio Benefits
New England Journal of Medicine, Nov. 10, 2016), investigators reported similar cardiovascular benefits from an investigational GLP-1 drug, semaglutide. (The drug's manufacturers applied for FDA approval in December 2016.)
Research suggests these classes of medications may offer other fringe benefits. Drugs in both classes may promote weight loss, and they also may slow the advance of chronic kidney disease. In a recent study (Journal of the American Society of Nephrology, online Aug. 18, 2016), type 2 diabetic patients who took the SGLT2 inhibitor canagliflozin (Invokana) experienced slower kidney function decline than their counterparts who took an older diabetes medication, glimepiride (Amaryl). The benefits of canagliflozin occurred despite the fact that the drug reduced blood-sugar levels only slightly more than glimepiride.
"Since glycemic control was only modestly different between canagliflozin and glimepiride, our results suggest that potential kidney-protective effects of canagliflozin may be unrelated to glycemic control," the study's lead investigator, Hiddo Lambers Heerspink, PhD, of University Medical Center Groningen, the Netherlands, said in a statement. "Our results are especially important, since many patients with diabetes are at risk of progressive kidney function loss, and canagliflozin may offer a new and improved therapeutic opportunity for these patients."
Early, Aggressive Intervention
Guidelines from most medical experts recommend metformin (Glucophage) as the go-to first-line drug for most patients newly diagnosed with type 2 diabetes. The medication is widely available, safe, effective, and relatively inexpensive. Yet, despite the drug's advantages, many type 2 diabetes patients eventually require more than metformin alone to control their blood sugar.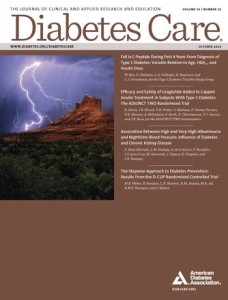 Given the recent study findings, the choice for that add-on therapy in diabetes patients at increased cardiovascular risk may come from the SGLT2 inhibitors or the GLP-1 receptor agonists, although experts caution that treatment must be individualized to each type 2 diabetic patient. One recent study found that combining empagliflozin and metformin produced greater reductions in hemoglobin A1c over six months versus either treatment alone in newly diagnosed type 2 diabetic patients (Diabetes Care, October 2016).
Do Your Part to Cut Your Risks
Diabetes medications can lower your risk of serious microvascular complications of type 2 diabetes, such as nerve, kidney, and vision problems. But reducing your cardiovascular risk takes more than just a diabetes drug. You also have to optimize your weight, blood pressure, and cholesterol through a heart-healthy diet, regular exercise, and, if necessary, medications.
In fact, 21-year results of the Danish Steno-2 trial showed that intensive management of all diabetes-related vascular risk factors extended the life expectancy of type 2 diabetes patients by an average of nearly eight years compared with conventional diabetes care. Additionally, the intensive management strategy reduced the risk of type 2 diabetic kidney and vision complications by 30 to 50 percent, the study found (Diabetologia, November 2016).
"The observations from the 21 years of follow-up of the Steno-2 study are another important contribution to justify an early, intensified, individualized, and multifaceted care of patients with type 2 diabetes," senior author Dr. Oluf Pedersen, of the University of Copenhagen's Metabolism Center, said in a statement.
So, in addition to keeping tabs on your blood sugar and having your hemoglobin A1c checked periodically, have your blood pressure, weight, cholesterol, and kidney function assessed at an interval your doctor recommends.
Also, undergo annual vision checks (as recommended by the American Diabetes Association), and talk to your doctor about regular podiatry exams.