Throat Cancer Symptoms: Take Heed of These Serious Signs
Tell your doctor about a lump in the throat, swallowing difficulties, or other potential throat cancer symptoms.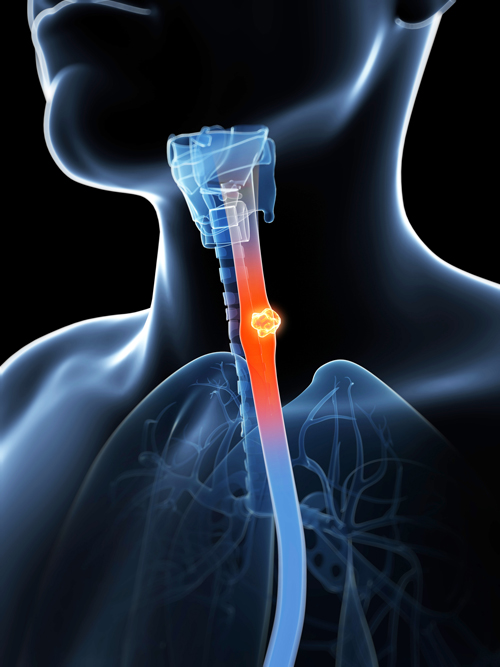 © Sebastian Kaulitzki | Dreamstime.com
Your throat. A lot can happen to that 5-inch hollow tube that connects the base of your nasal cavity to your windpipe and esophagus. A sore throat can silence your singing voice. Or a faulty pharynx (the medical name for the throat) may cause swallowing difficulties that can affect your appetite. While in most cases these and other warning signs herald a cold or other benign condition, they also could be throat cancer symptoms.
According to the American Cancer Society, more than 15,000 Americans are diagnosed with throat cancer each year. If you experience any symptoms of throat cancer, especially if they linger, seek a medical evaluation from your physician.
Recognizing Throat Cancer Symptoms
Throat cancer is a broad term used to describe cancers that form in the pharynx, larynx (voice box), and the tonsils. More specifically, experts categorize throat cancer (laryngeal cancer, for example, or tonsil cancer) based on the area of the pharynx affected:
Nasopharynx: The upper section of the throat, located directly behind the nose; cancers in this area of the throat are relatively rare.
Oropharynx: The middle portion of the throat, located behind the mouth; also includes the soft palate, tonsils, and the back of the tongue.
Hypopharynx: The bottom section of the throat, where the pharynx meets the trachea and esophagus; adjacent to the larynx and often grouped with laryngeal cancer.
Symptoms of Throat Cancer
Cancer can affect more than one section of the throat and larynx, as well as the esophagus (called esophageal cancer) or trachea, at the same time. Throat cancer symptoms may vary slightly depending on the area of the pharynx affected.
Throat cancer symptoms that are common include:
Sore throat that does not go away
A lump in the throat or neck
Ear pain
Other, site-specific signs of throat cancer may include:
Nasopharyngeal: A lump in the nose, nosebleeds, nasal blockages/difficulty breathing, headache, recurrent ear infections, ringing in the ear/hearing loss, difficulty opening the mouth, and facial pain or numbness.
Oropharyngeal: Swallowing difficulties, trouble opening the mouth or moving the tongue, voice changes, unexplained weight loss, and coughing up blood.
Hypopharyngeal: Swallowing problems and voice changes.
In addition to throat cancer, several non-cancerous medical conditions may cause these symptoms, so it's important to see your physician to get the right diagnosis.
Your dentist should examine your oral cavity and oropharynx as part of routine checkups. Also, regularly look at your mouth and throat in the mirror, and tell your healthcare professional about any abnormalities you notice.
Your doctor will perform a physical exam and review of your symptoms. If he or she suspects throat cancer, you'll be referred to an ear, nose, and throat specialist for a more comprehensive examination of your throat. The specialist will use special mirrors or a flexible scope (endoscope) to visually inspect your throat and larynx for signs of cancer. Your physician also may recommend a panendoscopy, a procedure done under general anesthesia, to inspect more thoroughly the pharynx, larynx and surrounding areas and to biopsy suspicious tissue.
No simple screening tests for throat cancer are available, so routine screening generally is not recommended. Sometimes, throat cancer may offer no warning signs until it becomes advanced. But in some cases it's still possible to detect the disease in its earlier, more treatable stages because certain throat cancer symptoms, such as voice changes, may develop fairly quickly in the disease process. As such, see your doctor if you develop any signs of throat cancer so you can start prompt treatment.
Know Your Risk: Throat Cancer Causes
Throat cancer is more common in older adults and among men. Although there's nothing you can do about your age or gender, you can take steps to prevent other, modifiable throat cancer risk factors.
As with other cancers, smoking and other forms of tobacco use can be causes of throat cancer—particularly oropharyngeal, hypopharyngeal, and laryngeal cancers. Alcohol consumption, especially excessive drinking, also increases the risk of throat cancer.
Combining tobacco and alcohol use multiplies the risk. For instance, some research suggests that heavy drinkers and smokers may be up to 100 times more likely to develop oropharyngeal cancer compared to those who don't drink or smoke, the American Cancer Society notes. By quitting or refraining from smoking and limiting or avoiding alcohol consumption, you may reduce your risk of throat cancer.
WHAT YOU SHOULD KNOW
For further reading on topics related to throat cancer, oral cancer, and mouth cancer symptoms, see these University Health News posts:
A Word on HPV Throat Cancer
Another risk factor for oropharyngeal and hypopharyngeal cancers is human papillomavirus (HPV) infection. (Infection with another virus, Epstein-Barr, is linked to nasopharyngeal cancer.) HPV encompasses more than 150 viruses—HPV 16 is the type associated with throat cancer.
Perhaps most widely known for its role in cervical cancer, HPV also can cause throat cancer, although only a small percentage of people with HPV infection develop throat cancer. The virus can be transmitted from person to person via skin-to-skin contact or during sex.
Some studies have found that the risk of HPV infection of the mouth and throat is greater in men and is tied to sexual activities such as oral sex and open-mouth kissing. The risk of infection also increases with the number of sexual partners you have. Talk to your doctor about your risk of HPV infection and whether you should consider vaccination against HPV.
Throat Cancer Treatment Options
Throat cancer can be treated in several ways, depending on the location of the cancer:
Nasopharyngeal: For early-stage disease, radiation therapy to the tumor and adjacent lymph nodes is the primary treatment. For later stages, radiation plus chemotherapy is the standard treatment regimen. Some patients may require further radiation therapy or surgery if the cancer spreads to nearby lymph nodes.
Oropharyngeal: Surgery and radiation therapy are the primary treatment options, and are often followed by chemotherapy. In some patients, doctors may augment radiation therapy or chemotherapy with the drug cetuximab (Erbitux), which attacks the cancer by targeting a protein on its surface.
Hypopharyngeal/laryngeal: A major goal of treatment is to preserve your voice, when possible. Some cancers that form on the vocal cords can be removed with laser surgery, a minimally invasive procedure known as vocal cord stripping, or partial or complete removal of the vocal cords. Others require surgery to remove part of the throat and voice box, or the entire voice box. Radiation may be used as the primary treatment for some early-stage hypopharyngeal and laryngeal cancers, for patients too sick to undergo surgery, and to kill any cancer that remains after surgery.
Chemotherapy is commonly used with radiation therapy as a primary treatment of more advanced cancers, as well as after surgery or to treat cancers that have spread or are too large to be fully removed by surgery. Targeted therapy with cetuximab may be added to radiation or chemotherapy.
---
Originally published in 2016, this post is regularly updated.