What Causes Back Spasms?
Pain caused by back spasms is severe—even debilitating—but knowing how to treat it at home can provide immediate relief and may prevent future spasms.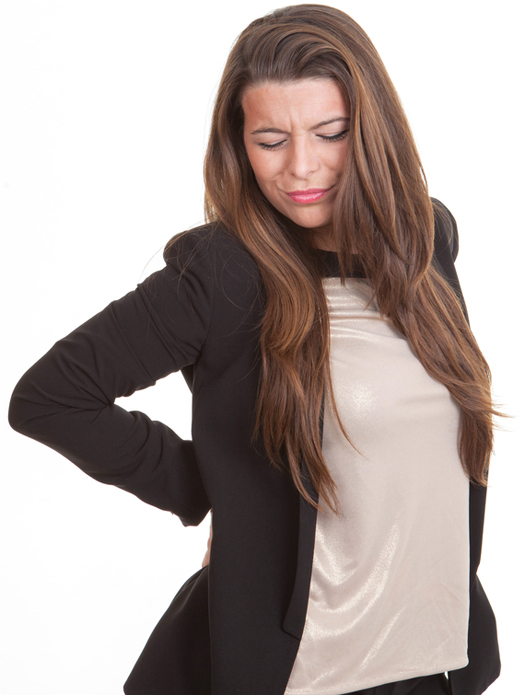 c Godfer | Dreamstime.com
You'll know it when it happens. You might be doing something physically challenging, like playing a sport or lifting a heavy object. Or you might be doing something completely routine, like bending over to tie a shoe. In either case, it's a sharp, sudden pain triggered by an involuntary muscle contraction, often in the lower back. It's a muscle spasm that can be so painful you may not be able to move. Knowing the cause of back spasms is important, but the immediate objective is to do something about the pain.
Immediate Relief from Back Spasms
The first thing to do is get into a position that's less painful. Lying on a firm surface, either on your back or side, with a pillow between yours knees may take the edge off during the day and while you're trying to sleep at night.
Don't stay completely immobile. Limited, mild movement is better than total bed rest. Once the pain becomes tolerable, try walking slowly for a few minutes several times a day.
Apply an ice pack for 15 to 20 minutes, three to four times a day for the first 48 to 72 hours. The cold application dulls the pain and may reduce inflammation. If that doesn't work, use moist heat to increase circulation and make you more comfortable, or alternate ice and heat applications.
Aspirin, acetaminophen (Tylenol), ibuprofen (Advil, Motrin), and naproxen (Aleve) can help with pain. Aspirin, ibuprofen, and naproxen are meant to relieve pain and reduce inflammation. And acetaminophen does address inflammation. (See also our post "Painkillers: A Primer on Effective—and Safe—Choices.")
If Spasms Continue
If the spasms continue, get in touch with your doctor. He or she may want you to come in for a visit or prescribe one of several muscle relaxants, such as trade names Flexiril, Robaxin, or Soma. There are side effects with every medication, so ask before taking one—prescription or over-the-counter.
Spinal manipulation (think osteopath or chiropractor) is one of several options that can provide mild-to-moderate relief from low-back pain (including back spasms), according to the National Center for Complementary and Integrative Health. Spinal manipulation appears to work as well as conventional treatments such as applying heat, using a firm mattress, and taking pain-relieving medications.
What Causes Back Spasms?
There is no single mechanism that accounts for back spasms, but back strains—muscle/tendon/ligament tears—are the most common cause. A more serious cause is a bulging disc that presses against a nerve, causing the surrounding muscles to involuntarily contract.
Skeletal irregularities such as scoliosis can cause pain anywhere in the back. The lower back is one of the most frequent areas affected by osteoarthritis.
Weak abdominal muscles, tight hamstrings, and weak lower back muscles make anyone more likely to have a back spasm than a person who is stronger and more flexible.
Preventing Back Spasms
Once you have recovered, avoid sitting in one position for long periods of time. Get up and stretch every 20 to 25 minutes. Before you return to normal daily activities, slowly and carefully execute each movement required during a normal day before doing them in real time situations. Use a lower back support to remind you sit and stand straight so that you evenly distribute pressure on the muscles of the lower back.
When lifting heavy objects, keep your back as straight as possible and use your legs. Do not bend at the waist. Avoid slouching when sitting.
If you're overweight, losing a few pounds will relieve stress on the muscles prone to spasm. Regular physical activity that includes strengthening exercises will help you move better and more safely. Examples are wall squats, knees to chest, trunk raises, and leg lifts.
With or Without Treatment
With or without treatment, most back problems, including muscle spasms, will subside with time. But if you suffer a debilitating back spasm, you don't have time. The key is to keep doing the things that will keep spasms from recurring.
---
Originally published in 2017, this post is regularly updated.