Exercise Can Reduce and Delay Parkinson's Disease Symptoms
The effects of Parkinson's disease can creep up on us. Exercise has been shown to fend off Parkinson's disease symptoms—it's
© Jan Mika | Dreamstime.com
About 60,000 people are diagnosed with Parkinson's disease (PD) each year; most are over age 60, and men are twice as likely to have it as women. Early Parkinson's disease symptoms are subtle, occur gradually, and may go unnoticed for some time. As the disease progresses, however, the shaking, or tremor, that affects the majority of people with PD, may begin to interfere with daily activities.
Patients may also experience other symptoms, such as sleep issues, depression, and cognitive decline. To combat those symptoms, neurologists–specialists in treating Parkinson's disease–are increasingly prescribing exercise as part of their recommended treatment plan.
"Exercise is like medicine and is used along with medications," says neurologist Indira Subramanian, MD, UCLA Department of Neurology. "It's part of our counseling from day one because it helps patients overall and may slow down the progression of the disease."
Combating Parkinson's Disease Symptoms: Start Sooner Rather Than Later
Researchers from the National Parkinson's Foundation (NPF) looked at data on more than 1,300 of the study participants who reported little regular exercise at the beginning of the study. Five hundred of those individuals began exercising more than 2.5 hours per week within the next two years.
The researchers compared participants who exercised regularly for the entire two years to people who didn't exercise at the beginning of the study, but then started to exercise regularly. Over the two-year study period, quality of life scores worsened 1.4 points in the early starters and 3.2 points in the late starters.

"This design is the standard approach to show that an intervention slows the disease: If it just improved symptoms, people who start late would get the same benefit as those who start early," explains Peter Schmidt, PhD, NPF's Senior Vice President and an author of the study. "We found that people who start exercise early get more benefit than those who start late."
The study didn't separate types of exercises, just the total exercise reported.
"There is some controversy about exercise intensity, and whether it should be one-on-one or in a group," says Dr. Subramanian. "What matters is getting the heart rate up and staying challenged. It's also important not to water it down just because someone has been diagnosed with the disease."
A Variety of Active Choices
Trying different options can keep exercise interesting for body, mind, and spirit. "Pedaling for Parkinson's," for example, is a stationary spin bike class offered at many YMCAs and other centers nationwide. This established program works similarly to a conventional spin class with upbeat music and a motivating instructor.
Dancing, especially with a partner, can also be helpful to those with PD. In addition to learning steps, the social aspect of partner dancing can be uplifting.
"Some like yoga, others box, and some dance," says Dr. Subramanian. "One of my patients has been a marathon runner since he was diagnosed 20 years ago. He's in his 70s and he's still running."
The point: It doesn't matter what exercise you do for holding off Parkinson's disease symptoms—and, for that matter, to improve your health in general. What matters is that you enjoy it.
FYI
FIGHTING PARKINSON'S, GLOVES ON
Rock Steady Boxing is a program designed for those who deal with Parkinson's disease symptoms. It started in 2006 with six people in a borrowed gym in Indianapolis. It has since expanded into nearly 300 programs in 44 states as well as several international locations.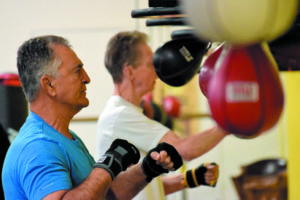 Participants don't box each other; rather, they do boxing drills, including work with heavy bags and speed bags to improve such skills as agility, speed, coordination, and endurance.
"The classes build confidence and camaraderie," says Kane Henneke, a Rock Steady Boxing instructor based in Sarasota, Florida. "The students push and help each other."
Classes may be segmented according to functional ability, or they may be mixed level. They also include lots of stretching as well as exercises that focus on core strength and fine and gross motor skills.
To find a class, go to RockSteadyBoxing.org.
—JoAnn Milivojevic, Executive Editor, UCLA Healthy Years