What's the Best Mattress for Back Pain? Here's How to Find Your Answer
Could your mattress be the cause of your back pain? Here's what you need to know to get your answer—and to choose the best mattress for back pain.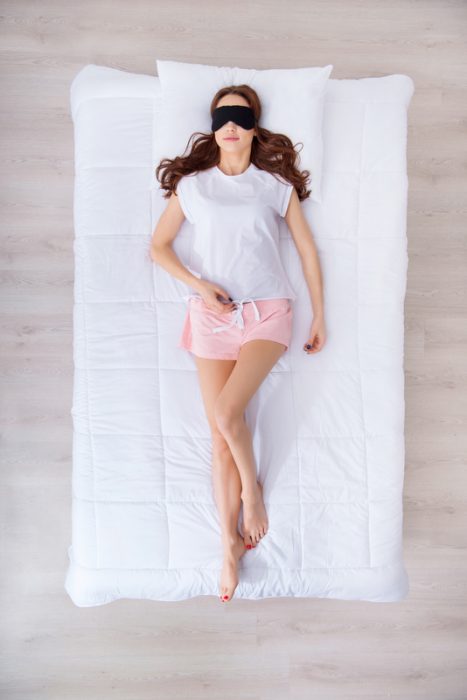 Viacheslav Iacobchuk | Dreamstime.com
Soft, medium, or firm? Comfort or support? Innerspring, memory foam, Latex, or air? Those are just a few of the choices you'll have to make when you shop for the best mattress for back pain.
One other problem: There is no standardization when it comes to mattress specifications. Each manufacturer makes its own rules. Research is limited and inconclusive. Mattressess are the Wild West of sleeping comfort—or lack of it.
You might start, if you have recurring back pain, by consulting with your doctor. Get his or her opinion on the cause of your back pain and what you might do—including the choice of a mattress—to make it better.
Best Mattress for Back Pain?
It's possible that your mattress is not your problem. Your back itself may be the thing that needs attention, and treatment is available with a variety of non-invasive approaches. (See our post "Low Back Pain? Explore Your Options for Easing the Ache.") However, if a new mattress is still in the picture, here are seven considerations that'll help you in your search for the best mattress for back pain.
#1. Cost
The price of a mattress is not an absolute predictor of quality or therapeutic value, but it's a consideration. One study found that people who sleep on the cheapest mattresses report pain most frequently. Shop for quality and best value, not price alone.
#2. Age
Not your age; rather, the age of the mattress. Mattresses wear out. If yours is lumpy or sagging in the middle, it's time for an upgrade. One expert says you should change your mattress every five to six years; another says every nine to 10 years. A study in the Journal of Chiropractic Medicine found that people reported less back pain when they bought a new mattress, regardless of its features.
#3. Firmness
People have been conditioned to think that firmer is better if you have a back problem, but it's not necessarily true. Sleeping on a "medium firm" mattress resulted in a significant reduction in chronic lower back pain and improvement in sleep quality, according to a study published in Sleep Health.
By the way, firmness and support are not the same. Firmness, says one manufacturer, relates to the uppermost part of a bed. Support is provided by the middle and lower levels. Firmness or softness refers only to the initial feel of a bed. A mattress can be soft and still provide support if it's at the right places.
#4. Spinal Alignment
Comfort is associated with proper spinal alignment. Our backs have natural curves, and it's important to sleep on a mattress that supports those curves without creating pressure. Too much pressure might result in misalignment. The most important pressure points are those that have the greatest contact with the bed—shoulders, hips, legs.
#5. Body Size, Body Weight
Two-thirds of Americans are overweight or obese. The heavier a person, the more force exerted onto a mattress in a lying position. That could make you sink low into a soft mattress. A lighter person might feel as though he or she is being "pushed up" on top of a firm mattress. Generally speaking, the more you weigh, the firmer your mattress should be.
#6. Innerspring
Innerspring mattresses are the most widely used, and there is some evidence that firmer versions of innersprings are good for people with back pain. The number of coils, which can range from 300 to more than 1,000, is a consideration but only up to a point. More is not necessarily better. A mattress with a high number of coils can feel soft if the thickness of coils is low (closer to 12-gauge than to 15-gauge).
#7. Type of Mattress: Latex, Memory Foam, Air, Adjustable
Latex mattresses are made with foam rubber that gives a "bounce back" feel, says bed manufacturer Novosbed. Latex models tend to be firmer than other mattresses.
Memory foam mattresses, made from a polyurethane foam, change according to the shape of your body and supposedly reduce the number and degree of pressure points. They are available in a wide range of firmness.
Air beds (not the kind you inflate at home and pull out when you need to accommodate extra guests) have air-filled compartments instead of coils that increase or decrease firmness. They often come with adjustment features for each side of the bed, which is an option for couples who prefer different degrees of firmness.
Adjustable beds can be elevated or adjusted to accommodate individual preferences. Any type of mattress (Latex, memory foam, or air) can be used on top of an adjustable bed. They are an option for people with hip or back pain and for those who have difficulty moving from a lying position to sitting up or standing.
When in Doubt…
Ultimately, there is no consensus on the best mattress for back pain. What's important is which mattress is best for you. Hint: It's the one that allows you to sleep comfortably at night and to get up in the morning without a pain in the back (or neck).
The Sleep Council offers these suggestions for choosing the right mattress for you and your aching back:
Do your homework. Research options online before going to a mattress store.
Look at online reviews at websites you trust and have used previously.
Look for a retailer who gives you attention and information. Make a list of questions to ask before you shop.
Take a test drive. With shoes off, lie on prospective mattresses in various positions for up to 10 to 15 minutes when practical.
Ask about the return policy. An increasing number of manufacturers are allowing mattresses to be returned within a certain amount of time, but with conditions.
Still in doubt? Determine your budget ahead of time and choose an affordable, well-constructed, medium-firm mattress. It won't be cheap, but think of it as an investment in your health.
SOURCES & RESOURCES
For related reading, please visit these posts: