What Is Cognitive Behavioral Therapy? It Can Help You to Sleep Better, Manage Pain, Lose Weight, and Feel More Calm
Negative thought patterns can contribute not only to psychological distress, but also to a variety of health conditions as well.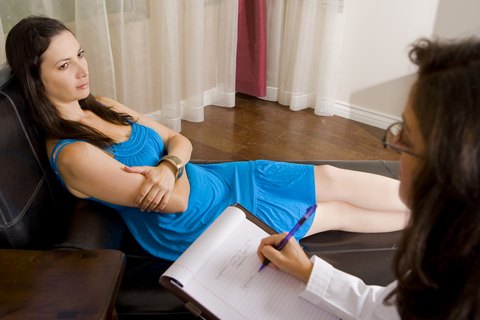 © Stephanie Swartz | Dreamstime.com
Do you talk down to yourself? Do you find that you often talk yourself out of doing something because you might get embarrassed, don't think you can do it, or are worried about the outcome? Do you find yourself focusing on how a health condition is holding you back? Negative thought patterns such as these can contribute not only to psychological distress, but also to a variety of health conditions as well. Cognitive behavioral therapy can teach you how to identify maladaptive patterns of thinking and how to replace them with more appropriate and helpful ones, helping you to lead to a happier, healthier life. But what is cognitive behavioral therapy, exactly?
What is Cognitive Behavioral Therapy?
Cognitive behavioral therapy is based on the idea that our thoughts, emotions, and behaviors are intricately connected. Negative thoughts, for example, can lead to negative emotions and behavior, which in turn can bring about more negative thoughts, more negative emotions and behavior, and so on. These patterns can become quite destructive, leading to unhappiness, stress, relationship conflicts, and in many cases, mental and physical illness. Negative thought patterns can also make many mental and physical illnesses worse by increasing symptoms and preventing recovery. The goal of cognitive behavioral therapy is to challenge negative, inaccurate, and maladaptive thought patterns and to replace them with more effective ones.
Here are some examples of negative thoughts, and more adaptive alternatives:
| | |
| --- | --- |
| I can't go to the gym. I'll embarrass myself. | It doesn't matter what other people think, I am strong and will get even stronger if I challenge myself. |
| No one likes me. I will be lonely forever. | I am worthy of love and relationships. I just need to put myself out there. |
| I can't follow a diet. I am a total failure and have no self control | I am in control of what I eat. I will do better tomorrow. |
| My pain is ruining my life. There is nothing I can do about it. | I have a fulfilling life, regardless of my pain. Plus, I have a variety of health tools to improve my condition. |
| I'm too busy to ever do anything fun. | I may only have five minutes, but that is enough time to read a few pages in my new book. |
What to Expect During a Therapy Session
During a cognitive behavioral therapy session, a trained counselor will encourage you to talk about your thoughts and concerns. They will ask you questions and help you to identify situations and conditions that trouble you, as well as the thoughts, emotions, and behaviors that these situations evoke in you. After identifying the thoughts that may be causing you problems, the therapist will give you strategies to help you cast aside the negative thoughts in favor of more helpful, adaptive ones. Often, you will be asked to do "homework" between sessions, such as reading, keeping a journal, or performing other specific tasks.
Cognitive behavioral therapy is considered a short-term therapy. The length of therapy depends on the severity of your condition, how quickly you improve, how much support you have at home, and other factors. Anywhere from five to 20 weekly sessions may be necessary.
Alternatives to Face-to-Face Counseling
In most cases, the best way to get cognitive behavioral therapy is to sit down one-on-one with a practitioner. However, you can also get access to cognitive behavioral therapy techniques through internet-based programs, smart phone apps, self-help activity books, and group courses. Internet-based cognitive behavioral therapy, for example has been shown to be effective in the treatment of conditions like depression and anxiety.[1] Ask your doctor or therapist for recommendations.
Cognitive Behavioral Therapy Treats a Long List of Conditions
So what is cognitive behavioral therapy helpful for? This therapy is an effective treatment tool for a wide range of physical and mental health conditions:
Try Cognitive Behavioral Therapy for Yourself
If you feel that cognitive behavioral therapy could help you to gain control of your thoughts—and your health—don't wait. Find a mental health counselor who specializes in cognitive behavioral therapy near to and make an appointment.
To get the most out of your therapy, don't expect instant results. Acknowledge that it will take time and effort to improve your situation. Be willing to be open and honest with your counselor, do your homework, and stick to the treatment plan; this will help make the therapy as effective as possible.
Share Your Experience
Have you ever tried cognitive behavioral therapy? For what condition? Share your experience with this therapeutic technique in the comments section below.
---
This article was originally published in 2015. It is regularly updated. 
[1] Trials. 2015 Apr 11;16(1):154.
[2] BMC Fam Pract. 2015 Mar 20;16(1):39.
[3] Sleep Med Clin. 2014 Jun 1;9(2):261-274.
[4] J Couns Psychol. 2015 Apr;62(2):115-23.
[5] Spine (Phila Pa 1976). 2002 Nov 15;27(22):2564-73.
[6] Behav Res Ther. 2015 May;68:70-5.
[7] J R Soc Promot Health. 2000 Mar;120(1):27-30.
[8] J Am Acad Nurse Pract. 2011 Nov;23(11):592-601.
[9] Am J Psychiatry. 2015 Apr 10:appiajp201514101293. [Epub ahead of print]
[10] Clin J Pain. 2014 Dec 11. [Epub ahead of print]