10 Natural Ways to Ease the Discomfort of PMS
If you are one of the unlucky ones who goes through changes when her period nears, here are some simple tips that can help you relieve the unpleasant symptoms of PMS.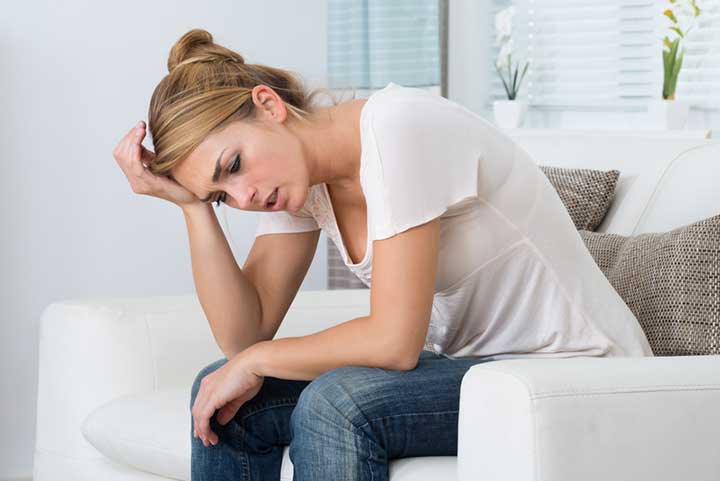 © Andrey Popov | Dreamstime
Every time her period arrives, Carla has to call in sick and take medication to overcome the pain. Mercedes, on the other hand, feels some relief when she finally gets her period. And that's because for a week or two before her period starts she experiences physical and emotional signs and symptoms that make her very uncomfortable: sometimes her breasts are tender and painful, at other times she is fatigued. She has a general sense of inexplicable sadness and everything sets her on edge and contributes to a bad mood. Does this sound familiar? Like many of us, Mercedes suffers from what is known as premenstrual syndrome or PMS.
PMS is a cluster of physical and emotional symptoms that many women experience one or two weeks before their periods, and which disappear soon after the menstrual period begins.
An estimated 8 to 20 percent of women experience signs and symptoms of premenstrual syndrome. And, while it is a natural process, it is important that you know that if you're one of them, you don't have to suffer every month, as there are numerous ways to lessen the symptoms. And best of all, it is often enough just to change some habits.
Natural PMS Relief
Here are 10 natural ways to control the discomfort of PMS:
Eat a diet rich in proteins, fruits, vegetables and whole grains. Ideally you should do this all month long to ensure that you arrive at your period with all the vitamins you need. As an added benefit, you'll also be controlling your weight and improving your overall health.
Eat more frequently but in small portions. This will help you control your appetite, which can be affected by hormonal changes that occur on those days (during PMS). Also, if you're depressed, skipping meals can cause you to get even more irritable, since your blood sugar level may drop.
Consume foods with high calcium content. It is believed that calcium may help to relieve symptoms of depression and anxiety. It is recommended that you eat three servings of calcium-rich foods per day (for example, skim or soy milk, yogurt and broccoli).
Limit your salt intake as it makes you retain fluids. Remember that most processed and canned products have added sodium. And make sure to drink plenty of water. It will help eliminate excess sodium.
Limit your intake of sweets and refined sugars. Granted, you may have a craving for sweets, due to the hormonal changes that occur on those days, but turning to sugar is not the best option. If you crave chocolate, for example, don't overdo it. Try to replace it with healthy carbs like fruits and whole grains.
Control your intake of alcohol and caffeine, even though there's no evidence that limiting the consumption of these products helps to relieve symptoms. But we do know that alcohol can make you more irritable or depressed and that caffeine can increase anxiety. It's up to you to evaluate the effect they have on you and to regulate the amount you consume. Eliminating caffeine and alcohol entirely would be best if they affect you negatively.
Exercise and stay active. Ideally you should do 30 minutes of aerobic exercise most days of the week (all month long, not just before your menstrual period).
Practice relaxation techniques or yoga. They will help reduce stress and, along with exercising your body, will help you sleep better and rest well. Rest is very important.
Consider taking supplements. Studies suggest that taking calcium supplements (up to 1,200 milligrams) which also help prevent osteoporosis, vitamin B6 (50 to 100 milligrams) which may help with the symptoms of premenstrual syndrome (PMS), and magnesium (400 mg) which could help reduce fluid retention and, thereby, breast tenderness. But don't overdo the recommended amounts, and if you have any side effects stop taking them. And don't spend a fortune on fancy brands. Good vitamins are available at any pharmacy.
Pay more attention to your body and take note of the sensations you feel when your period is approaching. This will help to find new ways to combat the symptoms of premenstrual syndrome (PMS).
If, despite these recommendations, the discomforts of PMS persist or are so strong that they interfere with your daily activities, talk with your doctor: there are several treatments that can help reduce the discomfort of PMS. Also, if the pain is very severe, it could be endometriosis or another condition that requires attention. In that case, your doctor can prescribe the best treatment for you.
---
Source: 10 formas naturales de aliviar las molestias del síndrome premenstrual
Copyright © 2017 Vida y Salud Media Group. All rights reserved.
Thousands more health articles in Spanish on VidaySalud.com