Welcome to Carrie Adkins-Ali, NHAI's New Daily Editor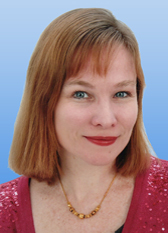 Carrie joins the full time staff of Natural Health Advisory Institute (NHAI) as its Daily Editor with a long list of writing, editing and publication experiences. Her colleagues envy the "magic" she can create with the written word. But she combines those significant professional skills with an absolute passion for living out a natural healthy lifestyle and then helping others learn how to do that more effectively for themselves. Since this is exactly our reason for existence here at NHAI, Carrie fits like a glove.
Carrie comes to us with outstanding editing and writing experience, which you can read about in her LinkedIn page. She has specialized in health care issues and has written extensively on geriatric medicine, Alzheimer's disease, sleep disorders, asthma, allergies, and non-traditional approaches to senior care.
Like most of us who have a current passion about using integrative medicine therapies and natural health lifestyle choices, Carrie's initial interest began in response to a personal health challenge she encountered years ago. Asthma was beginning to take a toll on Carrie's health, and the conventional treatments were harsh and often ineffective. Carrie studied and did extensive research in an effort to find a more natural approach to deal with this ongoing issue. And it worked! Carrie's story is one that inspires all of us to seek out the more natural approach to vibrant health – after employing several natural healing strategies for dealing with chronic asthma, she hasn't had a single emergency room visit since.
This personal experience of success for Carrie created in her an additional passion involving the "silver bullet" of healthy lifestyle therapies – exercise and fitness. Carrie experienced amazing benefits such as improved energy, reduced inflammation (helping that asthma), improved sleep, etc. to the point that she became hooked. On her own initiative, she gained certifications through the American Council on Exercise and the American Aerobic Association International. She now works in some of her spare time as a personal trainer and a group fitness instructor. When this lady discusses the benefits of regular resistance and aerobic exercise, she speaks directly from personal experience and passion.
Carrie has a wonderful husband and three beautiful daughters, so she understands the challenges of raising a healthy and happy family in a busy, fast-paced world. One of her priorities is to provide organic foods for her family and keep at bay the many toxins that every family gets exposed to in our modern industrial world. Those subjects are frequently discussed here at NHAI, so Carrie will be well versed to lead in those conversations.
So we here at Natural Health Advisory Institute are delighted to have Carrie on board as our new Daily Editor. Our previous editor, Jami Cooley will still be working for us here at NHAI, just in a different capacity. So please join me in welcoming Carrie Adkins-Ali!