Watch for Signs of Dehydration in Children: Most Kids Don't Drink Enough Water
A new study shows that more than half of children aren't properly hydrated.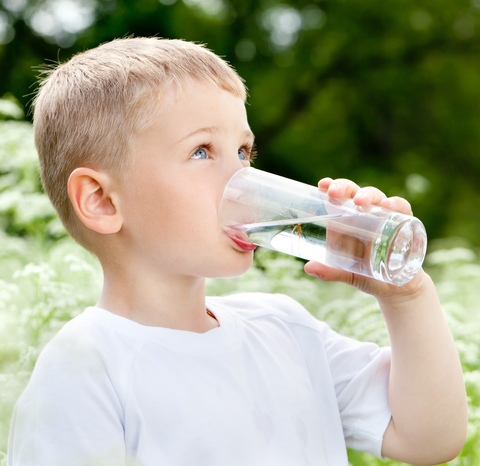 © Maxim Blinkov | Dreamstime.com
It's summertime, which means long days outside, hot weather, and lots of physical activity. But as you enjoy these summer days, be sure to keep water on hand to keep you and your family well hydrated.
Most people underestimate the importance of water to good health. We recently reported on why drinking water is so important, as it can impact things like mood, cognitive performance, physical performance, and weight. Read more about the dangers of dehydration here. 
But it isn't just adults who need to stay well hydrated. Fatigue and reduced cognitive function are just a few of the symptoms of even mild dehydration in kids. Alarmingly, a new study shows that more than half of children aren't properly hydrated.
Recent study shows most children are dehydrated and don't drink enough water
In the study, researchers looked at data from 4,134 participants aged six to 19 years old, and they found some pretty alarming results. The results showed that over half of the children (54.5%) were inadequately hydrated. Even more concerning, about a quarter of the kids reported not drinking any water at all. And those who were drinking some water weren't drinking enough.[1]
Signs of dehydration children
Severe dehydration is dangerous. Call your pediatrician immediately if your child is extremely lethargic, has not urinated in 12 hours, passes out, isn't thinking clearly, or becomes weak or dizzy.
Symptoms of mild dehydration can be remedied at home and include the following:
Lack of sweat
Fatigue
Irritability
Sunken eyes
Dry mouth and eyes
Dark yellow urine or decreased urination
In children, mild dehydration can cause irritability, poor physical performance, reduced cognitive function, headache, and more.[1,2]
Keep your child well hydrated
The Institute of Medicine recommends the following daily intakes of water for children:
One to three years: 1.3 liters daily
Three to eight years: 1.7 liters daily
Nine to 13 years: 2.4 liters
14-18 years: 3.3 liters.[3]
To prevent dehydration in the first place, give your child water regularly throughout the day before they say they are thirsty. Include water as a mealtime drink, and keep water bottles with you when you go out. Hydrating foods like cucumber, celery, lettuces, berries, watermelon, or grapefruit are all fun summertime foods that can help as well. Ice chips or popsicles (with 100% fruit juice) are also great for hot summer days.
If you suspect severe dehydration, call a doctor immediately. But if you notice signs of mild to moderate dehydration, you can likely manage it at home by giving your child plenty of extra fluids. Water is always a good choice, although coconut water or sports drinks (that contain electrolytes) can be good if the dehydration is more severe. To read more about natural cures for dehydration, go here.
Share your experience
What tips do you have for getting kids to drink more water throughout the day? Share your ideas in the comments section below.
---
[1] Am J Public Health. 2015 Jun 11:e1-e6. [Epub ahead of print]
[2] Appetite. 2012 Dec;59(3):730-7.