Vitamin D3 Benefits Those Fighting Colds and Flus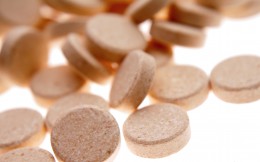 When it comes to fighting colds and flu and boosting immune strength in general, studies shows vitamin D3 trumps the benefits of vitamin C. But are you getting enough vitamin D from sunlight and diet alone?
Studies link vitamin D3 (cholecalciferol) with increased immunity to illness. One study showed subjects who were deficient in the vitamin were 36 percent more likely to have an upper respiratory infection.[1] Another study found vitamin D3 is directly associated with fighting the flu.[2] 
Vitamin D3 Benefits Go Beyond Fighting the Flu
Vitamin D3 benefits extend beyond fighting the flu. Research indicates sufficient vitamin D3 lowers the risk of cancer, autoimmune disease, gum disease, heart disease, diabetes, pulmonary disease, and weak bones.
Are YOU Getting Enough Vitamin D?
Vitamin D is a cornerstone to good health; however, research shows many people do not get enough from sunlight and diet alone. More than 40 percent of adults and 60 percent of children are estimated to be vitamin D3 deficient!  Why? In general, we spend most of our lives indoors, wear sunscreen when outside, and don't eat a vitamin D-rich diet.
Research also shows obesity can cause a vitamin D deficiency.[3] As of 2011, more than one-third of U.S. adults were considered obese. And, new research from the U.S. Center for Diseases Control estimates that 42 percent of Americans will be obese by 2030![4]  With obesity rates soaring among adults and children, it's no surprise we're extremely deficient in vitamins!
Boosting Your Vitamin D Levels
Supplementing with vitamin D3 and its cofactors will help you outpace the flu and prevent chronic or acute disease. A 25-hydroxy vitamin D test is the most accurate way to measure and monitor your levels, with optimal levels falling between 50–80 ng/mL. However if you suffer from an autoimmune disease or some chronic illness, you may need to supplement with considerably more for a while for therapeutic benefits. A qualified practitioner can help you determine the best level for you.
The Right Dose for Vitamin D3 Benefits
The Vitamin D Council recommends the following amounts of supplemental vitamin D3 per day. Each individual's needs can vary based on weight, health condition, sun exposure and more, so these are only estimated daily amounts.
Healthy children under the age of 1 years—1,000 IU.
Healthy children over the age of 1 years—1,000 IU per every 25 lbs of body weight.
Healthy adults and adolescents—at least 5,000 IU.
Pregnant and lactating mothers—at least 6,000 IU.
People with chronic health conditions such as autism, multiple sclerosis, cancer, heart disease, or obesity may need as much as double these amounts.
Take Co-Factors to Fully  Obtain Vitamin D3 Benefits
To maximize your vitamin D3 benefits, it's best to take D3 with its cofactors. Vitamin D has many cofactors, but the Vitamin D Council recommends the ones below as the most important, especially magnesium.
---
[1] Association Between Serum 25-Hydroxyvitamin D Level and Upper Respiratory Tract Infection in the Third National Health and Nutrition Examination Survey. Arch Intern Med. 2009;169(4):384-390.
[2] Cannell JJ et al. Epidemic influenza and vitamin D. Epidemiology and Infection. 2006. Dec;134(6):1129-40.
[3] Left-Shifted Relation between Calcium and Parathyroid Hormone in Obesity. The Journal of Clinical Endocrinology & Metabolism August 1, 2010 vol. 95 no. 8 3973-3981.
[4] U.S. Center for Disease Control and Prevention.  May 2012.