This Is Outrageous: The Yoga Mat Chemical in Subway Bread Is Prevalent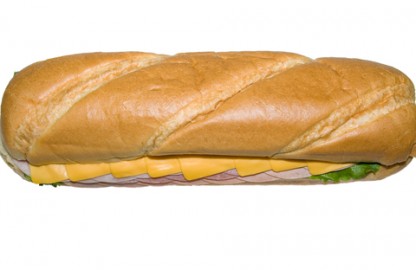 When the story about a potentially toxic "yoga mat" chemical in Subway bread broke in February 2014, it quickly went viral and prompted Subway® to remove it. It also prompted investigations into other possible food sources of azodicarbonamide (ADA). It turns out that nearly 500 foods found in supermarkets across the United States, including many foods labeled as healthy, contain ADA.
What foods contain ADA?
This potentially hazardous industrial plastics chemical is found as an ingredient in breads, bagels, tortillas, hamburger and hot dog buns, pizza, pastries, and other food products, according to a report released by the Environmental Working Group (EWG), a Washington-based health research and advocacy group.[1] 
And it's not just bleached white bread products that contain ADA; even some 100% whole wheat products made the EWG's list of ADA-containing foods, reflecting what is recently available in stores. Many well-known brands of bread, pre-made sandwiches, and snacks, including Ball Park®, Fleischman's®, Jimmy Dean®, Kroger®, Little Debbie®, Mariano's®, Marie Callender's®, Pillsbury®, Sara Lee®, and Safeway® contain ADA. The synthetic additive is also used by many fast food chains, including Starbucks® and McDonald's®.
What is ADA?
ADA is a chemical mainly used in foamed plastics to improve elasticity. In addition to yoga mats, it is found in shoes, foam insulation, and protective padding. As a food additive, it is used as a dough conditioner that renders large batches of dough easier to handle and makes the finished products puffier and tough enough to withstand shipping and storage.
ADA is approved for use in food by the US FDA and the Canadian Food Inspection Agency. According to the FDA, it can be used safely if the amount does not exceed 2.05 grams per 100 pounds of flour or 45 parts per million.
Research on ADA safety
While ADA is in processed baked goods all over the US, you won't find this chemical in the food in most European countries, Australia, and many other countries, where it is banned. The Center for Science in the Public Interest (CSPI) has issued a statement noting that ADA has been poorly tested and calling for a US ban on ADA in foods.[2]
"Two suspicious chemicals form when bread with azodicarbonamide is baked," said CSPI Senior Scientist Lisa Lefferts. "One of the breakdown products is semicarbazide, which caused cancers of the lung and blood vessels in mice, but poses a negligible risk to humans. A second breakdown product, urethane, is a recognized carcinogen. When azodicarbonamide is used at its maximum allowable level, it leads to slightly increased levels of urethane in bread that pose a small risk to humans," she said.[2]
How to identify and avoid ADA
Since the story broke and the EWG released its findings, some consumer groups, research groups, and political groups have called for the removal of ADA from foods.[1] And in addition to Subway, some manufacturers of commercial baked goods, including Wonder Bread®, Martin's Famous Pastry Shoppe®, and Nature's Own®, have either already removed or pledged to remove ADA from their food products.[1]
Both the CSPI and EWG recommend that you avoid eating foods with ADA.[1,2] The EWG is currently working on a food database and mobile app, due out this fall, that will house information on more than 80,000 supermarket foods and more than 5,000 ingredients that will be rated on three factors: nutrition, hazard concerns, and degree of processing.[3]  Until then, you can consult the EWG's list of ADA-containing products and read labels to find out if ADA or other chemical additives are in your food.
You can also make your own bread in less time that you probably think. Check out Artisan Bread in 5 Minutes a Day or No-Knead Bread for some remarkably simple recipes. You can find both on our Pinterest page.
---
[1] Environmental Working Group. Foods containing ADA. 2014 Feb 27. (Accessed 4/23/14)
[2] Center for Science in the Public Interest. Statement on ADA. 2014 Feb 4. (Accessed 4/23/14)
[3] Environmental Working Group. News Release. 2014 Apr 4. (Accessed 4/23/14)
[4] Environmental Working Group News Release. 2014 March 27. (Accessed 5/12/2014)