Quinoa Salad with Lime-Cilantro Dressing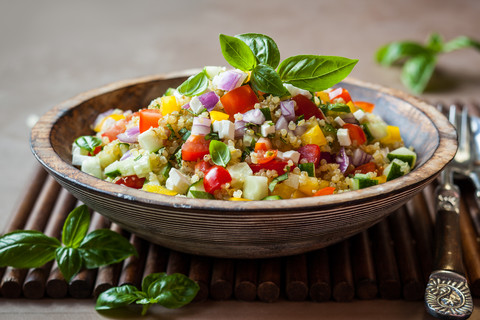 © Svetlana Kolpakova | Dreamstime.com
Ingredients:
1/3 C extra virgin olive oil
1 bunch cilantro, chopped
1 bunch green onions, sliced
1 jalapeno pepper, seeded and diced
1 red bell pepper, chopped
2 cans cooked black beans, drained and rinsed
Directions:
Place quinoa, water, and pinch of salt in a medium pot. Bring to a boil, then cover and let simmer for 20 minutes.
Let quinoa cool by removing from pot and placing in a large container.
Mix the olive oil, lime juice, cilantro, cumin and salt in a small bowl.
Add green onions, jalapeno, bell pepper, and black beans to the cooled quinoa.
Pour dressing over the mixture and toss to combine. Salt and pepper to taste.