9 Powerful Antioxidant Supplements
Vitamins that can slow the aging process? Yes, please! Discover 9 powerhouse antioxidant supplements here.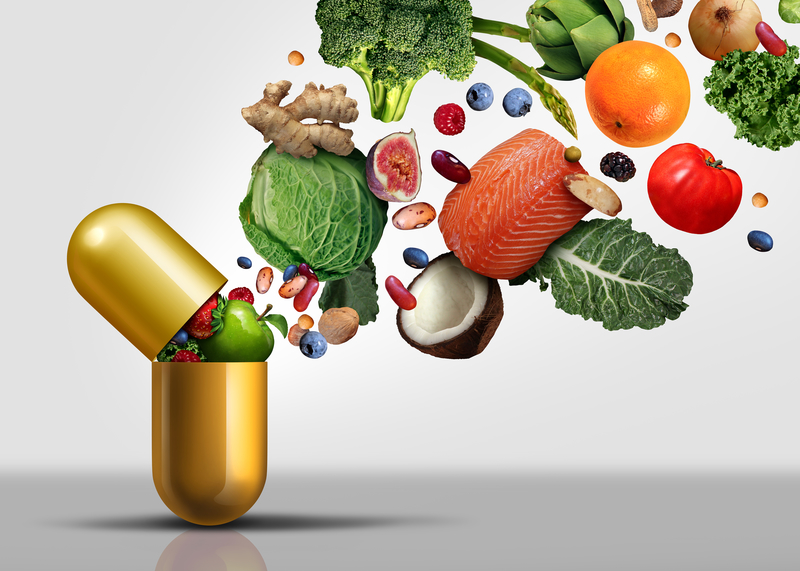 © Skypixel | Dreamstime.com
"Antioxidant" is a word that gets thrown around so frequently that it can sound meaningless when you hear it: "Yeah, yeah, another antioxidant (yawn)." But antioxidants are not boring! On the contrary, antioxidants are nature's strongest defense system. They protect your cells from dangerous free radical damage, which can play a role in chronic illness including diabetes, cancer, Alzheimer's, and cardiovascular disease. If that doesn't sound exciting enough… antioxidant supplements have been shown in research to slow the aging process. Now, that's worth talking about!
What Are Antioxidants?
Antioxidants play a significant role in health by fighting free radicals, highly unstable molecules that are naturally formed during periods of exercise or when your body is converting food into energy.
Your body also can be exposed to free radicals from environmental contaminants such as cigarette smoke, pollution, or pesticides. When this occurs, cells in the body are damaged—"oxidative stress." Antioxidant nutrients counteract this oxidative stress in the body.
What Are the Best Antioxidant Supplements?
To stay young, healthy, and full of vitality, consider taking a daily multivitamin/multi-mineral supplement that contains these nine powerful antioxidants:
Vitamin E, specifically alpha tocopherol: This fat-soluble vitamin—present in nuts, seeds, and oils—is a robust cancer-fighting and cholesterol-lowering antioxidant. When taken in supplement form, the current recommended daily allowance (RDA) is 15 mg for adults.
Vitamin C: Also known as ascorbic acid, vitamin C is a water soluble vitamin found in oranges, strawberries, kiwi, papaya, cantaloupe, green peppers, tomatoes, broccoli, kale, and Brussels sprouts. Consuming vitamin C helps maintain connective tissue, including bones, blood vessels, and skin. It can also help your body fight against infections such as the common cold. The RDA for vitamin C is 60 mg per day.
Beta-carotene: A precursor to vitamin A (retinol), beta-carotene gives fruits and vegetables their bright orange hues. Foods high in beta-carotene include carrots, cantaloupe, sweet potatoes, butternut squash, and apricots.While there is a recommended dietary allowance for vitamin A, there is no RDA for beta-carotene specifically. Studies have shown dosages ranging between 15 to 180 mg a day are beneficial. (Note: Vitamin A can be toxic when taken in excess. Do not take more than the dose provided in a daily multivitamin or antioxidant supplement.)
Lutein and zeaxanthin: These carotenoid vitamins are often referred to as "the eye vitamins" because they are so beneficial for eye health. Of the 600 carotenoids found in nature, only these two are deposited in high quantities in the retina (macula) of the eye. Green leafy vegetables such as spinach and kale contain substantial amounts of the two nutrients. In addition, kiwi, grapes, zucchini, different varieties of squash, and eggs contain lutein and zeaxanthin. Although there is no RDA for lutein and zeaxanthin, most studies show health benefits in taking 10 mg per day of a lutein supplement and 2 mg per day of a zeaxanthin supplement.
Lycopene: Lycopene is a red carotenoid pigment present in tomatoes and many berries. Lycopene is a very strong antioxidant, and has capabilities to protect your body from harmful pesticides such as DDVP (dichlorvos) and ATZ (atrazine). Studies demonstrate that lycopene protects the liver from DDVP pesticides and protects the adrenal cortex from ATZ. (The adrenal cortex is part of the adrenal gland that produces hormones such as cortisol to regulate metabolism and respond to stress as well as aldosterone to control blood pressure.)
Quercetin: This flavonoid is found in many foods and herbs such as red wine, apples, plums, cherries, berries, olive oil, onions, parsley, sage, elder flower, ginkgo biloba, St. John's Wort, and green tea. Quercetin has wide-ranging health benefits; it's known to lower inflammation, fight allergies, support heart health, protect the skin, and increase endurance. There is no RDA for quercetin, but dosages range between 250 to 2,000 mg daily.
Resveratrol: Resveratrol is a polyphenol antioxidant found in grapes, berries, and red wine, and is known for lowering blood pressure and LDL "bad" cholesterol levels as well as promoting brain health. There are no specific dosage recommendations for resveratrol, but most supplements contain between 40 to 500 mg (a glass of red wine contains about 90 mg of the nutrient). It is safe to take daily, but should not be consumed by people taking blood thinner medications.
Glutathione: Glutathione is so powerful that it has been referred to as "the mother of all antioxidant supplements." The body naturally produces glutathione, but it can be depleted when exposed to toxins such as cigarette smoke, pollutants, medications, or stress.Furthermore, as the body ages, levels of glutathione decrease. Therefore, increasing glutathione levels has been hypothesized to delay the effects of aging. Moreover, people who have lower levels of glutathione have an increased risk for cardiovascular disease and stroke. And low levels of glutathione have even been found in children with autism spectrum disorder.Sulfur-rich foods are high in glutathione and include garlic, onions and cruciferous vegetables, among them broccoli, cabbage, and cauliflower. There is no RDA for glutathione; dosages typically range from 50 to 600 mg per day. Be sure to take glutathione supplements with meals to maximize absorption.


---

[1] Hum Exp Toxicol. 2016 Jun;35(6):654-65.
[2] Environ Sci Pollut Res Int. 2016 Aug;23(15):15262-74.
[3] Ageing Res Rev. 2005 May;4(2):288-314.
[4] Stroke. 2004 Sep;35(9):2072-7.
[5] Behav Brain Funct. 2014 Apr 28;10:14.