Paleo Diet Benefits May Exceed Even Those of a Mediterranean Diet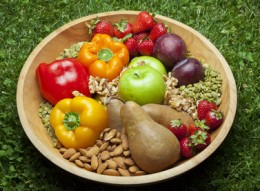 Would it be a dream to be able to eat as much as your appetite dictates and still get fewer calories than the highly acclaimed, healthy Mediterranean diet? It might actually be reality according to a group of Swedish researchers from Lund University who found that, calorie-for-calorie, a Paleo diet benefits satiety more than a Mediterranean-like diet.[1] Their findings, published in the journal Nutrition and Metabolism, are part of a small but growing body of research exploring what happens when we humans consume a diet more closely resembling the pre-agricultural diet of our hunter-gatherer ancestors. 
What is the paleo diet?
Also referred to as the caveman, Stone Age, and hunter–gatherer diet, the Paleolithic diet, or Paleo diet, consists of foods that are assumed to have been available to humans before agriculture was established. These pre-agrarian diets consisted of wild animals and uncultivated plants. Lean meat, fish, vegetables, fruits, roots, eggs, and nuts were commonly consumed. But no grains, legumes, dairy products, salt, refined sugar, and processed oils were available before humans began to cultivate plants (primarily cereal grains) and domesticate animals. Those who support the evolutionary basis for the  Paleo diet benefits promote the premise that we humans have had relatively little time for evolutionary forces to redesign our core metabolic and physiological processes to handle our "new" diet. Still others who don't buy this theory also support the diet as one that has many characteristics of healthy eating – low carbohydrate, low grain, no dairy, no processed oil, no sugar but plenty of fruits and vegetables and lean, unprocessed animal meats.
Study looks at Paleo diet benefits on weight, waist circumference, blood sugar metabolism, and satiety
The Swedish study was based on results of an earlier study which was the first randomized, controlled trial on potential Paleo diet benefits for health.[2] In this study, 29 men with high waist  circumference (greater than 37 inches), ischemic heart disease, and either glucose intolerance (pre-diabetes) or type 2 diabetes were assigned to either 12 weeks of a Paleolithic diet or a Mediterranean-like diet. The Paleolithic diet was based on lean meat, fish, fruits, vegetables, root vegetables, eggs and nuts while the Mediterranean-like diet was based on whole grains, low-fat dairy products, fish, fruit and vegetables. The main differences in food consumption were a much lower intake of grains and dairy products and a higher intake of fruit and nuts (and a trend for higher intake of vegetables) in the Paleo group. Both groups were allowed to eat as much as they wanted of the allowed foods.
Paleo diet benefits satiety more per calorie
After 12 weeks, the two groups lost a similar amount of weight (an average of 11 pounds in the Paleo group and eight pounds in the Mediterranean group). However, the Paleo group lost more inches around the waist and experienced greater improvements in blood sugar control. Those in the Paleo group also ended up consuming fewer calories per day, despite being allowed to eat as much as they wanted within the guidelines of the diet. They were just as satiated as the Mediterranean group, but since they consumed fewer calories per day, the researchers concluded that the Paleo diet benefits satiety more per calorie than a Mediterranean-like diet.
Why would the Paleo diet be more satisfying?
The reason the Paleo diet benefits satiety more than the Mediterranean diet is unknown. The total fiber and water content of each of the diets was the same, so these factors, which are known to affect satiety, were likely not the cause of the differences, according to the researchers. They speculated the reason is related to the fact that the Paleo diet was lower in carbs and relatively higher protein than the Mediterranean diet. While the Paleo diet is not technically a low-carb diet, in this study the participants did consume a total amount of carbs that would typically be considered low. The study's authors point out that compared to low-fat and calorie-restricted diets, many studies show low-carb diets lead to more weight loss in the short term (less than six months), suggesting a greater satiating capacity.
Paleo diet critics raise concerns
Critics of the Paleo diet contend that only a handful of small studies have been conducted, so not enough data exists to make conclusions about how it will affect your cardiovascular disease risk or whether it will help you lose weight. Some experts worry that the total quantity and quality of fat could increase your risk for heart disease, especially if you are not careful about selecting only lean, grass-fed meats, which have less total and saturated fats and more heart-healthy omega-3 fats. Another concern is whether Paleo diets might lead to certain nutrient deficiencies. And, of course, there are the ethical and environmental concerns regarding meat consumption that favor plant-based diets. Despite what some Paleo promoters claim, these are legitimate concerns that all need to be addressed by both researchers and individuals considering the diet, and I will cover them from an integrative health/naturopathic standpoint in future articles.
Is the Paleo diet right for you?
If you are struggling with your weight or blood sugar, the mismatch between your current diet and your Paleolithic genetic make-up could be part of the problem, and the potential Paleo diet benefits identified in these studies make it worth your consideration. The rapidly growing popularity of this diet coincides with a plethora of books, articles, and websites devoted to this diet and lifestyle, so you have plenty of guidance and choice as you delve in.  The research will undoubtedly continue to expand as well, giving us more information on just how the Paleo diet benefits health. Our Free Download report Natural Health 101: Living a Healthy Lifestyle discusses a healthy eating plan along with a healthy food list and serves a great guideline anyone can follow. It shares many similar components found in the Paleo diet plan.
---
[1] Nutr Metab (Lond). 2010 Nov 30;7:85.