Oil of Oregano and Echinacea Benefits: Natural Antiviral?
Oil of oregano and echinacea are both popular herbs that have been hyped by the supplement manufacturers and even popular press as the latest effective natural antiviral that will treat your cold, flu, or other virus induced respiratory symptoms. But do they really work? One clue is that in the U.S. the FDA and the Federal Trade Commission prohibit manufacturers from claiming that any dietary supplement can be used to prevent, treat or cure the flu virus. And there appears to be good reason for this prohibition. At least for oil of oregano, there seems to be a lack of solid scientific evidence confirming it as a natural antiviral. The research is solid for oregano's antibacterial, antifungal and even anti-parasitic benefits (see Your Number ONE Home Remedy? Oregano Oil Benefits & Uses) but not as much so as a natural antiviral. What about any echinacea benefits as a natural antiviral? More scientific studies emerge showing the effectiveness of echinacea in reducing the duration and symptoms of a cold, but others show just the opposite. It's no wonder the FDA prohibits any flu treatment claim.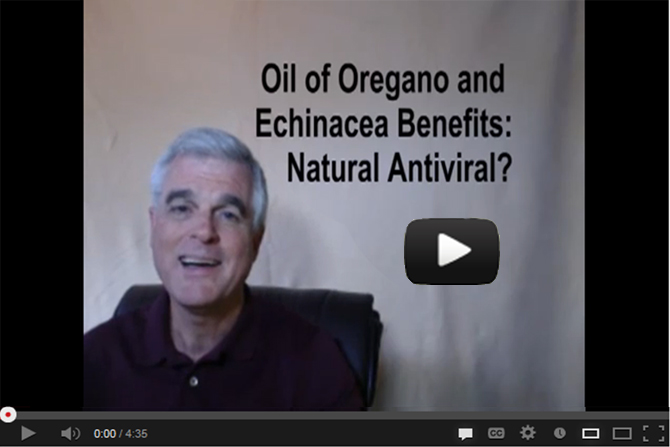 Oil of oregano and echinacea benefits appear to depend on how these herbs are taken
A closer look at the studies uncovers part of the problem causing the mixed results from the clinical trials on both these herbs. The studies use different species of oregano or echinacea plants as well as different parts of the plant itself (leaves, root, and stem). The herbs were extracted using different processes, and the dosage administered was inconsistent among studies. A most significant variance among studies was the timing of when the herb was employed – in a purely preventive way, at first sign of infection, or after the infection was fully manifest. So it is no wonder the study results have been so inconsistent.
Plant components and when it is administered: keys to echinacea benefits as natural antiviral
Studies showed that only certain Echinacea extracts possessed significant antiviral activity, namely the Echinacea Purpurea aerial parts and roots. One study used a standardized preparation called Echinaforce which was an ethanol extract using 95% aerial parts and 5% roots. Canadian and German scientist concluded from this 2009 study that was reported in Virology Journal that this extract "has potent anti-viral activity against all the influenza virus strains tested. The recommended dose for oral consumption could inactivate more than 99% of virus infectivity." That's rather impressive. However, an interesting observation in this study was that direct and early contact between the virus and echinacea was required to get this superior kind of result indicating that the anti-viral effect of echinacea was manifest at a very early stage in the infection process. This is a critical clue to users of echinacea (or oregano oil) for how they can increase its effectiveness as a natural antiviral… To get the echinacea benefits, begin taking it at the very first sign of a cold or flu in order to stave off that sore throat, runny nose, and other respiratory symptoms.
Conclusion: Consider this protocol for the maximum oil of oregano and echinacea benefits as natural antiviral agents.
Our article #2, How to Take Oil of Oregano and Echinacea as a Potential Natural Antiviral, contains the specific "process" that I use upon the first sign of an infection. It also contains a video where I demonstrate how I take the herbals.
This article was originally published in 2013 and has been updated.