Is Beer Healthy For You? Local Craft Beer May Be a Nutritious Choice
Is beer healthy for you? It depends on the type of beer. If you choose to drink beer, look for local craft options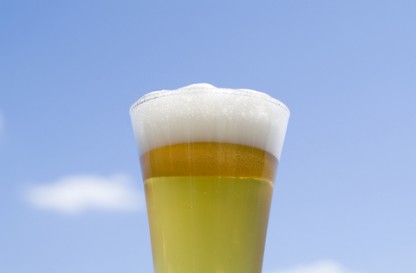 Wine has long been touted as a health-promoting beverage, but it is just not to everyone's taste. So is beer healthy for you, too? When you drink the right kind, it certainly can be. Mass-produced beers can be low quality, have little nutritious value, and many even contain harmful additives such as propylene glycol and corn syrup. Fortunately, this is not the case with most unpasteurized, locally brewed craft beers that contain complex carbohydrates and probiotics. 

Benefits of craft beer
Barley, wheat, and hops are complex carbohydrates that can deliver stable supplies of energy for long periods of time. Pediococcus and lactobacillus are good probiotics that have been shown to provide immune boosting, intestine building, and anti-inflammatory affects in laboratory animal studies.[1,2]
Remember that these benefits are not commonly found in mass produced beers like Budweiser, Corona, Michelob, Coors, or others that can be commonly found in stores across the country. Look for local brews that have the following characteristics:
Unfiltered
Unpasturized
Made with barley, wheat, rye, or other whole grains
No preservatives, corn syrup, or sweeteners
For bottled beers, this information will be presented on the label. According to the Alcohol and Tobacco Trade Bureau, labels that say "draft beer" are unpasteurized unless specifically stated otherwise on the label.[3]
From the source
I recenty spoke with Jeff Stuffings from Jester King, an authentic farmhouse brewery in the rural hill country of Southwest Austin, Texas.
A lot of brand-name beers are made of up to 30% to 40 % rice or corn. These are very inexpensive ingredients that can cause health concerns. Is local craft beer different? What ingredients do you use for your beer?
While I'm not aware of any health concerns associated with rice or corn, I can say that most craft brewers are making beer primarily with malted barley.  We use mainly malted barley, but also malted wheat, rye, oats, and spelt on occasion. 
Recently, large manufacturers have been found to be using preservatives and other questionable ingredients such as propylene glycol, high fructose corn syrup, dextrose, and GMO corn. Do craft beers use preservatives or any unnecessary ingredients to preserve shelf-life?
I'm not familiar with these practices by large manufacturers and cannot comment on them.  What I can say is that it's not typical in our experience for small brewers to add preservatives to beer.  Most small brewers use four ingredients to make their beer: water, barley, hops, and yeast. When additional ingredients are added, they tend to come from the culinary world, such as fruit, spices, herbs, etc.  I should point out that we typically bottle and keg condition our beer by adding a small dose of organic dextrose to it at packaging time.
Mass produced beer is almost always pasteurized, which means that it is heated to kill bacteria and extend shelf life. This can have negative effects on the beer's taste, ingredients, and fermentation. Is your craft beer unpasteurized? What type of bacteria remain in the beer?
Our beer is unpasteurized and unfiltered. However, there's a lot of craft beer out there that is pasteurized and/or filtered. Our beer has bacteria in it, such as lactobacillus and pediococcus. We like the tart flavors in our beer, which come from a bacterial fermentation.  However, we make no health claims as to the bacteria in our beer.
Share your experience
Are you a craft beer drinker? What's your favorite brand? Have you tried brewing your own? Tell us about it.
---
[1] Histol Histopathol. 2008 Jun;23(6):651-64.
[2] Carbohydr Polym. 2013 Jul 25;96(2):466-73.