Iodine Supplements: Are They Safe or Even Needed?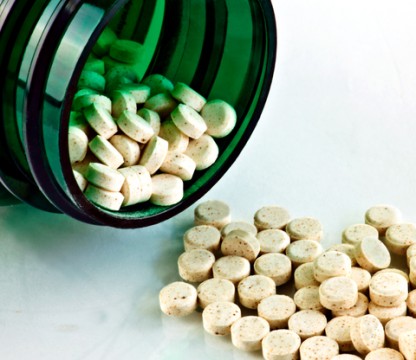 The use of mega-dose iodine supplements (which provide anywhere from 6 to 50 milligrams iodine per day) is an extremely controversial practice in the natural health world. Under debate is the safety of high-dose iodine as well as the validity of proponents' claims that it can help promote general wellness and treat thyroid conditions as well as many other health conditions, including breast cancer.
What is iodine?
Iodine is a mineral that is required in trace amounts for the production and concentration of thyroid hormones by the thyroid gland. Iodine may be necessary for the optimal function of a number other body systems as well, including the skin, breast, stomach lining, salivary glands, mucous membranes of the mouth, and thymus gland. Iodine also has antimicrobial properties and therefore is commonly used as a topical antiseptic. 
The high-dose iodine movement and its contenders
Both Alan Gaby, MD, a leader in integrative medicine and author of the textbook Nutritional Medicine, and naturopathic physician Alan Christianson, NMD, have published articles strongly discouraging the use of mega-dose iodine and summarizing the origins of the high-dose iodine movement.[1,2]
Drs. Gaby and Christianson describe how the sole founder of the high-dose iodine movement, Dr. Guy Abraham, contends that adult humans need 12,500 to 50,000 micrograms (12.5 to 50 mg) of iodine daily for good health (compared to the current recommendations of 150-220 micrograms). They describe how Dr. Abraham bases his theory on some extreme underlying beliefs involving religion and conspiracy. Dr. Abraham's theory depends on the belief that the earth's topsoil was divinely created 6000 years ago with an extremely high iodine content, which was depleted by the flood of Noah, and that humans have had poorer health ever since.[1,2]
The Japanese don't consume as much iodine as we assume
Dr. Abraham and his contemporaries, such as Dr. David Brownstein, like to point out that the Japanese commonly consume much higher amounts of iodine and have lower rates of thyroid disease and breast cancer. This information is heavily publicized by proponents of high-dose iodine on the internet. However, recent studies have refuted these claims and have found that previous reports were highly overestimated. The most recent study to evaluate Japanese iodine intake found that the average iodine intake in Japan is between 1 and 3 milligrams per day.[3] Granted, 1-3 mg is still a lot higher than 150 micrograms, the daily Dietary Reference Intake recommended by the U.S. Institute of Medicine, but it is far below the 12.5-50 mg dose currently being recommended by some practitioners.
Excess iodine is well-documented in recent studies to cause numerous health problems
Furthermore, those in Japan and elsewhere consuming high doses of iodine (which, to reiterate, are still considerably lower than what the high-dose iodine proponents are recommending) have been found to have higher rates of thyroid dysfunction and other health issues. The fact is that iodine is a known poison when administered in high doses. In addition to causing thyroid disease, excess iodine can cause acne, headaches, and other side effects.[1,2]
It has clearly been shown that excessive iodine intake causes hypo- and hyperthyroid disease as well as autoimmune thyroid disease.[4-6] There are numerous reports from integrative MDs and naturopathic physicians of adverse effects occurring in people who have taken high-dose iodine, including multiple cases of thyroid disease related to both hyper- and hypothyroidism (cases of toxic multinodular goiter, Graves' disease, and hypothyroidism secondary to Hashimoto's thyroiditis).[1,2]
Even moderately increasing iodine intake can cause thyroid abnormalities in some people. One recent study in healthy people with normal thyroid function, published in the American Journal of Clinical Nutrition, found that even 800 micrograms of iodine per day was enough to cause subclinical hypothyroidism in a significant number of subjects, while 1500 to 2000 micrograms a day, which is still far, far lower than the milligram doses that many people are taking, caused thyroid gland enlargement in addition to the hypothyroidism.[6]
Is it ever a good idea to take high-dose iodine supplements?
The controversy with iodine supplementation resides in the fact that for some people who have had a genuine iodine deficiency, their health has improved significantly after iodine supplementation. But for others who are not deficient, it has been a disaster for their health. A number of nutritional medicine experts question the validity of the claims that high-dose iodine is beneficial and that humans need iodine in amounts far greater than the amount present in a typical diet. They stress that people should not use high-dose iodine except perhaps in certain conditions, such as fibrocystic breast disease, and even then it should only be used in individuals with no current or previous thyroid disease, and only when other natural treatments have failed. If high-dose iodine supplements are used, they should be taken under the supervision of a healthcare provider who can physically examine the thyroid gland and can order and interpret thyroid labs. To find an integrative physician, use our Doctor Directory search here.
Weigh in on your experience – good or bad – with iodine supplementation
Have you been taking iodine supplements for an extended period? If so, were you benefited by doing so, or harmed? Share your experience so we can help other readers understand better the risks and the rewards of iodine supplementation.
---