Healthy Easter Treats for Kids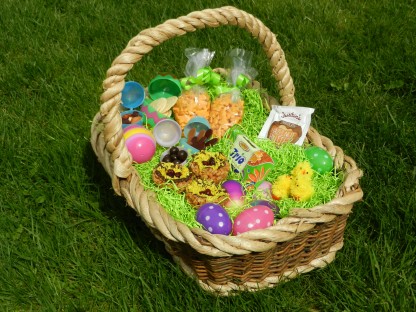 Grocery store shelves are stocked full of brightly colored, highly processed candy this time of year. While these prepackaged sweets may be appealing to the little ones, parents do have alternatives for making Easter baskets full of food that tastes good and is actually healthy. Enjoy these ideas for healthy Easter treats for kids and try out our recipe for Rice Crispy Bird Nests below.
What's in our healthy Easter basket?
Cracker carrots. Fill a cellophane or plastic pastry bag with healthy cheddar crackers (

make your own

or try Annie's organic wheat cheddar bunnies) and tie the top with a green ribbon to make a "carrot."
Dried fruit cutouts. Using Easter-themed cookie cutters, cut out pieces of fruit leather in your favorite shapes.
Naturally dyed hard-boiled eggs. Not only are eggs nutritious and packed full of protein, but dying eggs with your kids is a fun Easter tradition. Make your own

natural dyes

or try these

beautiful plant-based decorations

.
Dark-chocolate-covered fruit. Instead of some of the highly processed candies that are jam-packed with sugars and sweeteners, try dark-chocolate-covered pomegranates or blueberries this year. Give your kids a great source of antioxidants while satisfying chocolate cravings at the same time.
Chocolate-dipped strawberries. Melt dark chocolate (the higher the cacao content, the less sugar) and cover the strawberries. Sneak a serving of fresh fruit into your Easter basket with these delectable treats. Be sure to use organic strawberries as conventionally grown strawberries have a very high pesticide load.
Mystery eggs. Fill reusable eggs with a variety of nutritious snacks, including pieces of fresh or dried fruit, baby carrots, nuts, and whole-grain crackers, or non-food treats, such as stickers. Check out some fun alternatives to plastic eggs

here

.
Short on time? There are a variety of pre-packaged healthy treats for your Easter basket. Try squeezable packages of nut butters, seed and nut granola bars, and a bar of high quality, high-cacao content dark chocolate.
Crisped Rice Bird Nests are as delicious as they are festive. Try the recipe

here

.
Share your ideas
What healthy treats are you planning on including in Easter baskets this year? Share your ideas and inspirations in the comments section below.