Healthy Dinner Options: Ideas for All Tastes
Don't leave dinner 'til the last minute; plan ahead and think about portions and balance. Here, we offer up a host of healthy dinner options.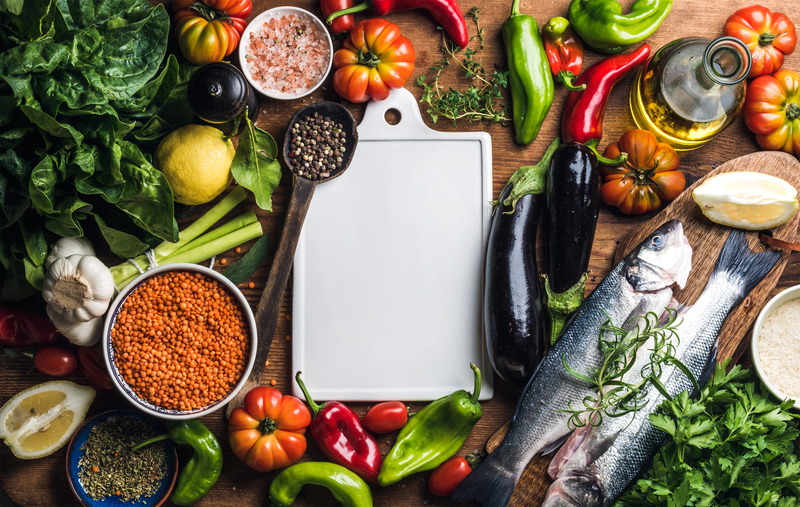 Smart eating doesn't have to be boring or bland. Using the USDA's MyPlate or Tufts' MyPlate for Older Adults models as guides, you can find endless delicious possibilities to suit any palate. Healthy dinner options can range from 5-minute meals to complex gourmet repasts.
MyPlate, for example, calls for filling half of a 9-inch plate with vegetables and fruits and filling about a quarter of the plate with protein and starch. If the idea of half a plate of veggies seems daunting, remember that a quarter-plate of your favorite vegetable plus a small side salad and a piece of fruit for dessert more than meets your goal.

Mix and match half a plate's worth of your favorite vegetables and fruits with a quarter-plate of any animal or vegetable protein (like beans, lentils, and tofu) and a quarter-plate of any grain (preferably a whole-grain or whole-wheat pasta), and you have a balanced meal.
Also, avoid cooking methods that use a lot of fat. Use herbs and spices for flavor to cut back on salt, and skip fat- and sodium-laden sauces to ensure your balanced meal is healthful.
Think Healthy: Dinner Options for Different Tastes
Not every meal has to fit neatly into the picture above. Stews, soups, salads, stir-fries, and even pasta dishes can meet the MyPlate requirements as long as you keep the proportions in mind.
A quarter-plate of pasta may look small, but toss it with a generous helping of your favorite veggies and some diced poultry, lean meat, or beans, and you'll have a sizable, satisfying meal low in calories and high in energizing, health-promoting nutrients.
Research shows frozen and canned vegetables are just as nutritious as fresh (if you drain and rinse canned contents to remove excess salt and avoid frozen veggies with sauces). So it's easy to keep these important foods on hand.
While Americans traditionally build their meals around a protein, one trick to making sure your meal is nutritious and balanced is to start with the grain, or the "green," as in these following examples.
Grain Bowls
Grain bowls offer something for everyone and offer an ideal way to use up whatever you have in your fridge or pantry.
To make a grain bowl, start with a portion of cooked whole grains. Brown rice is classic, but quinoa, barley, and other delicious under-used grains (like buckwheat, freekah, wheat berries, or whole grain polenta) also can serve as cornerstones for healthy dinner options.
All whole grains are cooked the same way: Put them in a pan with water, bring to a boil, then simmer until the grain becomes tender. Grains can be cooked ahead and stored in the refrigerator or freezer for convenience.
To make those grains into a dinner, put out a variety of cut-up vegetables, leftover proteins from the fridge, and sauces or seasonings, and let diners top their grain with their favorites (just watch for fat and salt in sauces and dressings).
How about whole-wheat orzo pasta with shrimp and greens, dusted with grated Parmesan cheese? Or brown rice with seasoned black beans and peppers, topped with some lettuce or collard greens and a sprinkling of shredded cheese?
Salad Meals
Salad meals are colorful, nutritious, and easy to make.
For a tasty meal-in-a-bowl, toss together leafy greens (the darker the better), a variety of colorful vegetables and fruits, and at least one good protein source (like chicken, fish, egg, or beans) to ensure that your salads are satisfying and chock-full of nutrition. To round out the meal, add whole-grain crackers or warmed whole-wheat pita-bread wedges.
If a green salad doesn't sound like dinner to you, consider a taco salad: Start with a quarter-plate's worth of brown rice and seasoned lean ground beef and heap on shredded lettuce and veggies of your choice (such as corn, black olives, and bell or hot peppers). Top with salsa and sprinkle with crushed tortilla chips, cilantro, and reduced-fat shredded cheese.
Or how about an Asian noodle salad, with shredded cabbage tossed with whole grain or buckwheat noodles, mandarin oranges, scallions, and shredded chicken? Creamy salad dressings are a big source of bad fats, sodium, and calories; stick to vinaigrettes, and consider shaking up your own.
Plan Ahead and Take Chances
The key to putting healthy dinner options on the table—whether you're cooking for one or for a crowd—is planning. If you know your schedule and have recipes or meal ideas in mind, you can have ingredients on hand so you won't have to reach for unhealthy options in a pinch.
Some people cook batches on weekends to eat for several nights or to portion and freeze. Do this for a few weekends and you'll have a freezer full of portioned options for multiple heat-and-eat nights. Others like to repurpose their meals (cook more salmon than you need tonight and have salmon salad, salmon croquettes, or fish tacos tomorrow).
And while you're planning ahead, don't be afraid to try new things, and remember that eating healthy food should be delicious and satisfying—not a sacrifice.
-Judith Thalheimer