Stevia: Get the Scoop on This Popular Alternative to Sugar
Stevia is a sweet substance with zero calories that's being used as an alternative to sugar in sodas, flavored waters, energy drinks, and even baked goods.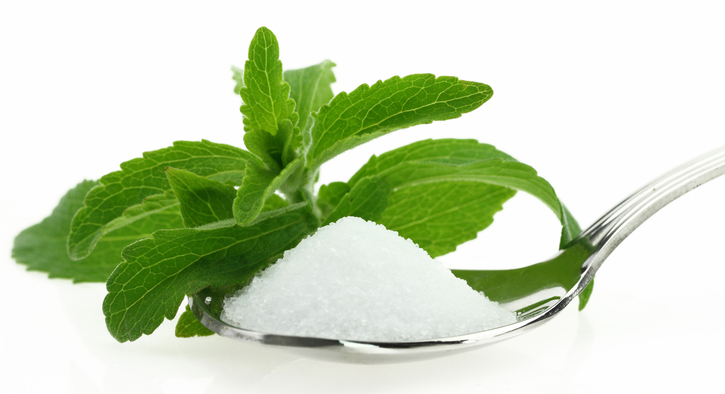 © George Tsartsianidis | Dreamstime
Legions of people today are using sugar alternatives that have few or no calories to cut back on their sugar intake. One of the most popular alternative sweeteners on the market today is stevia. But what exactly is stevia? Where does it comes from, how sweet is it, and in which foods do we find stevia products?
First, a word on sugar and its related dangers. Foods and beverages high in added sugar have long been on the list of "bad" foods for people who need to lose weight. High-sugar products, after all, provide plenty of calories but have little or no nutritional value.
Sugar is a known contributor to the obesity epidemic in the U.S., and it has also been linked to a higher risk of cardiovascular disease. One study found that people who got 17 to 21 percent of their calories from added sugar had a 38 percent higher risk of dying from cardiovascular disease than people who got 8 percent of their calories from added sugar. Another downside to consuming a lot of added sugar: The more sugar you eat, the more likely it is that your diet contains fewer nutritious foods that support good health. (See also our post Why Is Sugar Bad for You?)
Health and nutrition experts who created the 2015-2020 Dietary Guidelines for Americans (DGA) recommend getting 10 percent or less of your daily calories from added sugar. If you consume about 2,000 calories per day, that's just 200 calories from added sugar—less than the amount you'll get from just one 20-ounce bottle of a popular cola beverage, and less than you'll get from a 1.5-ounce chocolate bar.
The Story on Stevia
Stevia is sourced from the Stevia rebaudiana Bertoni plant. Rebaudioside A (Reb A) and stevioside are the two steviol glycosides that manufacturers extract from the leaves of the stevia plant to be used as sweeteners. The purified, refined forms of these sweeteners are "generally recognized as safe" (GRAS) by the U.S. Food and Drug Administration (FDA). Stevia extracts were deemed safe for use by the FDA in 2008.
Pure stevia has zero calories and is 200 to 300 times sweeter than table sugar. Because of its intense sweetness, stevia extract is often combined with additional ingredients to increase a product's volume, which allows the products to be marketed in forms meant for household use. For example, several stevia products are available in packets that are equivalent in sweetness to two teaspoons of sugar.
Ingredients commonly combined with stevia include sugar alcohols. Among them: erythritol, a sugar alcohol that contains fewer calories than sugar but is not calorie-free, and dextrose, a form of sugar. For example, Truvia is stevia blended with erythritol, PureVia contains stevia and dextrose, and Stevia in the Raw contains dextrose and maltodextrin, a product usually made from rice, corn, or potato starch. These products can be found in most grocery stores in the section where granulated sugar and other sweeteners are located. Other brands of powdered sweeteners include Pyure, SweetLeaf, and NuNaturals.
Stevia also comes in liquid form; brands include SweetLeaf, NOW Foods, Vitacost, NuNaturals, and Skinnygirl. If you can't locate liquid stevia in your local supermarket, you can find it at health food stores.
Products That Contain Stevia
In addition to being used as a replacement for granulated sugar and other caloric sweeteners in coffee and tea, stevia is an ingredient in many beverage products. These include (but are not limited to):
Soft drinks: Sprite Green, Coke Life, Pepsi True, Blue Sky Free), Zevia Zero Calorie Soda, Honest Fizz
Flavored waters: Glaceau Vitamin Water Zero, Sobe Life Water, Bai, hint Water
Energy drinks: Blue Sky Free Energy, Guru Lite, Zevia Zero Calorie Energy, Roaring Lion Zero
Sports drinks: Powerade Play, All Sport Naturally Zero
Fruit/juice drinks: Trop50, Del Monte Naturally Light
Bottled tea: Honest Tea, Tazo
Dry drink mixes: Crystal Light Pure, Celestial Seasonings Sweet Zinger, Stevita, 4C Totally Light 2 Go
Liquid drops: SweetLeaf Sweet Drops
Stevia for Baking
You can substitute stevia products for sugar in recipes for cookies, cakes, and other sweet treats, and some manufacturers produce products designed to do just that. However, since stevia does not have the same chemical composition or properties as granulated white sugar, you're likely to see, and possibly taste, some difference in your baked goods.
When compared with baked goods that contain sugar, baked goods made with stevia:
May be lighter in color
May not rise as much
May have a drier texture
May require an adjusted cooking time and/or temperature
Some people also notice a difference in taste—most notably, a bitter aftertaste in products made with stevia—so you may see suggestions to replace some, but not all, of the sugar amount with a stevia product.
Sugar substitutes for baking that contain stevia include (but are not limited to) Pure Via Turbinado Raw Cane Sugar and Stevia Blend, Truvia Baking Blend, Truvia Brown Sugar Blend, Pyure Bakeable Stevia Blend, Just Like Sugar Baking Sweetener, and SweetLeaf SugarLeaf.
You can get more information, including recipes and tips on using stevia in recipes, on most of the stevia products' websites.
---
Originally published in 2017, this post is regularly updated.