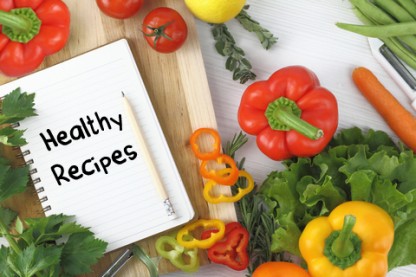 We are creating a new online cookbook "stuffed" with quick and easy, healthy recipes and we want our readers to be involved! Here's how:
Choose your favorite delicious and nutritious recipe that is also easy to prepare.
Submit your recipe in the

Comments section

below.
If your recipe is selected to be published in our upcoming new e-book, we'll send you a $25 gift card to one of the Natural Foods markets listed – your choice!
Enter as many recipes as you would like for a chance to receive multiple gift cards. Let us foot your grocery bill!
Here are a few healthy culinary ideas to get you started: 
Healthy Happy Gluten-Free Pancake Recipe:
Ingredients:
3 organic eggs
1 to 2 cups baby spinach
1 to 2 bananas
½ cup chopped pecans or  use rice flour, almond flour or coconut flour)
Fruit (if desired)
Coconut oil
Directions:
Combine eggs, spinach and bananas in blender or food processer.
Pour this mixture into a bowl and add almond meal.
Stir in the chopped pecans or almonds.
Stir in fruit, if desired, such as blueberries or strawberries
Heat a few teaspoons of coconut oil in the frying pan and when hot, dollop the pancake mixture into the pain.
Cook until bottom is brown; flip to the other side and cook until brown.
Serve with organic maple syrup, organic butter and/or fruit topping.
Fajita Beef Stew with Black Beans and Rice
Ingredients:
1-1/2 pounds beef stew meat
1 tomato, diced
1 lime
2 bell peppers, sliced
2 large yellow onions, sliced
1 cup frozen black beans
2-3 cups hot cooked Jasmine rice (optional)
1 cup organic beef broth
16-ounce jar organic salsa (with no corn syrup) or pico de gallo
1 teaspoon chopped fresh cilantro
Sea salt and pepper to taste
Organic shredded cheese (optional, amount as desired)
Directions:
Place onions and peppers in crockpot and top with steak.
Add salsa (or pico de gallo), cilantro, sea salt, and pepper.
Squeeze juice on lime.
Top with black beans.
Pour in beef broth.
Cover crockpot and cook on low for 8-9 hours until meat is tender.
Turn heat to high and cook on high for an additional 30 minutes.
Serve on top of rice (optional).
Add shredded organic cheese (optional).
Chocolate, Almond and Banana Smoothie
Ingredients:
1 to 2 scoops high-quality organic whey protein
2 tablespoons almond butter
¼ cup organic cocoa powder
1 banana
½ cup organic yogurt (may use flavored yogurt)
4 to 8 ounces of almond milk
Stevia or xylitol to taste
Directions:
Combine all ingredients in a blender and add ice cubes as desired; blend until smooth.
Green Gusto Juice
Ingredients:
1 green apple (core/seeds not included)
1 handful of spinach
½ handful of parsley (a few  sprigs)
½ handful of kale
2 large celery stalks
1 inch ginger root
1 whole lemon
Directions:
Wash your produce and herbs thoroughly.
Combine the ingredients in a juicer or blender; include the skin and sprouts unless otherwise indicated.
You can also add a few drops of liquid B12 or powdered probiotics to your juice before blending.
Read more juicing recipes here: 5 Top Juicing Recipes for Energy
What foods are considered "healthy"?
Our report, Natural Health 101: Living a Healthy Lifestyle provides information about healthy foods to incorporate in your recipes as well as the ingredients you should leave out of your dishes.  You can download this report here:
Now it's Time to Submit Your Easy Healthy Recipe in the Comments Section Below. Let's all help each other improve the healthiness of our family's menu without giving up flavor or convenience.
Get going and dig in!