Best Home Remedies for Burns
Severe burns require immediate medical care by a professional, but if you experience a minor burn, turn to these easy to use, all natural remedies.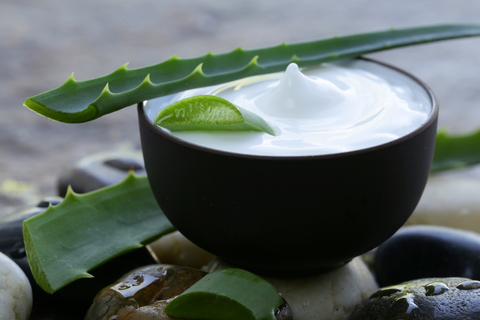 © Olga Kriger | Dreamstime.com
Ask any of my friends and family: I am extremely clumsy. Prone to accidents, spills, falls, and running into things, I almost always have at least a few bumps and bruises at any given time. As someone who also happens to love to cook and bake, it is not uncommon for me to bump into the frying pan or touch the oven rack when taking something out of the oven. Luckily, when minor burns inevitably occur in our home, aloe vera comes to the rescue. I simply cut off a small piece of the plant and let the soothing inner gel do its magic. Aloe is just one of the many effective and natural home remedies for burns; honey, oatmeal, and vinegar can also help.
The most effective home remedies for burns
Severe burns require immediate medical care by a professional, but if you experience a minor burn, turn to these easy to use, all natural remedies.
1. Aloe vera doesn't just help soothe your skin after a bad sunburn. It is also helpful for other types of burns, particularly first and second degree burns. Aloe is safe to use and can help accelerate the healing process of your wound.[1] It provides pain relief and helps your skin to more quickly regenerate new tissue to cover the injured site.[2]
How to use: The simplest way to use aloe vera for burn treatment is to use a piece of the plant itself. Simply use scissors to cut off a small tip of one of the spike-like leaves. Slit it open and apply the clear, gel-like insides to the affected area. Continue applying to your burn multiple times per day until it heals. Cover with a cloth or gauze patch if needed. If you don't want to grow your own aloe plant, purchase high quality, pure aloe gel (without synthetic additives, as you may find in many commercially available products).
Read about the many benefits of aloe vera juice here.
2. Honey. We can thank bees for more than just pollinating our plants; they also provide us with honey, one of the best natural products for burn healing. Honey has a variety of medicinal qualities that make it one of the most essential home remedies for burns. Honey has antibacterial and antiseptic qualities to fight infection, anti-inflammatory capabilities to decrease swelling, antioxidant activities to combat oxidative damage, and more. It also provides a moist environment, which is conducive to healing wounds. Honey accelerates the rate of healing by stimulating immune responses, increasing the flow of nutrients to the wound, and promoting the growth of new tissues. It's beneficial effects for burn treatment have been confirmed in several studies.[3] Learn more about manuka honey here.
How to use: To treat a burn with honey, first clean the wound well. Spread honey directly on the wound and cover with a sterile gauze. Change the dressing two to three times per day.[3]
3. Vinegar. This household product can be used for cooking, cleaning, and even burn treatment. Vinegar is made of acetic acid, which is an effective antiseptic. This cost-effective antibacterial dressing can keep your burn wound clean; acetic acid helps to get rid of common burn wound infections, which can often make the injury much worse and delay healing.[4,5] It may also help you to control some of your pain. (Apple cider vinegar has a wide range of uses as well. Learn about three of them here.)
How to use: To make sure your wound stays clean and to prevent infection, use diluted vinegar and apply to your burn using a gentle cloth. Repeat as needed.
4. Colloidal oatmeal can be very helpful in preventing itchiness at the burn site. Colloidal oatmeal is the finely ground whole oat kernel, which contains a variety of active compounds, including antioxidants, omega-3 and omega-6 fatty acids, and more. Colloidal oatmeal has been shown to be particularly effective at decreasing itchiness on the skin,[6] and can be helpful for the stage at which your burn wound becomes itchy and irritated.
How to use: Colloidal oatmeal can be purchased in its pure, powdered form. Mix it with water to create a paste and then spread it over your burn. For larger burns (including sunburns), mix colloidal oatmeal into a tub full of water and soak in this soothing oatmeal bath. You can also find a variety of products that contain colloidal oatmeal, including creams, lotions, soaps, and more.
What to do when you get burned
If the burn is deep and your skin is badly blistered, seek medical attention immediately. If it is only a minor, household burn, run it under cool water as soon as possible. Do not apply ice to your injured skin. After running it under water, make sure the wound is clean (try the vinegar method) and then apply aloe or honey to the affected area and cover with a light dressing like gauze or a bandage. Be sure to change your dressing a few times per day.
Share your experience
What are your favorite home remedies for burns? Share your tips for caring for burns in the comments section below.
---
[1] Burns. 2007 Sep;33(6):713-8.
[2] J Pak Med Assoc. 2013 Feb;63(2):225-30.
[3] Ann Burns Fire Disasters. 2014 Mar 31;27(1):22-30.
[4] Int Wound J. 2015 Apr 8. [Epub ahead of print]
[5] J Hosp Infect. 2013 Aug;84(4):329-31.