Aspartame Side Effects: Recent Research Confirms Reasons for Concern
Original and independent research from the last 3 years on this artificial sweetener demonstrates harmful aspartame side effects on the brain and on fibromyalgia and IBS symptoms; and it shows aspartame might increase the risk of lymphoma and leukemia. Since aspartame is used in over 6,000 foods and beverages and 500 pharmaceutical drugs, it is important to uncover the true unbiased facts about the safety of using this sweetener.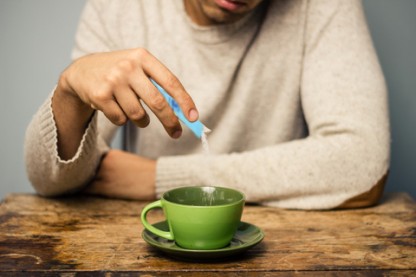 From Diet Coke to Crystal Light "Natural Lemonade," aspartame is still the most commonly used artificial sweetener in diet beverages. Despite ongoing declarations of aspartame's safety from the FDA and mainstream health organizations, researchers continue to explore and uncover evidence of aspartame side effects. Since 2011, original research has been published demonstrating aspartame's negative effects on the brain and on symptoms of irritable bowel syndrome (IBS) and fibromyalgia, as well as its potential to increase the risk of cancer. 
What is aspartame and how common is it?
One of the most widely used artificial sweeteners in the world, aspartame was initially approved for limited use by the U.S. FDA in 1981 and for general use by the European Union in 1994. Today, aspartame is an ingredient in more than 6,000 foods and beverages and 500 pharmaceuticals. Once ingested, aspartame gets broken down into its three constituents: aspartic acid (an excitotoxin), phenylalanine, and methanol (which is then transformed into formaldehyde).[5]
Aspartame side effects on brain function
Our cells continuously generate reactive oxygen species during metabolism, including the metabolism of oxygen. Since brain cells consume a relatively large portion of the oxygen utilized by the body, they generate high levels of reactive oxygen species. This means that the detoxification of reactive oxygen species is an essential task within the brain. Glutathione is the main antioxidant the brain uses to protect brain cells against the ravages of reactive oxygen species.
Long-term aspartame consumption in rats decreases the antioxidant defense status of the brain and leads to oxidative stress by depleting brain levels of glutathione.[1] One research group reported in 2012 that rats who were repeatedly fed aspartame had 25-33% lower brain glutathione levels.[2] Not only that, they found that aspartame directly inhibited brain serotonin, noradrenaline and dopamine. All of these aspartame-induced brain changes impaired the rats' memory performance; the rats given the most aspartame were significantly delayed in their ability to escape from a water maze.
Aspartame and cancer risk
The debate about whether aspartame increases the risk of certain types of cancer continues, and the latest study to be published on the issue suggests it does. In late 2012, a group of researchers from Brigham and Women's Hospital and Harvard Medical School in Boston published a study in the American Journal of Clinical Nutrition showing that men and women who consume one or more daily servings of aspartame-sweetened diet soda had a 42% increased risk of leukemia.[3] Furthermore, they found that men, but not women, also had a 31% higher risk of non Hodgkin lymphomas and a 102% higher risk of multiple myeloma in comparison with men who did not consume diet soda. A set of previous studies in rats in 2006-2007 had also uncovered increased cancer risk, especially of leukemias and lymphomas, from long-term aspartame.[4] The rats in those studies were consuming aspartame in doses equivalent to those which humans can (and do) easily ingest.
Aspartame, fibromyalgia, and IBS
Aspartame side effects may also include exacerbation of fibromyalgia and/or IBS symptoms. As mentioned above, one of the compounds into which aspartame breaks down once in the body is aspartic acid. Aspartic acid is a toxin that causes hyperexcitability of neurons.[5] Aspartic acid also gets turned into other excitatory amino acids in the body called glutamates. These excitotoxins have been shown to cause the degeneration of neurons and other cells that make up the nervous system.[5] Both IBS and fibromyalgia are disorders that involve abnormal nervous system function.
Researchers from the Oregon Health & Science University in Portland reported improvements when they placed 57 fibromyalgia patients who also had IBS on a 4-week "excitotoxin elimination diet," which included the elimination of aspartame as well as MSG.[6] Of the 37 people who completed the diet, 84% reported that more than 30% of their symptoms had resolved. Subjects who improved on the diet were then randomized to a 2-week double-blind placebo-controlled challenge with MSG or placebo. The MSG challenge, as compared to placebo, resulted in a significant return of symptoms; a worsening of fibromyalgia severity and a decreased quality of life in regards to IBS symptoms. According to the study authors, the findings suggest that dietary excitotoxins like aspartame or MSG may be contributing to fibromyalgia symptoms.
Summary of recent aspartame research
For most of us, the occasional diet soda isn't going to harm us seriously. But for the millions of people who drink aspartame-sweetened beverages day in and day out, the risk for aspartame side effects and long-term harms are still unknown, despite the assurances of many in mainstream medicine. The latest research has uncovered some alarming findings about aspartame's potential to increase cancer and its negative effects on the brain. It's also shown how cutting aspartame out of the diet may improve symptoms of fibromyalgia and IBS.
For people who want to avoid aspartame, the easiest way to do this is to check the labels before buying or eating foods or drinks. If aspartame is in the product it will be listed in the ingredients. NutraSweet® and Equal® are brand names for aspartame, so these can be avoided as well. If you regularly consume aspartame, consider switching to more natural no-calorie sweeteners, such as those made with stevia or xylitol. Better yet, work on decreasing all added sweeteners, whether natural or artificial, from your diet.
We want to hear from you about your use of sweeteners. Have you experienced any aspartame side effects? Do you have any tips for other readers who are trying to reduce their use of sweeteners? Share your experience with other readers in the comments section below.
---