5 Simple Substitutions for Egg- and Dairy-Free Recipes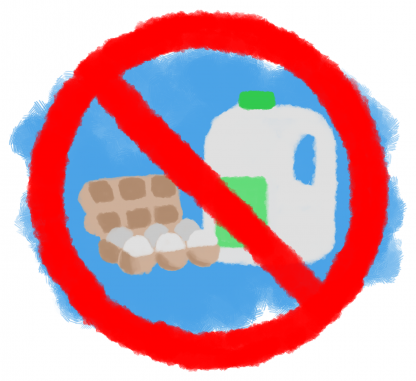 If you don't eat eggs, butter, or milk, it may seem like you'll never be able to bake again. Fear not— just follow these simple guidelines to make egg- and dairy-free recipes that are delicious and healthy. We've included a recipe for Berry Scones with Lemon Zest to get you started.
Eggs
In baking, eggs perform a variety of functions, including binding, leavening, and emulsifying. There are many options for replacing eggs in vegan baking.
Ener-G Egg Replacer.* This egg replacement powder is effective for leavening and providing structure to your baked goods.
1 egg = 1 ½ t egg replacer + 2 T warm water or dairy-free milk
Flax seed. Rich in omega-3s and fiber, flax seed provides structure and emulsifies well. Because it has limited leavening abilities, it's not very effective for recipes that should come out light and fluffy. For the best results, grind whole flaxseeds yourself. A coffee grinder works well.
1 egg = 3 T warm water + 1 T ground flax seed (let sit for a few minutes to become gel-like)
Banana can work as a binding agent, but it has a distinct flavor.
1 egg = ¼ C mashed banana
Applesauce can serve as a binding agent and has a less potent flavor than banana. However, neither one provides leavening qualities.
1 egg = ¼ C applesauce
Chia seeds, like flax seeds, form a gel when mixed with water. Choose white chia seeds if you don't want black seed to be visible in the final product. Again, fresh ground works best.
1 egg = 3 T warm water + 1 T ground chia seeds (let sit 5-10 minutes)
Milk
Most dairy free milks can be substituted at a one-to-one ratio with cow's milk.
Rice milk is light, doesn't add an unusual flavor, and is easy to find in most stores.
Hemp milk is a nutritious option, with protein, omega-3s, and omega-6s. It has a richer flavor than some other non-dairy milks.
Coconut milk is thicker and richer than other alternatives, and it can have a more distinct flavor.
Experiment with other flavors, including soy, almond, hazelnut, and even oat milk.
Buttermilk
To make a buttermilk alternative, add 2 t lemon juice or apple cider vinegar to your non-dairy milk of choice and let sit for 5 minutes. This allows the non-dairy milk to "sour" and mimic buttermilk.
Heavy Cream
If a recipe calls for a heavy cream, you may need to use less replacement milk. Non-dairy milks can be very thin, so using the full amount can make the recipe too runny. Try reserving a small portion of the non-dairy milk at first, and add it in until you reach the right consistency.
Butter and Shortening
Butter is an essential ingredient for many baked goods. Luckily, there are now a variety of products available to make these recipes without real butter.
Vegan margarines. Brands such as Earth Balance offer a large line of dairy-free margarines, made of oils like palm, safflower, and olive. Earth Balance* also offers a soy-free option for those choosing to avoid soy. Unlike regular margarine, Earth Balance contains no hydrogenated oils and is trans fat free.
Palm shortening. Spectrum* makes an organic palm shortening that works wonders for baked goods. It creates a nice, light texture and can substitute for traditional butter in a one-to-one ratio.
Coconut oil is solid at room temperature and is an effective alternative to butter. It is a heart-healthy oil that has many suggested health effects, such as

helping fight memory loss

. One cup of coconut oil can replace one cup of butter in recipes. It can be quite hard at room temperature, so melt it slightly before using.
Recipe: Berry Scones with Lemon Zest (gluten-free, dairy-free, egg-free)

Dry ingredients:
1 ¼ C brown rice flour
½ C potato starch
¼ C tapioca flour
1 t cream of tartar
1 t baking soda
2 t baking powder
1 t xanthum gum
¼ t salt
¼ T sugar
¼ C + 1 T Earth Balance natural buttery spread
½ C rice milk
1 T Ener-G egg replacer mixed with ¼ C warm water (equivalent of 2 eggs)
1 T lemon zest
½ C walnuts or pecans
1 C raspberries, blackberries, blueberries, or other fruit
Directions:
Preheat oven to 400°.
Whisk together dry ingredients.
Add butter to dry ingredients and combine with pastry fork until you have a crumbly mixture.
Combine egg replacer, rice milk, and lemon zest. Pour liquid over dry mixture and mix until dough forms.
Stir in nuts and berries.
Form dough into 8-inch circle on a baking sheet.
Cut into 8 wedges and separate the wedges on the pan.
Cook 16-18 minutes, or until lightly golden and firm.
Let cool slightly before serving.
Share your experience
What are your favorite egg- and dairy-free recipes? Do you have special tricks for substituting vegan ingredients into traditional recipes? Share your ideas in the comments sections below.
*Note: Specific brand recommendations are from the author's experience and are not influenced by any compensation, advertising, or other incentives from companies.