3 Top Detox Soup Recipes to Promote Alkalinity
Alkaline-promoting vegetables can be used to create a detox soup or broth that can you can use daily or when you want to cleanse and detoxify.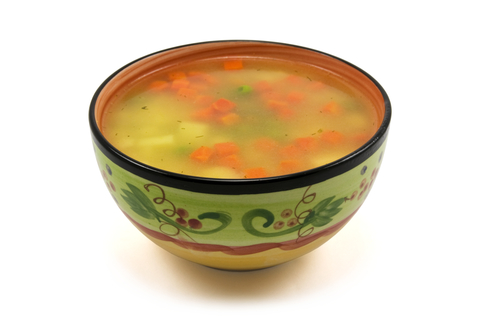 © Grazvydas | Dreamstime.com
The contemporary Western diet, heavy in meats and grains, is highly acidic. Many of us are now walking around in a state of chronic, low-grade "acidosis." This long-term acidic load takes a toll on our health. Fruits and vegetables, on the other hand, generally promote alkalinity. Some vegetables are especially high in potassium or have other alkalinizing properties. Alkaline-promoting vegetables can be used to create a detox soup or broth that can you can use daily or when you want to cleanse and detoxify.
Acid-Alkaline Balance and Detoxification
One important bodily function that depends on acid-alkaline balance is detoxification. The elimination of toxins is enhanced when the urine is more alkaline. The pH balance of the urine is a good marker for the body's total net acid or alkaline load and is altered by diet.
Through the process of "ion trapping," alkaline urine prevents the reabsorption of toxins through renal tubules of the kidneys. Hence, much focus in integrative and naturopathic medicine is on returning the body to a more balanced acid-alkaline state through the use of alkalinizing dietary therapies.
Many detoxification protocols incorporate the use of vegetable broths, which have very alkalinizing effects on the body. The following three detox soup and broth recipes will help make the pH balance of the body more alkaline and thus aid in detoxification.
Top 3 Detox Soup Recipes
Below are the ingredients and step-by-step directions for a trio of effective detox soups.
---
1. Alkaline Detox Soup or Broth
This recipe comes from the Nutrition Department at Bastyr Natural Health Clinic.
Ingredients:
2 quarts filtered water
3 stalks celery or bok choy
3 carrots
1 large onion
1 small beet, peeled
2 cloves garlic, minced
6 small/medium potatoes, unpeeled
1 cup fresh spinach leaves
¼ cup fresh parsley, finely chopped
Pinch of sage
Directions:
Wash all vegetables. Do not peel if organic (except beets).
Coarsely chop all the vegetables.
Cover with water in a non-aluminum pot; add sage. Bring to a boil, reduce heat and allow to simmer, covered, until broth has a rich flavor, about 20 minutes.
Strain and drink hot or cold.
*For a heartier broth, remove ½ veggies, blend in blender or food processor, and return to soup.
---
2. Bieler Detox Soup or Broth
Henry Bieler, MD, was a pioneering promoter of nutritional medicine and author of the 1965 classic Food Is Your Best Medicine. Variations of his Bieler broth recipe can be found all over the Internet. Like the recipe above, this version was adapted from Bastyr Natural Health Clinic's Nutrition Department.
Ingredients:
Celery, cut into chunks
Green Beans
Zucchini and yellow squash, cut into chunks
Spinach
1 generous handful parsley
1 small handful of cilantro
Directions:
Wash veggies.
Combine equal amounts of the above vegetables and steam in a steamer basket. Make sure the water is below the level of the vegetables.
Steam for a few minutes until vegetables are cooked but still slightly crunchy.
Combine vegetables, water, and herbs in a blender and puree until smooth to the consistency of pea soup (you may add more water or broth for a thinner consistency, if desired).
Some recipes for Bieler broth also call for the addition of a small amount of unsalted organic raw butter or extra virgin olive oil after cooking. Also, for variety and taste, you can try adding garlic, onions, cayenne pepper, ginger, turmeric or cumin.
---
3. Dr. Mark Hyman's UltraBroth
Dr. Hyman is a popular MD who specializes in functional medicine. This is his version of an alkalinizing detox broth, which can be found on his website.
Ingredients:
3 quarts filtered water
1 large onion, chopped
2 carrots, sliced
1 cup daikon or white radish root and tops (ideal, but optional), coarsely chopped
1 cup winter squash, cut into large cubes
1 cup root vegetables: turnips, parsnips, and rutabagas (for sweetness), coarsely chopped
2 cups chopped greens: kale, parsley, beet greens, collard greens, chard, dandelion, cilantro or other greens
2 celery stalks, coarsely chopped
½ cup seaweed: nori, dulse, wakame, kelp, or kombu
½ cup cabbage, coarsely chopped
4 ½-inch slices of fresh ginger
2 cloves of whole garlic (not chopped or crushed)
Sea salt, to taste
1 cup fresh or dried shiitake or maitake mushrooms (if available; these contain powerful immune boosting properties.)
Directions:
Add all of the ingredients at once and place on a low boil for approximately 60 minutes. It may take a little longer.
Simply continue to boil to taste.
Cool, strain, and discard cooked vegetables.
Dr. Hyman recommends storing in a large, tightly-sealed glass container in the fridge and simply heating gently and drinking up to 3–4 cups a day.