"Motability": What It Means, How It Helps
You won't find it in a dictionary, but "Motability" is taking on—at least overseas—a general meaning, just as "Kleenex," "Band-Aid," and "Google" have.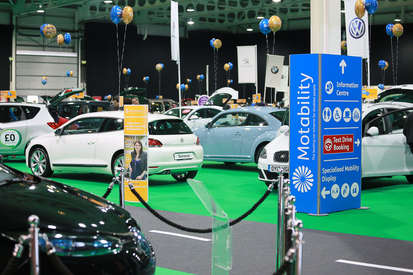 Photo courtesy of Motability
Motability—a hybrid of motor and mobility—is both a term and an entity largely unknown in the U.S., most likely due to our ease of access to automobiles and lack of reliance on public transport. But in the United Kingdom, the land of the publicly funded National Health Service), the term is widespread and well known as a transportation lifeline for people unable to help themselves get where they need to go.
Motability is a government and private partnership that enables disabled people and their families or caregivers to have access to specially outfitted automobiles, and thus lead full, productive lives with access to jobs, education, and retail outlets while participating in other normal activities of daily life.
In 2006, founder Jeffrey Sterling, then chairman of Motability, said, "Family life revolves around the disabled person, so if you make someone mobile, you don't help 2 million people—it's more like 6 to 8 million."
The plan was initiated in 1977 to enable disabled people, their families, and/or caregivers to lease a handicap-equipped motor vehicle—car, scooter, or motorized wheelchair—using a government-provided mobility allowance for which they must apply; potential drivers fill out a car-search form, which filters their eligibility criteria.
When granted, the mobility allowance covers three to five years of leasing a vehicle, complete with insurance, servicing, tires, and breakdown coverage in one single monthly payment. The allowance also covers such things as a lift for a wheelchair or hand controls, if needed.
Motability, a U.K. charitable entity, awards additional funds to cover the cost of a vehicle lease if government allowance is insufficient. Since the inception of Motability some 40 years ago, more than 3 million motor vehicles have been provided to those who need them. There are more than 650,000 current users.
The Motability partnership comprises private charities, government, banks, insurance, and automotive industries. Thirty participating auto manufacturers from Japan, France, Italy, Germany, and America, among other countries, provide vehicles, which include vans and four-wheel drive vehicles, as well as electric vehicles, in varying sizes and shapes. Ford alone claims it delivers one in five vehicles under the disability driving plan; in 2014, it delivered more than 50,000 vehicles to eligible Motability clients. Even high-end manufacturers such as BMW and Mercedes-Benz are represented in the mix.
The Motability plan has generated much competition among automotive dealers (5,000 U.K. dealers provide vehicles under the Motability plan), and also has spawned a subset of other enterprises, including a resale market for Motability vehicles that come off lease, as well as Motability Lifestyle, an 84-page monthly magazine thick with car, insurance, and vacation/travel advertising, all of which emphasize the joys of independence and mobility and, yes, even romance.
Access Motability at motability.co.uk.