Are Cranberries Good for You? 3 Top Cranberry Health Benefits
Cranberries are an especially healthy fruit. Learn about three surprising health benefits of eating cranberries.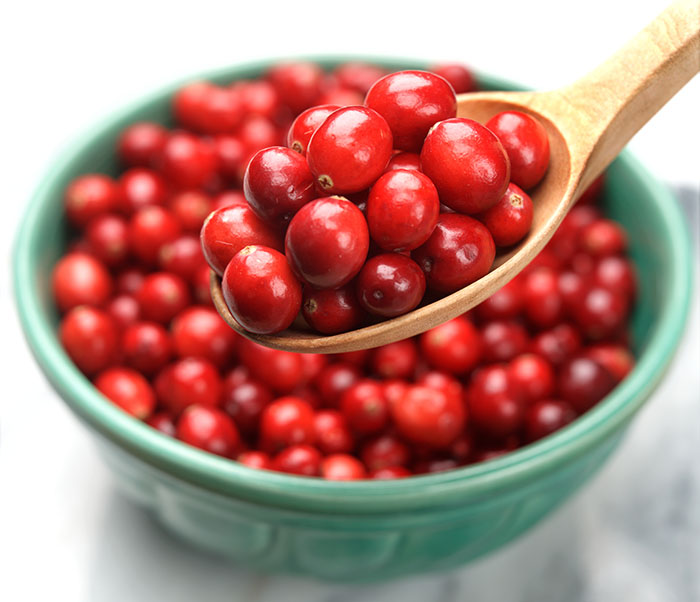 © Studio1231 | Dreamstime.com
Cranberries make us think of Thanksgiving, turkey sandwiches, and treating bladder infections. But are cranberries good for you beyond that? These antioxidant powerhouses can be put to more use than just adding a festive flavor to a meal or managing urinary tract infections. Learn about some of the unexpected cranberry health benefits below.
Why Are Cranberries Good for You?
Cranberries are rich source of phenolic acids and flavonoids (like anthocyanins and flavonols). These compounds are powerful antioxidants, giving cranberries a strong ability to fight oxidative damage and prevent disease.
Fresh or frozen berries have the most antioxidants, although 100 percent cranberry juice and dried cranberries are also excellent alternatives for those who want more convenience.[1]
3 Unexpected Cranberry Health Benefits
1. Cranberries improve risk factors for cardiovascular disease. One of the major risk factors for cardiovascular disease is triglyceride levels. In one study in men with abdominal obesity, researchers found that drinking 250 to 500 ml of cranberry juice daily significantly reduced triglyceride levels.[2]
In another study, 30 women and 26 men drank either 240 ml of cranberry juice daily or 240 ml of a placebo beverage daily for eight weeks. Triglyceride levels dropped significantly in the cranberry juice group compared to the placebo group. What's more, the researchers found that people with the highest triglyceride levels at the start of the study benefited most by drinking cranberry juice; the higher the baseline triglyceride levels, the greater the effect.[3]
Additional effects of drinking cranberry juice in the study included lowering diastolic blood pressure, lowering fasting glucose levels, and lowering markers of inflammation like C-reactive protein (by 44 percent).[3] These are all risk factors for heart disease.
2. Treat BPH in men. Benign prostatic hyperplasia (BPH), or an enlarged prostate, is a common condition in men as they age. It leads to symptoms related to the urinary tract such as frequent urge to urinate and difficulty urinating. Consumption of 250 or 500 mg of cranberry powder for six months improved symptoms for men significantly in a study published in the World Journal of Urology.[4]
3. Fight cancer. Cranberries have many anti-cancer properties, largely because of their high antioxidant content. Cranberries are known to induce cancer cell death, and to stop the proliferation and growth of cancer cells. In laboratory studies, researchers have found that cranberry extracts may be beneficial in inhibiting breast, colon, prostate, lung, and ovarian cancer.[5-8]
How to Take Advantage of Cranberry Health Benefits
As mentioned above, the antioxidant capacity of cranberries is in large part what makes them so good for you. To get the most antioxidants out of your serving, opt for fresh or frozen cranberries first, followed by dried or 100 percent juice.
Use fresh or frozen cranberries to make a tasty vinaigrette (such as the one in this recipe), blend them into a smoothie, or sprinkle them on your morning cereal or yogurt. If you don't like the strong flavor and bitterness of fresh cranberries, choose dried cranberries instead, which are delicious topped on a green salad.
If you like cranberry juice, look for something with little or no added sugars, as most cranberry juice is loaded with sweeteners, leaving little room for much real cranberry. Aim for about one cup per day.
Share Your Experience
Do you eat cranberries? What is your favorite way to prepare them? Share your experience in the comments section below.
---
[1] J Agric Food Chem. 2012 Jun 13;60(23):5687-92.
[2] Br J Nutr. 2006 Aug;96(2):357-64.
[3] J Nutr. 2015 Jun;145(6):1185-93.
[4] World J Urol. 2015 Jun 7. [Epub ahead of print]
[5] Int J Oncol. 2015 May;46(5):1924-34.
[6] Food Funct. 2012 May;3(5):556-64.
[7] Anticancer Agents Med Chem. 2012 Jul;12(6):619-30.
[8] Mol Nutr Food Res. 2008 Jun;52 Suppl 1:S18-27.
---
Originally published in 2015, this post is regularly updated.