Plant Extract Helps Lower LDL Naturally Without the Statin Side Effects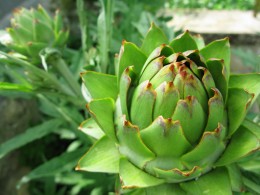 What does LDL cholesterol have to do with Marilyn Monroe? In 1947 a young Marilyn Monroe, still going by her name Norma Jean, was crowned Castroville, California's first "Artichoke Queen." The provocative Miss Monroe may have received this title due to the history of the plant – artichokes have been well-known for their aphrodisiac properties. In fact, until the 16th century, women were prohibited from eating artichokes in many countries because of this alluring reputation!  Recently, however, artichokes are gaining attention by the medical community for affecting the heart in a slightly different way.
The artichoke (Cynara scolymus) is technically a flower bud that has not yet bloomed. The plant belongs to the daisy family and is native to areas such as southern Europe and northern Africa. Traditionally, its leaves have been used to treat ailments like jaundice, acid reflux and various liver disorders. But, research studies now show that artichoke may have a new forte: lowering cholesterol naturally. 
Researchers at the University of Reading have found that an over-the-counter Artichoke Leaf Extract (ALE) can lower cholesterol in otherwise healthy individuals with moderately raised levels.  During the trial, 75 volunteers were given 1,280 mg (4 capsules) of ALE each day for 12 weeks. ALE consumption resulted in a statistically significant reduction in total plasma cholesterol after the intervention period.[1]
Another study in Germany showed that taking 1,800 mg of artichoke extract daily for six weeks brought about an 18.5% decrease in total cholesterol and a 22.9% decrease in LDL ("bad") cholesterol. No adverse effects of the artichoke leaf extract were reported, and the researchers said their findings "could
contribute clear evidence" to recommend artichoke leaf extract for treating high cholesterol.[2]
How Does Artichoke Leaf Extract Lower LDL Naturally?
The manner by which artichokes reduce cholesterol is not fully known. There's some speculation that the cholesterol-lowering effect seen is due to cynarin, a compound in artichokes that boosts production of bile in the liver and the flow of bile from the gallbladder. These actions may help the body excrete cholesterol.
Artichokes also contain other antioxidants such as flavonoids, vitamin C, folic acid and magnesium. These antioxidants are thought to play a role in lowering the oxidation of LDL, which contributes to atherosclerosis (plaque in the arteries).
It is also believed that artichokes may indirectly interact with the same protein that statin drugs interact with to lower cholesterol – but without the risky statin side effects! Called HMGCoA reductase, this enzyme plays an important role in the making of cholesterol. The aforementioned study from Germany does suggest that artichoke leaf extract helps limit synthesis of cholesterol by inhibiting this enzyme.
How to Take Artichoke Leaf Extract:
Artichoke Leaf Extract (also called Artichoke Extract) can be found in tablets in dosages ranging from 250 or 320 mg up to 500 mg. To achieve the cholesterol-lowering effects, take a total of 1,280 to 1,800 mg of artichoke leaf extract per day with water in divided doses. Start out with 1,280 mg to see how your body
reacts to the herb, and then gradually increase the dose after a few days.
Dried artichokes leaves can also be purchased and added to teas, soups and salads. 4-9 grams of dried leaves per day are recommended.
Do not take ALE if you are allergic to chrysanthemums, daisies, ragweed or marigolds.
Do not take ALE if you are taking statin drugs without talking with your doctor first.
Seek the advice of an integrative physician who can monitor any improvement in your cholesterol levels after 6 weeks of taking the herb.