Niacin Among Top Vitamins for Cholesterol with a 60-Year Track Record Proving It Works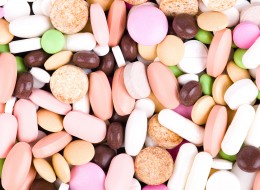 Natural remedies are often viewed with skepticism because many people feel it's too easy and simple to take a daily supplement – there must be a catch! But the truth is that many supplements, vitamins and other natural remedies really do work. We've decided to expound on one natural remedy in particular because it has a 60-year track record proving it works. If you're looking to lower your cholesterol or if you want to maintain your current normal cholesterol levels, then this information is for you! 
In addition to eating healthy and exercising regularly, many integrative cardiologists recommend the dietary supplement niacin (vitamin B3), a vitamin proven clinically to help patients achieve normal cholesterol levels for over 60 years. In fact, Niacin is so well researched and the evidence for using it to treat high cholesterol is so strong that it is recommended by the National Cholesterol Education Program.[1]  As Harvard Medical School reports, "The granddaddy of cholesterol-lowering drugs, niacin was the first medication to lower cholesterol levels (1955), the first to reduce heart attacks (1984), and the first to lower long-term mortality rates (1986)."[2] We would argue that niacin is not a "medication", but nevertheless, Harvard clearly believes that niacin is a powerful therapy for lowering cholesterol.
Niacin also maintains continued support from the cardiology community.  Dr. Lavie, Medical Director of Cardiac Rehabilitation and Prevention at the John Ochsner Heart and Vascular Institute, New Orleans, LA, stated, "As a cardiologist, it is my job to educate my patients about heart health and to recommend ways to help maintain good cholesterol, HDL, within the normal range. Like many cardiologists, I have been recommending the dietary supplement niacin to my cholesterol-conscious patients for more than 20 years."[3]
Why Niacin is Among the Top Supplements for Lowering Cholesterol
Niacin, a naturally-occurring B vitamin (B3), is among the top supplements because it simply works so well. It is unique among natural cholesterol control options because it not only reduces triglycerides and LDL cholesterol, but also increases HDL ("good cholesterol") levels – something that virtually no prescription drug does.
Foods that contain niacin include chicken, tuna, beef, turkey, halibut, and salmon. It is can also be purchased as a dietary supplement (in the form of nicotinic acid).
How to take Niacin Supplements to Achieve Normal Cholesterol Levels
As a supplement, most patients get the benefits they desire at a daily dosage between 250 mg to 2000 mg (2 grams). Each person is different so you will have to experiment with gradually increased doses until you find the level that is right for you. The goal is to take only what is necessary to achieve normal cholesterol levels. Since taking niacin can cause flushing, you should start off taking a small dose at around 250 mg per day and increase the dosage as tolerated. Observe your flushing reaction. Most of the time, the flushing reaction will no longer occur after one to two weeks of use. If you are one of those who experiences significant unpleasant flushing, you'll need to increase your dosage more slowly. Others can ramp up fairly quickly. Also, be aware that stomach distress, itching, and headache are occasionally experienced by niacin users. If you have liver disease, ulcers (presently or in the past), or gout, you will especially want to work with your doctor in using niacin therapy.
Additional B Vitamins for Cholesterol
In addition to niacin, you can take other B vitamins to lower your LDL cholesterol levels:
Vitamin B12. Vitamin B12 is another one of the notable nutrients for cholesterol control. Research has shown that taking vitamin B12 daily can reduce cholesterol levels; but doing so can also provide additional cardiovascular health benefits such as reducing the risk of developing atherosclerosis (hardening and narrowing of the arteries).[4] Moreover, this important nutrient can help fight chronic fatigue and aids in the maintenance of the central nervous system. However, it is important to note that vitamin B12 is better absorbed by the body when it is taken along with the other B vitamins including vitamin B3 (niacin).
Folic Acid.  Folic acid, or vitamin B9, increases bile flow as well as bile acid synthesis from cholesterol, which causes cholesterol levels in the body to decrease.[5] Folic acid also combats high levels of homocysteine, which is associated with increased risk for heart disease. In fact, many studies suggest that people with high levels of homocysteine are roughly 1.7 times more likely to develop coronary artery disease and 2.5 times more likely to have a stroke than those with normal levels. Taking B-complex vitamins, especially with a combination of vitamins B9, B6, and B12 may further help lower homocysteine levels.[6]
Obtain Normal Cholesterol Levels with Other Natural Remedies!
Our Comprehensive Guide on Natural Cholesterol Control: Achieve Healthy Cholesterol Levels Without Drugs gives the complete picture on the most effective and proven ways to lower cholesterol using diet, exercise, nutritional supplements and other non-drug approaches. These protocols have solid research behind them and are recommended by leading integrative medicine physicians to their own patients. The Guide puts into one place all the available remedies so that you can determine which ones are most appropriate for you.
---
[3] Yahoo News, American Heart Month Facts, February 5, 2013.
[4] Seminars in Thrombosis and Hemostasis. 2000;26(3):341-8.