Lowering Cholesterol Naturally – How to Improve Cholesterol Numbers without Drugs (Part 2)
Integrative physicians recommend lowering cholesterol naturally without the use of the side-effect-prone statin drugs. But how do you do that?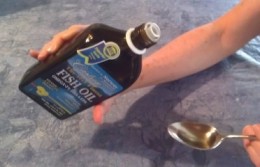 A whole host of effective strategies are available to get your cholesterol numbers in order, and sometimes you have to experiment to find the ones that work best for you.  

Top Three Action Steps for Lowering Cholesterol Naturally
Begin taking as a supplement Vitamin B3 (known as Niacin). This inexpensive nutrient you can buy at any health food store is unique among remedies because it not only reduces triglycerides and LDL cholesterol, but also increases HDL ("good cholesterol") levels.  And it has five decades of research that shows it works! In fact, it is so well researched and the evidence for using it to treat high cholesterol is so strong that it has become an accepted mainstream treatment and thus is recommended by the National Cholesterol Education Program. You will need to be aware that when you first start taking niacin, some people experience a flushing of the skin that makes them look like they're blushing. It typically lasts no more than 15 – 30 minutes and then it disappears. The famous "niacin flush" will most of the time subside altogether after about two to three weeks of taking the supplement. And don't try to buy the "non-flush" version of the supplement. Most integrative physicians say the non-flush version of niacin does not work to lower cholesterol – in fact it is the flush that makes it work. Niacin is very effective and safe in improving your cholesterol numbers.
Begin taking fish oil as a nutritional supplement. Nearly 900 human clinical trials have studied fish oil and over 7000 reports have been written. Their conclusion? The omega-3 fatty acids from fish oil are remarkably effective in reducing triglyceride levels by as much as 25% to 30% and in general helping to prevent cardiovascular disease. One gram of fish oil daily has shown to reduce overall and cardiovascular mortality, myocardial infarction (heart attacks), and sudden cardiac death.[1,2] But that is only the starting point in describing the beneficial effects of fish oil on the body. It is a marvelous natural anti-inflammatory and thus deals at the root cause of many of the chronic diseases of our time. Research has shown it beneficial in the prevention or treatment of Alzheimer's disease, depression, auto immune disorders, and the cancers of the breast, colon, and prostate. You'll want to select a safe, effective fish oil product among the hundreds of choices out there and take the recommended dosages.
Work on two specific diet related issues – more fiber and reduce the starchy carbs, sugar laden foods and bad fats. Let's face it. Most people will not radically change their diet just to get their cholesterol numbers in line. But most people will improve their diet somewhat when they know doing so will have a huge positive effect on lowering cholesterol naturally. Fiber helps to flush out of your digestive track the bile salts and excess cholesterol the body does not need. You hear of people lowering their cholesterol numbers just by eating a bowl of oatmeal each day, and it's the fiber content that makes that work! We prefer chia seeds or flax seeds as super nutrients that are high in soluble and insoluble fiber. Just add them to shakes or sprinkle them on your food. A couple of tablespoons per day will make a huge difference in your cholesterol numbers. As for the other diet recommendation, just try to reduce the amount of starchy carbs (potatoes, rice, pasta, cereal), the amount of sugar laden foods (sodas, diet sodas, high fructose corn syrup) and the amount of bad fats (fried foods, high trans-fat foods such as crackers, chips). Then increase your consumption of the great tasting vegetables and fruits – especially those that are grown locally near where you live. Those two changes – increased fiber and more quality food choices will have a huge positive impact on your health in general and your cholesterol numbers specifically.
Begin Lowering Cholesterol Naturally … Now!
So even though cholesterol is not the villain in heart disease like it's made out to be, abnormal cholesterol numbers give us incentive to correct the underlying causes of that high cholesterol and in doing so improve our overall health! Start with these top three actions and see if your cholesterol numbers don't completely resolve in 6 weeks to 3 months.
---
[1] Eslick GD, et al. Benefits of fish oil supplementation in hyperlipidemia: a systematic review and meta-analysis. Int J Cardiol. 2008 Sep 5.
[2] Oh, R., Practical Applications of Fish Oil (Omega-3 Fatty Acids) in Primary Care, Journal of the American Board of Family Medicine, 2005, March 1.