How to Lower Cholesterol Without Drugs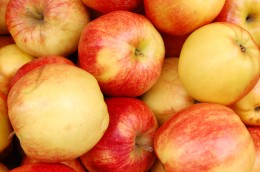 It is easy to eat your way to high cholesterol levels. It's even easier to pop a daily statin to "fix" your cholesterol problems. Certainly, adapting to a new diet takes more effort and attention. But, it's a method of lowering cholesterol naturally without the risky side effects associated with statin drugs.
A Harvard University study confirms that certain foods can indeed naturally lower LDL ("bad") cholesterol levels while increasing HDL ("good") cholesterol levels. These "superfoods" include: beans, nuts like almonds and walnuts, apples, grapes, citrus fruits, and fatty fish.[1]  Beans are loaded with fiber, which helps to remove cholesterol from the body.  Apples contain healthy compounds called polyphenols as well as a natural soluble fiber called pectin, both of which have cholesterol-lowering abilities.  And, fatty fish contains the beneficial omega-3 fatty acids, which have been proven time and again to help fight high cholesterol and support heart health.
Undoubtedly, increasing consumption of these specific cholesterol-lowering foods is critical. However, it is far more important to limit consumption of foods that actually increase cholesterol. However it is a cholesterol myth that the amount of cholesterol contained in a food is what influences your body's cholesterol level. In fact, the majority of cholesterol in your bloodstream comes from what your liver is manufacturing and distributing. So you are looking to avoid foods that cause your liver to pump out more cholesterol.
With that in mind, to improve cholesterol levels there is absolutely one ingredient you must avoid (or at least reduce)…  Sugar!  Yes, the real culprit behind high cholesterol is not a high fat diet, but a high sugar diet. In a study published in the Journal of the American Medical Association, participants who ate the most sugar had the lowest HDL ("good") cholesterol and the highest blood triglyceride levels. On the contrary, those who ate the least amount of sugar had the highest levels of good cholesterol and the lowest triglyceride levels.[2] Avoiding sugar does not simply mean avoiding desserts. You also have to be aware of foods and beverages that are high in added sweeteners, such as high fructose corn syrup.  For example, the average 12-ounce can of soda has between 8 to 10 teaspoons of sugar, mostly in the form of corn syrup. Shockingly, many fruit juices contain even more sugar than soda – up to a whopping 15 teaspoons! To watch your sugar intake, read nutrition labels and ingredients carefully.  You may be surprised that even so-called "healthy" foods contain large amounts of sugar, such as breads and cereals.
Diet remains the best way to attack high cholesterol. In summary, a cholesterol-lowering diet includes:
Increasing consumption of superfoods:  beans, nuts, fruits such as apples and fatty fish.
Limiting sugar intake including:  desserts, candies, breads, cereals, sodas and fruit juices.
It is important to note that dieting alone may not always be enough. For example, an underactive thyroid can contribute to high cholesterol. Did you know there is a simple at-home thyroid test you can try? To learn about thyroid testing and more on this topic, download our FREE special report, 7 Natural Ways to Lower Cholesterol: Top Foods, Supplements & Therapies to Achieve Normal Cholesterol Readings!
---
[1] Harvard Heart Letter.  "11 Foods that Lower Cholesterol."  October 2009.
[2] Journal of the American Medical Association, April 21, 2010;303(15):1490-1497.