Even If You're Healthy, You Can Still Have a Heart Attack: Symptoms of Heart Disease You Can't Ignore
Do you live a healthy lifestyle by following a whole grain diet? Unfortunately, despite your actions to thwart a heart attack, your diet may do more harm than good. Learn why.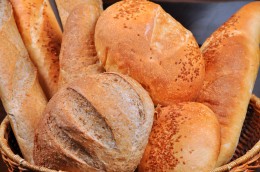 Do you live a healthy lifestyle by following a whole grain diet? Unfortunately, despite your actions to thwart a heart attack, your whole grain diet may do more harm than good. Why? Because the root cause of heart disease is inflammation!  And, managing inflammation goes much beyond the standard prevention advice of eating whole grains.
Preventing a Heart Attack: Symptoms of Heart Disease Linked with a Whole Grain Diet
Opting for whole wheat bread may seem like a healthy choice; however, research suggests otherwise.  Consider that the carbohydrate-laden food pyramid was introduced approximately 30 years ago. Since that time, the number of people with heart disease and other chronic illnesses has drastically increased. Death from cardiovascular disease alone exceeds 1 million annually in the United States.[1] The truth is that certain types of grains exacerbate inflammation in the body, causing disease. Particularly, refined grains (cereals, breads, pastas, etc.) are largely devoid of fiber, minerals and vitamins. Furthermore, as many as one in five people have a gluten sensitivity.[2] So for the gluten-intolerant person, even whole wheat products can cause inflammation and therefore increase the risk of heart disease. In fact, more and more people are discovering that they can significantly reduce inflammation by eliminating grainsall together.
How Does Inflammation Increase the Risk of Heart Disease?
Inflammation creates lesions on arterial walls, thus contributing to the formation of plaque within the arteries—a process known as "atherosclerosis."  In order to quickly repair the lesions, the body "patches" them up with cholesterol. Although an effective short-term fix, this eventually leads to the creation of artery-clogging plaque, and drives up the risk of heart disease and sudden heart attack.
What are the heart disease and heart attack symptoms?
A person with heart disease (coronary artery disease) will typically have the following symptoms, especially if they are following a grain-heavy diet:
High LDL cholesterol levels/high triglycerides
Heart palpitations, fluttering or racing heartbeat
Fatigue
High blood pressure with or without episodes of dizziness or lightheadedness
In addition to the symptoms of coronary artery disease, it is important to be aware of heart attack symptoms. A heart attack can occur suddenly, even in a person who does not have a history of heart disease or high cholesterol problems. Therefore, you should call 911 or seek medical help right away if you experience any of these 5 common heart attack symptoms:
Chest pain
Arm or shoulder pain
Shortness of breath
Pain in the jaw, neck or back
Feeling weak, dizzy, faint or light-headed
Eating Whole Grains Can Also Cause Fluctuations in Blood Sugar
Aside from increasing the risk of high cholesterol and/or heart disease, grain-based diet may also be too high in carbohydrates for some, causing blood sugar to swing dramatically between extreme highs and lows. This leads to a drop in energy, sugar and/or caffeine cravings, sleep issues, and most importantly, inflammation. High-carbohydrate diets—even those high in fibrous whole grains—can prove too inflammatory for some people. Thus, anti-inflammatory foods such as leafy, colorful vegetables and mildly sweet fruits (i.e. berries) are a better choice.
Gut Health and Heart Disease
Other causes of inflammation include: an overgrowth of harmful bacteria in the gut, poor function of the digestive organs, and gastric irritation. All of these factors play a role in increasing the risk of heart disease. In fact, studies suggest that the overgrowth of one strain of gastric bacteria in particular—"H. pylori"—increases the risk of heart disease.[3] Caused by insufficient acidity in the stomach, the usually symptomless H. pylori is responsible for peptic ulcers—a condition estimated to affect many Americans.
The Source of Inflammation is Different for Everyone
You can see why reducing inflammation is "at the heart" of reducing your risk of heart attack, symptoms of heart disease, and ultimately, saving your life. You can also see why statin drugs do not address the root cause of high cholesterol for most people – while they may decrease your high cholesterol numbers, the inflammation and risk of heart attack still rages on.
The source of inflammation can vary for each individual, but typically it involves evaluating one's diet, immune health, and digestive function.  In order to successfully reduce your risk of heart attack, you have to fix the source of inflammation.  Following an anti-inflammatory, ketogenic diet and balancing the bacteria balance in the gut with probiotic supplements is a good place to start.
---
[1] J Am Coll Nutr June 2000 vol. 19 no. suppl 3 291S-299S.
[2] Eur Rev Med Pharmacol Sci. 2010 Jun;14(6):567-72.
[3] Recenti Prog Med. 2009 Feb;100(2):91-6.
This post originally appeared in 2012 and has been updated.