Iron Deficiency Treatment for Chronic Fatigue Symptoms
Chronic fatigue can be successfully treated with iron supplements in women who have iron deficiency.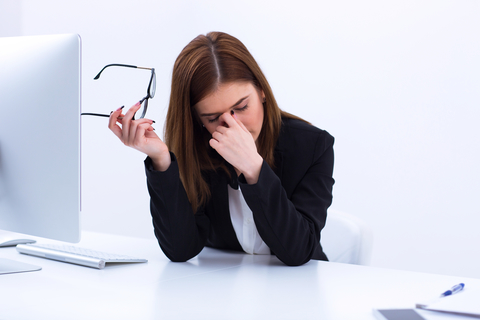 © Vadymvdrobot | Dreamstime.com
In Part 1 of this article you learned about a study showing how chronic fatigue can be successfully treated with iron supplements in women who have iron deficiency but don't have full blown anemia.[1] (Find 9 Iron Deficiency Symptoms here.) The French and Swiss researchers found that iron supplementation for 12 weeks decreased fatigue by almost 50% from baseline in non-anemic women with unexplained major fatigue. The researchers concluded that iron supplements should be prescribed in any woman with fatigue and low iron as defined by ferritin values below 50 mcg/L.
In the study, the subjects took a commonly prescribed form of iron, sustained release ferrous sulfate, at a dose of 80 mg per day. Ferrous sulfate is the most commonly prescribed form of iron supplementation recommended by conventional healthcare providers. However, ferrous sulfate is not the best absorbed form of iron and can cause a variety of side effects including nausea, vomiting, stomach pains, constipation, heartburn and loss of appetite.[2]Therefore, many naturopathic physicians will often recommend other forms of supplemental iron for iron deficiency treatment; these supplements are typically better absorbed and cause less side effects:
Iron glycinate and iron amino acid chelates are better absorbed and less toxic than ferrous sulfate and have been shown to be efficacious in treating iron deficiency with significantly less side effects.[3] Ferrous glycinate chelate (also known as iron bis-glycinate chelate [Ferrochel]), for example, has been shown to be much more bioavailable than ferrous sulfate, and is associated with very few gastrointestinal symptoms.[4]
Iron from animal sources, such as beef liver, is known as heme iron and is up to 33% more absorbable in the body than non-heme iron. Quality supplements containing heme iron are obtained from animals raised with no chemical sprays, pesticides, or antibiotics from livestock feed.
Also available are iron supplements complexed with whole-foods which contain iron that has been cultured in a matrix of fermented whole foods. Both heme iron from animal sources and whole food complexed iron are less constipating and easier to digest than ferrous sulfate.  Research has also shown that a high-iron diet can be equally effective for iron deficiency treatment and treating chronic fatigue symptoms.[5] Good vegetarian food sources of iron include asparagus, chard, spinach, romaine lettuce, blackstrap molasses, soybeans, tofu, lentils, mustard greens, collard greens, turnip greens, and leeks. Thyme, cumin, turmeric, and black pepper are also excellent sources. Vitamin C greatly helps you increase your absorption of plant food iron. Animal sources rich in iron include red meat, egg yolks, and liver.
Using cast iron cookware is another way to increase iron intake.
Too Much Iron Deficiency Treatment is Dangerous Too
It is very important to understand that although most nutrients are safe at high levels, iron is the exception to this rule and can be dangerous if excessive levels persist over an extended period of time. In fact, it would be a mistake for you to take iron supplements or multivitamins with iron—thinking it will help your fatigue symptoms—without knowing if you are iron deficient in the first place. Studies have shown that excessive iron increases Alzheimer's risk and can lead to serious health problems such as liver and heart disease. And ironically, too much iron can cause rather than relieve fatigue symptoms. So ask your doctor for a ferritin iron blood test to get a confirmed diagnosis of iron deficiency before you try to self-diagnose and self-treat. If your iron stores are deficient, you'll be able to effectively restore those using the approaches suggested here. And you'll likely start to feel a welcome return of that lost energy.
For related reading, visit these posts:
---
This article was originally published in 2012 and has been updated. 
[1] Vaucher P, Druais PL, Waldvogel S, Favrat B. Effect of iron supplementation on fatigue in nonanemic menstruating women with low ferritin: a randomized controlled trial. CMAJ. 2012 Aug 7;184(11):1247 54.
[2] Zaim M, Piselli L, Fioravanti P, Kanony-Truc C. Efficacy and tolerability of a prolonged release ferrous sulphate formulation in iron deficiency anaemia: a non-inferiority controlled trial. Eur J Nutr. 2012 Mar;51(2):221-9.
[3] Hertrampf E, Olivares M. Iron amino acid chelates. Int J Vitam Nutr Res. 2004 Nov;74(6):435-43. Review. PubMed PMID: 15743019.
[4] Piñeda O, Ashmead HD, Perez JM, Lemus CP. Effectiveness of iron amino acid chelate on the treatment of iron deficiency anemia in adolescents. J Appl Nutr 1994;46:2–13.
[5] Patterson AJ, Brown WJ, Roberts DC. Dietary and supplement treatment of iron deficiency results in improvements in general health and fatigue in Australian women of childbearing age. J Am Coll Nutr. 2001 Aug;20(4):337-42.