Sleep and Weight Loss: Lack of Sleep Causes Weight Gain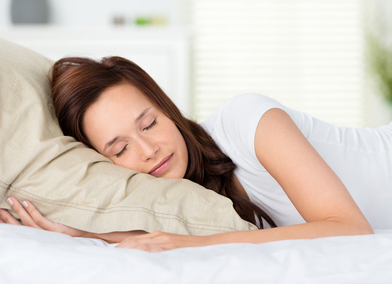 Just as research has established that getting enough sleep and weight loss go hand in hand, it has also shown that lack of sleep increases the risk of weight gain. Yet so far, no one's been able to definitively answer the question, "How much sleep do I need to avoid weight gain?" The latest study to explore this question, recently published in the American Journal of Epidemiology, provides the most convincing evidence to date on the link between lack of sleep and weight gain.
Showing that even mild sleep deprivation boosts the risk of weight gain in healthy adults, Dr. Qian Xiao of the National Cancer Institute in Rockville, Maryland and colleagues studied a group of 83,377 men and women 51 to 72 years old for 7.5 years, on average.[1] Because chronic health conditions such as cancer, heart disease, or strokes affect both sleep pattern and weight and could skew the results, the researchers excluded anyone who had such a condition. 
Study finds 6 or less hours sleep per night increases risk of weight gain
Overall, they found that the less sleep men and women got the more weight they gained. Those who slept for six hours or less per night gained more weight than those who slept seven to eight hours. Even more alarming was what happened to the normal-weight men and women who reported sleeping less than five hours each night: they were 30% more likely to gain 11 pounds (5 kg) or more compared with those who slept seven to eight hours and about 40% more likely to become obese during follow-up.
The findings are "particularly powerful" because the investigators followed patients' weight gain over time and because of the large size and diversity of the study population. In fact, the association between lack of sleep and weight gain was generally consistent no matter what the subject's age, educational level, smoking status, baseline body mass index (BMI), and physical activity level. With more than 80,000 people in the study, it's likely that the relationship exists for just about everyone.
More research on sleep and weight
In addition to the strong link between sleep and obesity, significant relationships have been found in other studies between insufficient sleep and chronic diseases including high blood pressure, asthma, arthritis, diabetes, coronary heart disease, and stroke.[2] Furthermore, studies show that the link between sleep and weight goes beyond lack of sleep. Sleep problems such as trouble falling asleep, waking up several times per night and trouble staying asleep, even if experienced only occasionally, are also associated with weight gain.[3] Restricting people's sleep makes them feel hungrier and eat more, and impairs their blood sugar regulation, which may be reasons for the link.[4]
Tips for getting a good night's sleep
Adequate sleep, at least 7-8 hours a night, is absolutely essential for good health, optimal energy levels, and maintaining a healthy weight. If you need assistance with getting a good night's sleep, don't rely on prescription sleeping pills. These are not the answer. For a detailed guide to natural sleep tips and sleep remedies, click here.
---
[1] Am J Epidemiol. 2013 Sep 18.
---
Originally published in 2013, this post has been updated by the editors of University Health News.