Mayo Clinic Finds Ginseng Benefits Cancer Patients' Fatigue Symptoms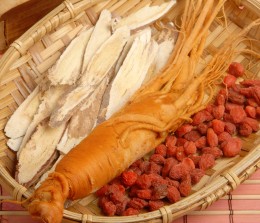 Ginseng has long been known as an adaptogen, a type of herbal medicine that helps the body adapt to stress and overcome fatigue. Used for centuries in traditional Chinese medicine as a natural energy booster, Mayo Clinic researchers have been looking into ginseng's effects on the debilitating fatigue symptoms that occur in almost all cancer patients.
The Mayo Clinic's newest study shows capsules of American Ginseng benefits cancer patients' fatigue symptoms, which adds to the growing body of scientific evidence for the anti-fatigue effectiveness of ginseng supplements.
In the current study, 360 people with fatigue who were being treated for cancer or had completed cancer treatment took either placebo or capsules containing a high dose (2,000 milligrams) of pure, ground, American ginseng (Panax quinquefolius) root daily for two months. The findings are being presented at the American Society of Clinical Oncology's annual meeting.
The participants did not start to feel the ginseng benefits until after a month into the study, but by eight weeks, those in the ginseng group were experiencing significantly less fatigue symptoms. Those taking ginseng showed a 20-point improvement in fatigue as measured on a 100-point, standardized fatigue scale. They reported feeling less "worn out," "fatigued," "sluggish" or "tired," compared to those who took the placebo.
The fatigue symptoms so commonly felt by cancer patients is related to an increase in the immune system's inflammatory cytokines as well as poorly regulated levels of the stress-hormone cortisol. Cancer is known to be a prolonged chronic stress experience with the effects lasting up to 10 years beyond diagnosis and treatment. Recent pharmacological studies of ginseng and its active ingredients, called ginsenosides, have shown  that regulating these key mediators of stress and inflammation is one of the many ginseng benefits.
Some ginseng supplements are extracts which may be processed using ethanol, which can give it estrogen-like properties that may be harmful to breast cancer patients. Therefore, it is important to look for an American ginseng supplement which contains pure ground root of ginseng as opposed to an extraction. The Mayo Clinic's study utilized an American ginseng dosage of 2,000 mg per day. Various clinical studies have suggested dosages ranging between 200 mg to 4,500 mg per day. You should start out with a lower dose and gradually increase as tolerated; however, it is important for cancer patients to talk with their doctor or an integrative physician before beginning ginseng, especially those who are undergoing chemotherapy or radiation.
Other species and varieties of ginseng and ginseng-like plants, such as Korean red ginseng and Rhodiola rosea, are also available as supplements and have also been found in numerous studies to improve fatigue symptoms.
Precautions:
Ginseng lowers blood sugar levels, so people who are taking medications for diabetes should monitor their blood sugar closely.
Pregnant women should not take ginseng.
People who are taking blood-thinning medications such as warfarin (Coumadin) should talk with their doctor before taking ginseng.
---
[1] Barton DL, Liu H, Dakhil SR, et al. Phase III evaluation of American ginseng (panax quinquefolius) to improve cancer-related fatigue: NCCTG trial N07C2. J Clin Oncol 30, 2012 (suppl; abstr 9001).
[2] Chan SW. Panax ginseng, Rhodiola rosea and Schisandra chinensis. Int J Food Sci Nutr. 2012 Mar;63 Suppl 1:75-81.