Acupuncture Benefits and How to Find an Acupuncturist Near You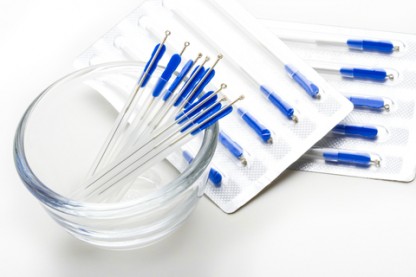 Are you too afraid of needles to take advantage of the many acupuncture benefits that have recently been confirmed by medical research? Don't be. With a history over 3000 years, acupuncture is relatively painless and has and has been shown in studies to be effective in the treatment of many conditions with few side effects. An intrinsic part of traditional Chinese medicine, which utilizes fine needles to pierce through specific anatomical points (called "acupoints"), acupuncture is being extensively used and has emerged as an important and useful modality of natural, integrative and alternative medicine. 
Acupuncture benefits supported by research
Acupuncture may be most popular for its effectiveness in alleviating pain related to anything from headaches and fibromyalgia to low back pain and osteoarthritis of the knee.[1] The authors of a large meta-analysis published in JAMA Internal Medicine in 2012 concluded that "acupuncture is effective for the treatment of chronic pain."[2] In addition to pain, acupuncture also helps treat allergies/asthma, PMS and menstrual disorders like PCOS, digestive disorders, and much more.[3-6] The World Health Organization (WHO) has listed over 40 conditions as treatable by acupuncture and Oriental medicine, including:[7]
Sinusitis
Common cold
Tonsillitis
Bronchitis
Asthma
Gastritis
Ulcers (without complications)
Colitis
Chronic constipation
Diarrhea
Headache and migraine
Stroke rehabilitation
Peripheral neuropathies
Frozen shoulder
Tennis elbow
Low back pain
Osteoarthritis
How does acupuncture work to treat so many different conditions?
Researchers still don't fully understand how acupuncture works and there a number of proposed scientific explanations for acupuncture's effects. In regards to its effect on pain, research has found that several types of opioids may be released into the central nervous system during acupuncture treatment, thereby reducing pain. Acupuncture has also been found to lead to additional changes in brain chemistry, sensation, and involuntary body functions. For instance, it may change the release of neurotransmitters and neurohormones and affect immune reactions and processes whereby a person's blood pressure, blood flow and body temperature are regulated. By altering the circulation of blood to the affected area, acupuncture may also facilitate the removal of pain causing chemicals and restore normal function to the area being treated.Ultimately, it is believed that the biochemical changes may stimulate the body's natural healing abilities and promote physical and emotional well-being. (Learn more here: How Does Acupuncture Work?)
How to take advantage of acupuncture benefits
If you want to try acupuncture but are fearful of being hurt by the needles, you needn't be. Most of the time, you barely feel a thing while they're being inserted. Sterile, single-use stainless steel needles are used, and the actual insertion of the acupuncture needles is done very quickly. You might feel a slight pricking sensation during insertion, but it's typically not very painful. Once the needles are in place, it's not uncommon to feel a tingling, numbing, or warm sensation. For most conditions, a series of several treatments, typically lasting about 45 minutes to an hour, is required in order for you to achieve maximum benefit. A normal series of treatments is from 6 to 12.
Tell Us Your Experience With Acupuncture to Help Other Readers!
Acupuncture is available widely and is becoming much more readily accepted as an effective treatment therapy yet many people still have not ventured out to give it a try. If you have had personal experience with acupuncture, please help other readers become familiar with it by commenting on those experiences in the Comments Section below!
---
[1] Clin J Pain. 2013 Feb;29(2):172-85.
[2] Arch Intern Med. 2012 Oct 22;172(19):1444-53.
[3] AlternTher Health Med. 2013 Jul-Aug;19(4):13-9.
[4] Allergy. 2013 Mar;68(3):365-74.
[5] BJOG. 2011 Jul;118(8):899-915.
[6] Am J Chin Med. 2013;41(4):717-42.