Diabetes Medications: Which One Is Best for You?
Age, weight, side effects, and lifestyle are some of the many factors considered when choosing diabetes medications.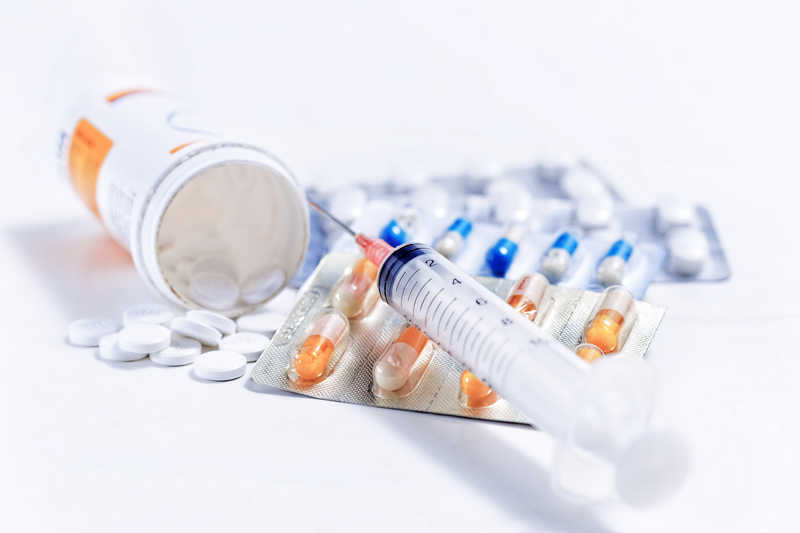 © Keng Po Leung | Dreamstime.com
If you watch television, you probably notice frequent ads for diabetes medications. But, if you have diabetes, how do you know if those medications would work better for you than what you're currently taking?
The answer: Discuss all of the medication options with your doctor, who can explain the risks and benefits of the various choices and help you determine which medication is best for you based on your lifestyle, your medical needs, and your preferences.
Numerous Factors Determine the "Right" Diabetes Medications
"Medication selections should be individualized for each patient," says Melissa Katz, MD, an assistant professor of clinical medicine at Weill Cornell Medicine. "Issues to be considered when choosing the appropriate therapy for a particular woman include her age, weight, and kidney function. Other factors include the risks and possible side effects associated with each type of drug, as well as the mode of administration."
For example, some diabetes medications come in pill form, while others are administered via injection. Many patients prefer to take pills rather than injections, but some newer medications need to be injected just once a week.
Your doctor also needs information about your lifestyle, including how often and how much you exercise and what your eating habits are. It's important to be honest with your doctor. For example, if you get 60 minutes of exercise each week but report that you get 150 minutes, and if you often consume foods high in added sugar but say you don't, your doctor will be unable to accurately assess what medication adjustments or changes may be needed.
It's also important to be honest about glucose monitoring and medication; if you often miss doses or you don't check your glucose as often as recommended, it will influence your doctor's determination of which medication is best for you.
Types of Diabetes Medications
Type 2 diabetes medications are designed to regulate the way the body metabolizes glucose (sugar). Insulin, which is produced by the pancreas, is needed to regulate the movement of glucose into cells, where it can be used as fuel or stored. Blood glucose becomes elevated when your body resists the effects of insulin, does not produce enough of it, or both.
There are six classes of diabetes medications that work in different ways; some increase insulin production, some decrease glucose production, and others affect various portions of the process that regulates insulin and glucose. (See chart for brand names of some diabetes drugs.)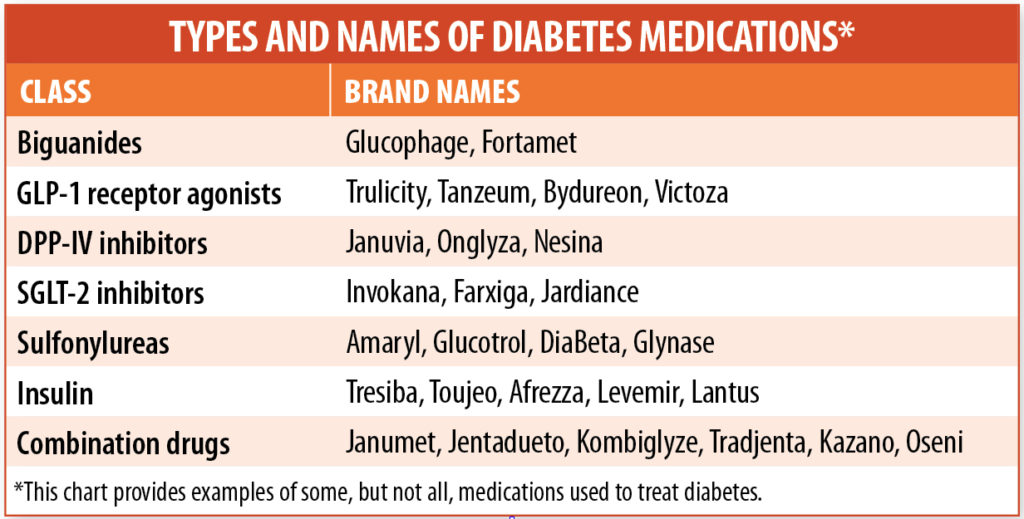 "One of the most exciting developments has been the identification of new mechanisms that can be used to decrease glucose levels; these discoveries have led to the development of many new medications," says Dr. Katz. Some medications in the GLP-1 receptor agonist class, such as albiglutide (Tanzeum) and dulaglutide (Trulicity), are delivered via injection once a week. Additionally, new basal insulin formulations (Levemir, Lantus) keep glucose levels under control for up to 24 hours.
Sometimes, more than one diabetes drug is needed to achieve adequate blood glucose control. Switching from one medication to another is not as effective as adding a second type of medication to the treatment regimen.
Here are some examples of patient-specific medication choices:
Metformin is often a first-line treatment for patients who cannot control blood glucose with diet and exercise alone.
Sulfonylureas are prescribed for patients who cannot maintain acceptable blood glucose levels even though they are eating healthfully, exercising, and managing their weight.
A combination of metformin and insulin or sulfonylureas may be considered for patients who are unable to get their blood glucose level under control with metformin alone.
GLP-1 receptor agonists, DPP-IV inhibitors, and SGLT-2 inhibitors might be prescribed if weight management is an issue.
If insulin is prescribed, the type of insulin (short-, long-, or intermediate-acting) may depend on how long it takes a person's body to absorb insulin.
The Importance of Diet and Exercise
Medication is an essential aspect of treatment for most diabetes patients, but don't minimize the significance of healthy lifestyle choices just because you take medication. "Diet and exercise remain critical components of diabetes treatment," says Dr. Katz.
Following a healthy dietary plan has a significant impact on how your body manages insulin. Since foods that contain carbohydrates are broken down into glucose, controlling the amount and type of carbs you eat is key for successful management of diabetes.
Foods high in carbs include grains (whole and refined), starchy vegetables, processed foods that contain a significant amount of added sugar, and some fruits. Choose whole foods whenever possible; they contain fiber and are broken down more slowly. Dietary changes can also have a positive effect on your weight and your blood pressure.
If you need assistance planning your diet, ask your doctor to refer you to a registered dietitian who is a certified diabetes educator (CDE). A CDE can explain which foods and eating habits will aid with blood glucose control, while also taking into account your schedule -and food preferences.
Exercise—a regular walking program, for example, or an aerobic fitness program—improves how your body responds to insulin, which, in turn, improves blood glucose control. For recommendations on exercise, consult a physical therapist or other exercise expert who can assist you in creating a routine that is safe, effective, and appropriate for you.