8 Complications of Diabetes You Should Recognize and Act Upon
If it's not controlled, diabetes can start to deteriorate your health little by little. Here's how to recognize and avoid the complications of diabetes.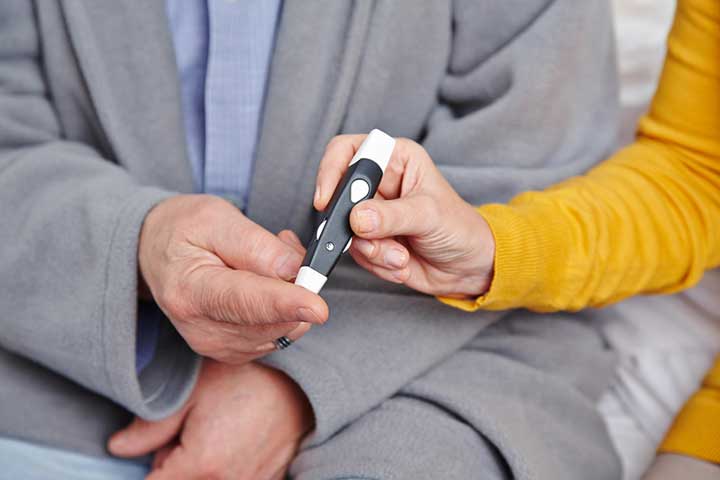 © Robert Kneschke | Dreamstime
Diabetes is a condition characterized by an increase in blood sugar or glucose levels. If this increase is not controlled, it can lead to many other health problems in the long term. That's the true danger of diabetes. For example, over time complications of diabetes can include heart or cardiovascular problems (such as heart attacks, strokes or peripheral artery disease), kidney problems (such as kidney failure), nerve damage, skin conditions and infections, damage to the eyes (diabetic retinopathy), digestive problems (gastroparesis), sexual problems in both sexes (including erectile dysfunction in men), and gum problems.
To ensure that you're well-prepared and ready to take action as soon as possible, here are the main signs of each of these possible complications of diabetes.
1. Heart and Cardiovascular Diseases, Including Heart Attacks
According to the American Diabetes Association, 65 percent of diabetics die from a cardiovascular disease. So, it's important that your doctor check your blood pressure, cholesterol levels and triglycerides during office visits. In addition, it is vital that you know how to recognize the symptoms of a heart attack, which are different in women. Strokes are another cardiovascular risk.
Typical symptoms of stroke include:
Sudden weakness of one side of the body
Numbness on one side of the face, in one arm or leg
Trouble seeing with one or both eyes, and
If you have two or more of these symptoms or someone near you has them, don't waste any time. Call 911 right away, because every minute counts. Another possible complication within the group of cardiovascular diseases is peripheral artery disease (PAD), which is caused by a blockage due to atherosclerosis (a thickening or hardening of the arteries). Warning signs include:
Pain in one or both legs, especially while walking or exercising, that disappears a few minutes after resting
A tingling sensation, numbness or a cold feeling in your feet
Injuries or infections in your feet or legs that have trouble healing.
2. Kidney Problems or Kidney Disease
The kidney function can be affected by diabetes. Initially, your doctor will perform tests on your first morning urine once a year to check and be sure that there is no protein (microalbumin) in it. One of the symptoms that may indicate that something is not right with your kidneys is swollen feet, ankles or legs. In more advanced cases, it is necessary to check your kidney function with a blood test as well.
3. Nerve Damage or Diabetic Neuropathy
When diabetes causes neuropathy, there may be different symptoms: On the one hand, the feeling of pain may take longer to reach the brain (or, in extreme cases, may never reach the brain at all). This is why many diabetics hurt themselves and don't realize it. On the other hand, there may be a tingling sensation, burning or pain in some parts of the body (in your feet or legs, for example) due to a dysfunction in the nervous system. This is why you should continuously check your skin for wounds or irritation. You may have them and not know they're there.
4. Skin Problems and Infections
Apart from the possibility of hurting your skin without noticing it, the elevation in your blood sugar makes your body an ideal breeding ground for fungi and bacteria, while simultaneously weakening your immune system and increasing the possibility of developing infections that are hard to fight. That's why, just like in the case of neuropathy, it's important that you examine your skin and body every day, especially your feet. It's equally important that you try to prevent lesions (wounds, lacerations) and, if you find them, that you treat them as soon as possible to prevent infections. If there's already an infection present, it should be treated immediately.
5. Eye Complications
Your visual health is something that you also have to bear in mind if you have diabetes. You should see an ophthalmologist —a doctor who specializes in the eyes—at least once a year. Often times, diabetic retinopathy is asymptomatic. But the ophthalmologist can detect it and, if it is treated on time, prevent a loss of sight. If you had problems with your eyesight before your diabetes was detected, you should have your ophthalmologist check your eyes twice a year.
6. Stomach Problems or Gastroparesis
Gastroparesis is a complication in which the stomach does not digest food thoroughly, due to the long time the stomach takes to empty its contents because its muscles do not work well. This can cause nausea and vomiting, and can interfere with your blood sugar management and with your nutrition. Changes in your diet can improve this complication of diabetes but, unfortunately, it cannot be cured.
7. Sexual Dysfunction, In Both Men and Women
You may experience a decrease in libido (decrease in sexual interest) or, if your man is diabetic, he may have erectile dysfunction. First, try to improve your lifestyle, eat a healthy diet, and exercise regularly. In many cases, that's enough. If that doesn't help, however, ask your doctor about medication. But remember, never take any medicine (or "natural" remedy) without your doctor's supervision to avoid health complications.
8. Oral Problems
As in other parts of your body, when you have diabetes, you have a greater possibility of getting infections in your mouth as well as developing problems in your teeth and gums (like gingivitis—gum disease). Have regular dental checkups to avoid problems. Your dentist is an important part of your team.
Finally, remember that diabetes is a condition directly associated with your lifestyle and habits (especially type 2 diabetes). No one can change the way you live except you. Now matter what kind of diabetes you have, or how far it has progressed, what you eat, how much of it you eat and when you eat it are critical as is how well you sleep and how much you exercise. Take action! The results will be well worth the effort!
See also these posts:
---
Source: Cómo reconocer las complicaciones de la diabetes
Copyright © 2017 Vida y Salud Media Group. All rights reserved.
Thousands more health articles in Spanish on VidaySalud.com
This article was originally published in 2017. It has since been updated.