Natural Mood Enhancers: Cheer Up with Multivitamins!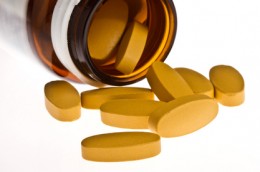 Taking a simple multivitamin might just boost your mood, according to the results of the first-ever meta-analysis on the topic published earlier this year in Psychosomatic Medicine: Journal of Biobehavioral Medicine. While previous studies have indicated that multivitamins appear to be natural mood enhancers— people who take them have better moods than people who don't— this was the first time that investigators have pooled results from multiple clinical trials to better assess the data. 
Researchers from the University of Swansea in Wales, UK combined the results from eight randomized, double-blind, placebo-controlled trials to examine the influence of multivitamin/mineral supplementation on mood in healthy adults.[1] None of the 1,292 men or women studied had any physical symptoms or had been diagnosed with a mood disorder such as clinical depression. The levels of vitamins and minerals in the supplements varied, as did the length of administration, but in each case the multivitamin/mineral supplements were administered for at least 28 days. Various aspects of mood were evaluated before and after treatment including stress, anxiety, depression, elation, perceived energy levels, confusion, agreeableness, hostility, and mild psychiatric symptoms.
Multivitamin shows benefits on stress, anxiety, fatigue, and more
Multivitamin/minerals turned out to be natural mood enhancers in terms of perceived stress, mild psychiatric symptoms, and other aspects of "everyday mood" in these apparently healthy individuals.[1] Compared to those not taking multivitamins, those taking the supplements had a 65% lower risk of perceived stress, a 70% lower risk of mild psychiatric symptoms, a 68% lower risk of anxiety, a 73% lower risk of fatigue, and a 77% lower risk of confusion. Those taking a multivitamin/mineral were also more likely to be happy and less hostile.
Authors conclude multivitamins are natural mood enhancers for many aspects of mood and question prevailing nutritional "wisdom"
"Multivitamin/mineral supplementation has a beneficial effect on many aspects of mood and mild psychiatric symptoms in healthy populations," the authors concluded. "The fact that there was a greater response to the supplements that offered doses higher than those suggested by RDAs calls into question whether RDAs or dietary reference values (DRVs) provide intakes that adequately meet the needs of the brain," the authors write. "The present findings also call into question the existing wisdom that, in industrialized societies, the consumption of diets containing sufficient energy and protein will naturally provide sufficient levels of micronutrients."
Which ingredients in multivitamins affect mood?
There are a many different ingredients commonly found in multivitamin/mineral supplements that may affect brain function and make them natural mood enhancers. Low B vitamin levels, especially B12 and folic acid, have been linked to increased levels of homocysteine, which can have a detrimental effect on brain function, and low levels of these B vitamins have been associated with higher rates of depression symptoms.[2] Indeed, in this meta-analysis, multivitamin/mineral supplements that contained high doses of B vitamins tended to elicit greater benefits than those that had lower amounts. Vitamin C may improve brain function because of its antioxidant activity within the central nervous system.[2] Vitamin D can improve mood and is integrally involved in a vast number of biological processes.[2]Meanwhile, minerals such as calcium, magnesium, and zinc influence neurotransmitters like serotonin and dopamine and therefore play an important role in maintaining mood as well.[2]
How to take vitamins as natural mood enhancers
If you're looking for simple, basic natural mood enhancers, multivitamin/mineral supplements are a great foundational starting point. For those with clinical depression, anxiety, or another mood disorder, supplementation with key vitamins, minerals, and other natural ingredients above and beyond what you can get in even the most potent multivitamins may be necessary.  To get more information on how to choose a high quality, high potency multivitamin and other effective, research-based supplements for mood enhancement, see our comprehensive guide to natural depression treatment protocol.
---
[1] Psychosom Med. 2013 Feb;75(2):144-53.